Spring begins with the vernal equinox on March 20, 2023. As the earth is tilted so that the sun is directly over the equator, this signifies the start of the vernal equinox. The word "equinoxis" derived from the Latin words meaning "equal night". This time of Spring has been celebrated over the centuries as the beginning of the rebirth period.
In Andrew's newest book, Lead Us To A Place ~ your spiritual journey through life's seasons, he likens the seasons to stages of our lives. Spring represents our coming of age, when we start to unearth the raw energy of who we are through our own personal beauty, intuition, sexual self-esteem, and our creative forces.
The Spring Season is probably one of the most embraced and most significant of the season changes, for it denotes the start of new life, regeneration of nature and the renewal of the spirit.
Here are some wonderful suggestions for having a bountiful Spring:
Alternative Remedies for Spring
Spring is the season when certain disorders are more prevalent than at other times of the year. Allergies can affect almost any area of the body. Irritants such as pollen, grass, dairy products, house dust, pets, wheat, colorants, additives and preservatives are all possibilities. Close relations to allergies are asthma and dermatitis including eczema and psoriasis can make their presents known most often this season.
Eye problems occur more in Spring than any other time. The liver and gallbladder are associated with Spring and are considered the main organs for detoxing the body. Therefore, this is a good time to do a cleansing. People are more conscious of their bodies in Spring and therefore a good catalyst to start loosing weight.
Wind is a common problem in Spring. Wind is involved with movement and activity, and is said to bring "100 diseases". It disperses "energy" upward and outward, therefore, manifest illness in the upper and outer parts of the body in early stage: head, sense organs and skin (including rashes, itching, which come and goes quickly, and sweating (causes opening of pores and fluids lost).
While most people are excited about Spring, it can also drive people into a fit of anxiety. Why? it's change. While some thrive on the fresh uncertainty of a new season, many people fear a difference of any kind. This can bring on an element of anxiety. 
Essential Oils for Spring
To assist in staying healthy, there are a number of things you can do using essential oils on our body and in our environment.
Basil essential oil kills bacteria when applied topically to the skin. Bacteria grows around the hair follicles and is a cause blackheads and whiteheads. An antioxidant, antiviral, and antimicrobial.
Eucalyptus: treats fever, cough, and asthma. Add a few drops of oil in boiling water or a bath as an inhalant for sore muscles, insect repellent, tension headaches, cold, cough, sinusitis, rheumatoid arthritis, and strains/sprains.
Lemon: has antiseptic properties and works as an insect repellent. It compliments the Oil of Oregano to neutralize the over growth of Candida.
Orange: is an anti-depressant, antiseptic, it dispels tension/stress and low energy. Orange oil calms the stomach both for constipation and diarrhea. Helps with the formation of collagen and with muscular pains, anxiety and insomnia.
Oregano: this volatile oil, which means "joy of the mountain" treats foot or nail fungus, kills parasites and easing infections and alleviating sinus infections and colds. It compliments lemon oil to neutralize the over growth of Candida.
Peppermint: has anti-spasmodic action and helps with sudden pains and cramps. Soothes headaches and sparks the spirit.
Flower Power
Foraging edible wildflowers is probably one of the more fun aspects of eating wild food and it's a great introduction to learning about flowers.  Flowers also give us power in other ways.  As a source of color, beauty and aromatic pleasure!
Enjoy such edible flowers as redbud, violet, clover, chickweed, wood sorrel, dandelion and wisteria. Add them to salads, make them as teas, decoct them as herbal tinctures or crush them and use them as poultices.
Consider these flowers for their color, beauty and healing nature:
Patchouli: is a sweet, earthy scent. Its smell is intense and spicy. Patchouli is a sweet and grounding harmonizing fragrance!
Neroli: is emotionally unifying and soothes with harmonizing effects. Described as both sensual and spiritual, it allows us to recall hope and joy!
Rose: The mother of all flowers, rose has amazing powers of love, trust and self acceptance. Rose oil calms and supports the heart and helps to nourish the soul!
Jasmine: has a bold, sweet scent. These night blooming aphrodisiacs are picked at the height of the full moon. Associated throughout history with the Moon Goddess, Jasmine, in ancient Egypt, represents Isis, the Mother Goddess of fertility, magic and healing.
Spring Herbal Medicine Chest
With the change of seasons from Winter to Spring, we need to change our supplies in our medicine cabinet:
Astragalus : restoring both resilience and immunity and efficiency of metabolism. Restores energy to the body very quickly.
Burdock Root: helps to purify blood and restores the liver by reducing build up of toxins in the skin and helps gallbladder function and immunity.
Dandelion Root: is an excellent tonic for the liver and blood purifier. High in vitamins and minerals,  its best for a variety of liver and gallbladder problems.
Echinacea :is used in the treatment of infectious wounds and burns or eruptive skin complaints. Helpful in retiring bacterial, viral and fungal infections.
Garlic is an antibiotic that can actually kill infecting bacteria and at the same time protect the body from the poisons that are causing the infection.
Marshmallow Root : stimulates the immune system and the production of white blood cells. It soothes inflammation, slows production of mucus, reducing blood sugar levels.
Milk Thistle: is the best in cleaning our blood and liver. It helps to prevent a host of problems our bodies can acquire from internal and external toxic overload.
Nettle: Nettles are invaluable as a food, rich in vitamins and minerals. It is an excellent remedy for anemia, their vitamin C content ensures that the iron they contain is properly absorbed. Nettles increase the quality of the blood helping to give a healthy glow to the skin.
Yellow Dock: is useful for relieving a congested liver, as well as for scrofulous skin diseases. It can be freely used as a blood tonic and mild laxative.
7 Empowering Tips for Spring
This time of Spring has been celebrated over the centuries as the beginning of the rebirth period. The Spring Season is probably one of the most embraced and most significant of the season changes, for it denotes the start of new life, regeneration of nature and the renewal of the spirit. Here are some wonderful suggestions for having a bountiful Spring…
Spring: Food For Thought
To keep in harmony with nature, foods for Spring should promote a healthy detox from the heavier foods we ate during the winter months. Our food choices should be lighter and boost our metabolism. Reprogramming the way we eat can help us to lose weight, balance blood sugar levels and keep our bodies running at optimum health. Consider Andrew's Full Spectrum Diet and food as medicine.
Spring Emotions
The most dominant emotion in Spring is anger. Rage, resentment, and frustration are also more prevalent in Spring than any other time of year. Learn how to manage it. Spring depression is also another emotional situation that can be cured with these great ideas! Learn the mind/body connections between the liver and gallbladder, the element wood and how forgiveness helps us to grow. Find out how to balance your emotional life with Traditional Chinese Medicine.
Spring Detox
It is easy to do a detox in the Spring and therefore, the best way to keep the body at its most optimum, working level. By enjoying lighter, cooler, healthy, Spring foods, getting good quality sleep and moderate exercise, this can keep our physical form at it's best. Learn ways to care for your skin, our greatest detoxing organ, find the best herbs for detoxing and clean up your diet to improve total body function!  Discover the top 10 ways to improve your health right now!
Sounds of Spring
Music Therapy utilizes music and music related activities to modify ineffective learning patterns, help to promote emotional, mental, social and physical growth. Music is a magical medium and a very powerful tool. Music subtly bypasses the intellectual stimulus in the brain and moves directly to our subconscious. Find music, books and healing tools that are just right for your mood and don't forget to download Spring MP3s from Andrew's Spring Fling Playlist.
Crystals for Spring
Spring is a time of transition. A change in the amount of light we get and changes in weather conditions can all have an affect on our mood and emotions. Crystals can play a part in making changes, improving transitions and helping us to move forward gracefully.  Crystals have the ability to help us as a meditation tool, as a soothing stress or worry stone or to simply decorate our home or sacred space. Here are Andrew's Top 10 Crystals for Spring.
Green is the color associated with Spring and red is its complement. Each color offers a unique path to better health. Spring is also the time of more light and daylight savings time. Light Therapy has been valued throughout history as a remarkable source of healing. There are preventative measures you can take to strengthen your immune system, conquer depression, lift your spirits and brighten your mood! Learn more about how color can heal!  Become a certified Color Therapist.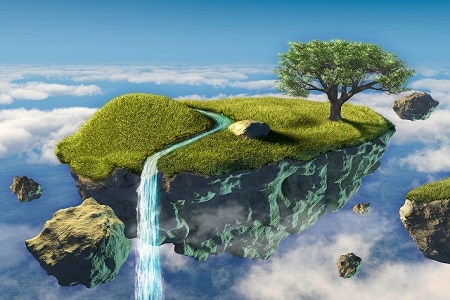 Your Creative Spark
"Burst forth ideas and creative spark,
with Spring it offers some light in the dark,
when inspiration and magic come back,
to fill our minds with the things that we lack.
So now that the season has sprung forth, anew,
its time to let flow, The creation in you!"
Easter Blessings
Eostre or Ostara of Spring is a goddess in Germanic and Celtic tradition who is the namesake of the festival of Easter. In her various forms, she is Spring-like fertility, associated with dawn. Her focus is on balance and the equilibrium between night and day on the Spring Equinox. It is a time for new beginnings, for planting and for celebration of the rebirth of the soil, the land, and oneself.
The Free Flow of Energy
Feng Shui or the "art of placement" is a centuries old tradition of aligning and visualizing the free flow of "vital energy" in and around your life! It starts be decluttering the home, office and life around you in order to create a better flow of "unobstructed energy". It is the honoring of our ancestors and the respect for nature and our surroundings.
March Madness
People born in March are highly creative and imaginative. You live inside your own head, quite often. If you are born in March, you are either a Pisces or an Aries. This month is looked at as the start of new beginnings, as it is the time of the Spring Equinox. We also celebrate the Celtic holiday honoring St. Patrick. This is the month of luck and opportunity!
April Showers
Those born in April crave attention and love every second they can spend in the spotlight. You are either an Aries or a Taurus. Regardless, you both have horns and you are not afraid to butt heads.They don't take orders well. April is the time we often celebrate the holiday of Easter, the promise of Spring, fertility and regeneration!
May Magic
People born in the month of May tend to be fickle, wanting one thing yesterday, and something different today.You are either the sign of Taurus or Gemini. You have the gift of being strong-willed and highly motivated. May is the time of Celtic and English holiday, May Day along with the Mexican holiday of Cinco de Mayo and the unofficial start of summer with Memorial Day.