Get Certified! Study Energy Medicine at Home!
Since, 1998, the Peacefulmind.com Home Study Programs make it possible for anyone to study ACCREDITED energy medicine courses at home, on your own time! Endorsed by the National Association of Holistic Wellness, we have CERTIFIED thousands of students and launched the careers of PROFESSIONAL practitioners all over the world. We continue to lead the way in providing the best and most up-to-date information and exciting new courses!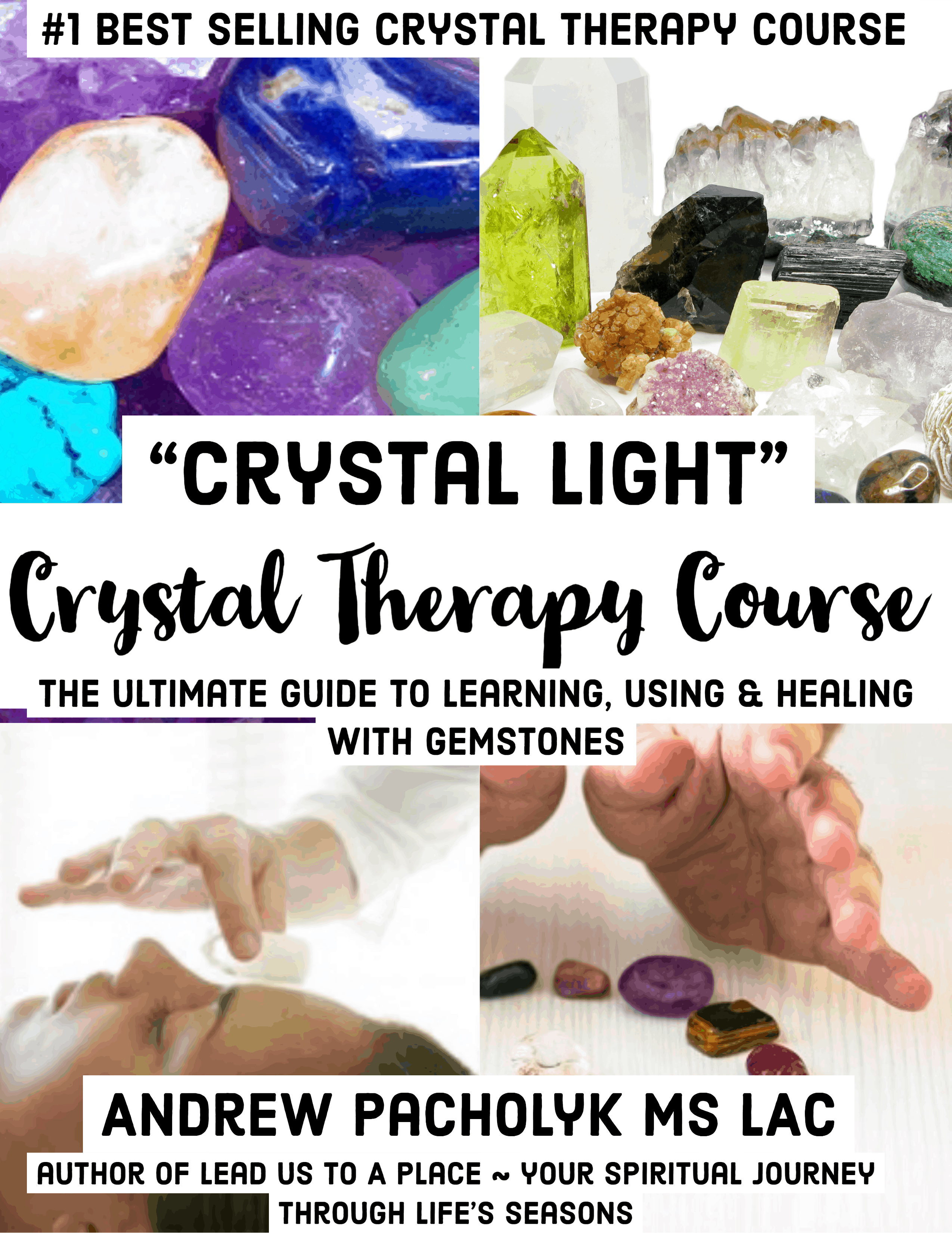 Crystal Light Crystal Therapy
This incredible course is our biggest and most popular course on the Internet! This BEST SELLER is the study of crystals and how to heal with earth's most precious gems! The "Crystal Light" Crystal Therapy Course is a comprehensive study of crystal healing using many profound methods and unique applications. We also show how crystals work with other modalites in the energy medicine arena.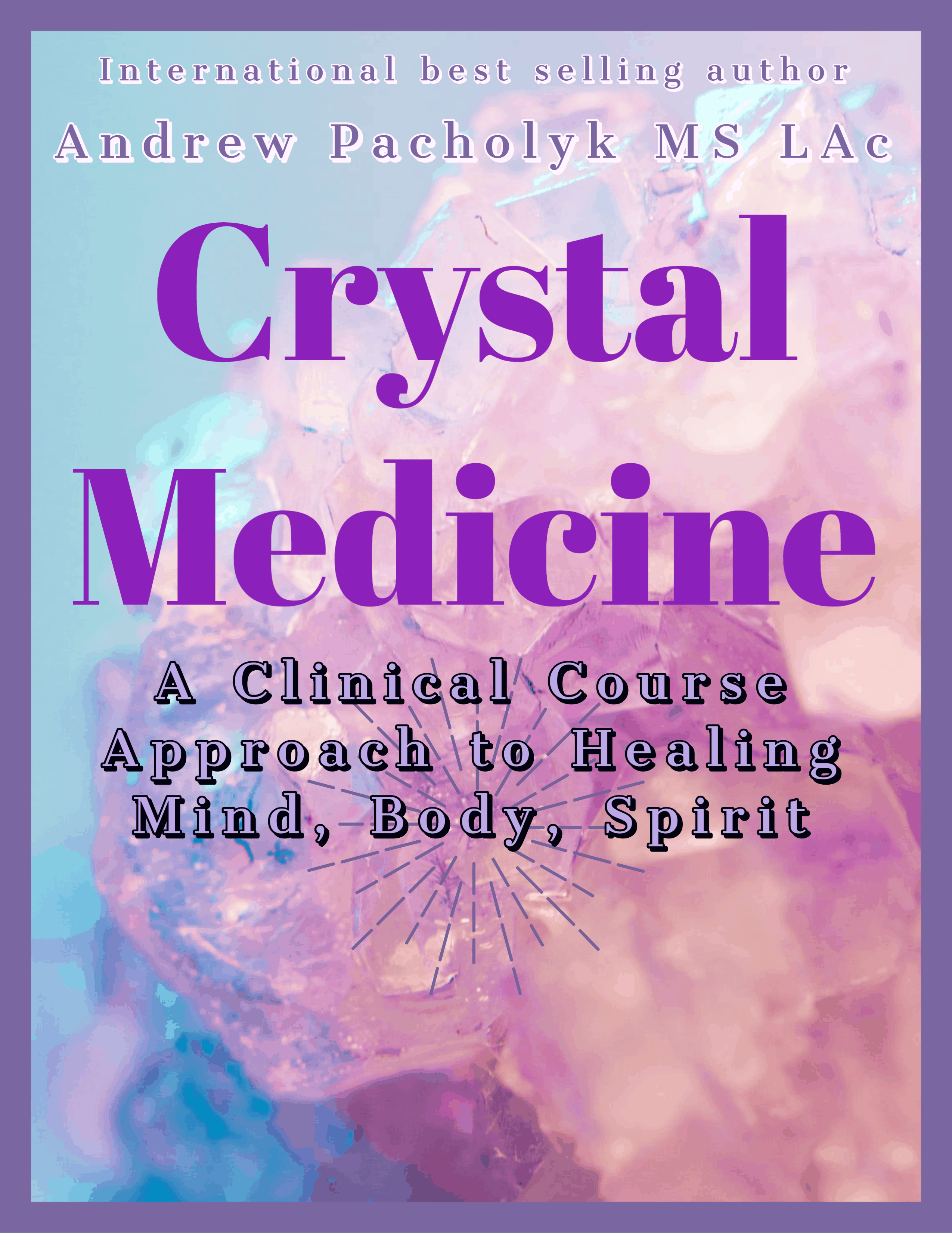 Crystal Medicine
A Clinical Approach to Healing Mind, Body, Spirit. This is the most complete and definitive guide to working with, understanding and healing through crystal medicine!  It is a continuation and the next level course from the "Crystal Light" Crystal Therapy Course and intensifies your understanding of over 75 mental, emotional and spiritual treatments on all three levels…mind, body & spirit.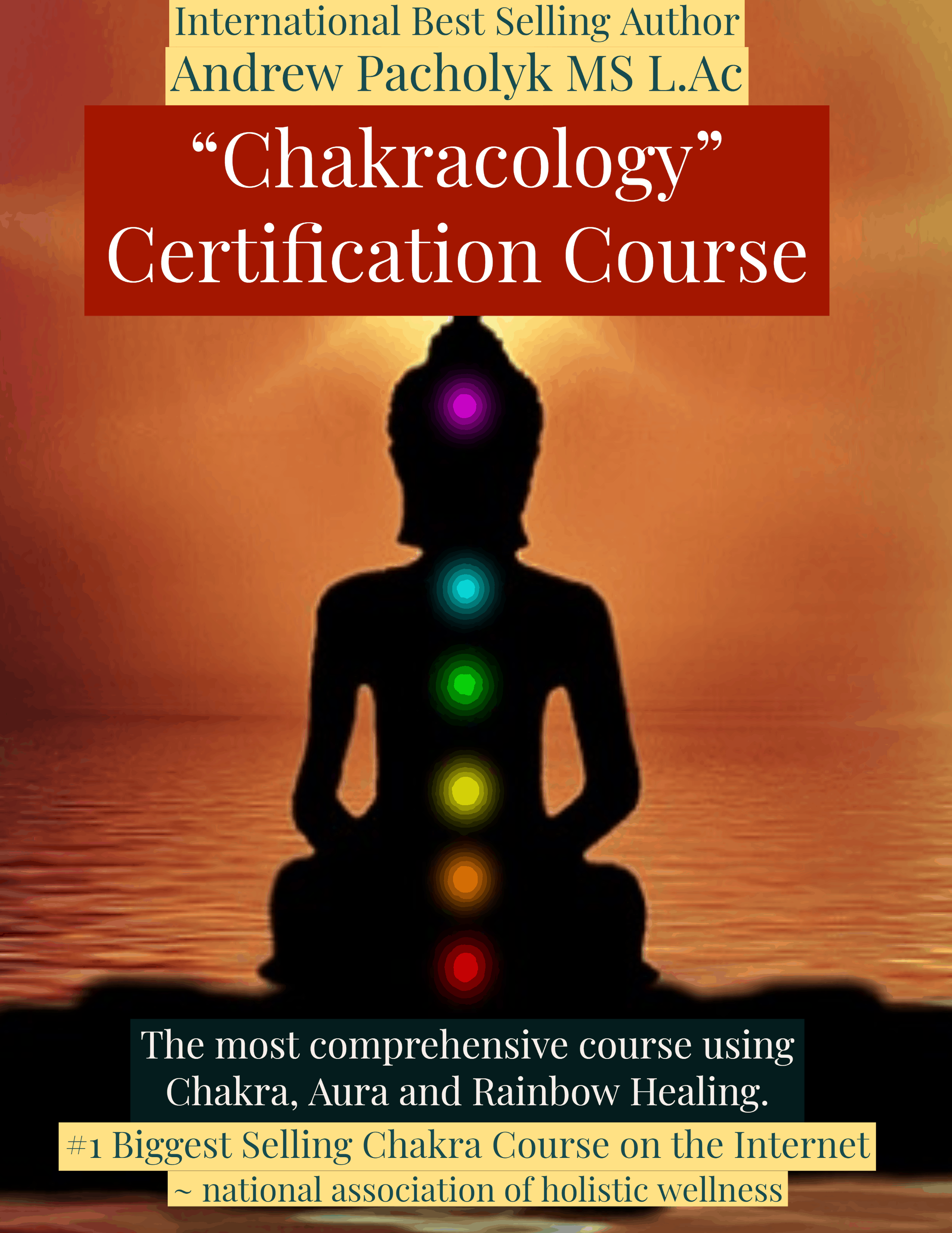 Chakracology
This workbook allows you to look at the energy of the Chakra and how they affect us. It helps you to work through each center on a mental, spiritual, and physical level and find ways to re-align, balance and manage your energy with questionnaires, exercises, meditations, crystals, color, aroma, yoga, acupressure, massage and herbal applications for healing on a daily basis.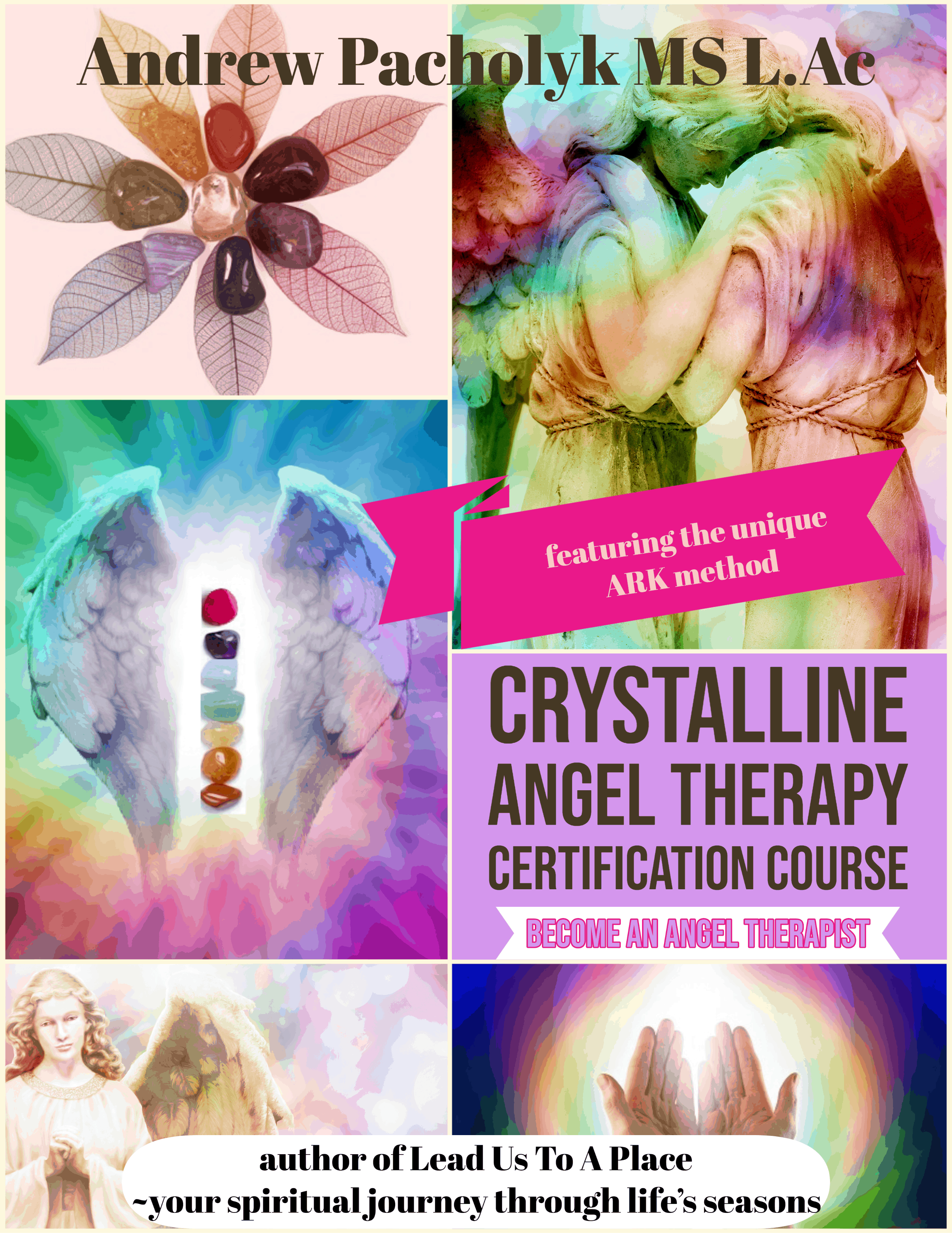 Crystalline Angel
The Crystalline Angel Course is Andrew's most ambitious and beloved certification course and workbook yet. Using crystals and metaphysical tools to encourage angels in your life, Andrew takes us on a healing journey using his unique ARK method. This crystal treatment is based on ancient symbology, historic (angelic) findings and the newest discoveries in the crystalline healing arena!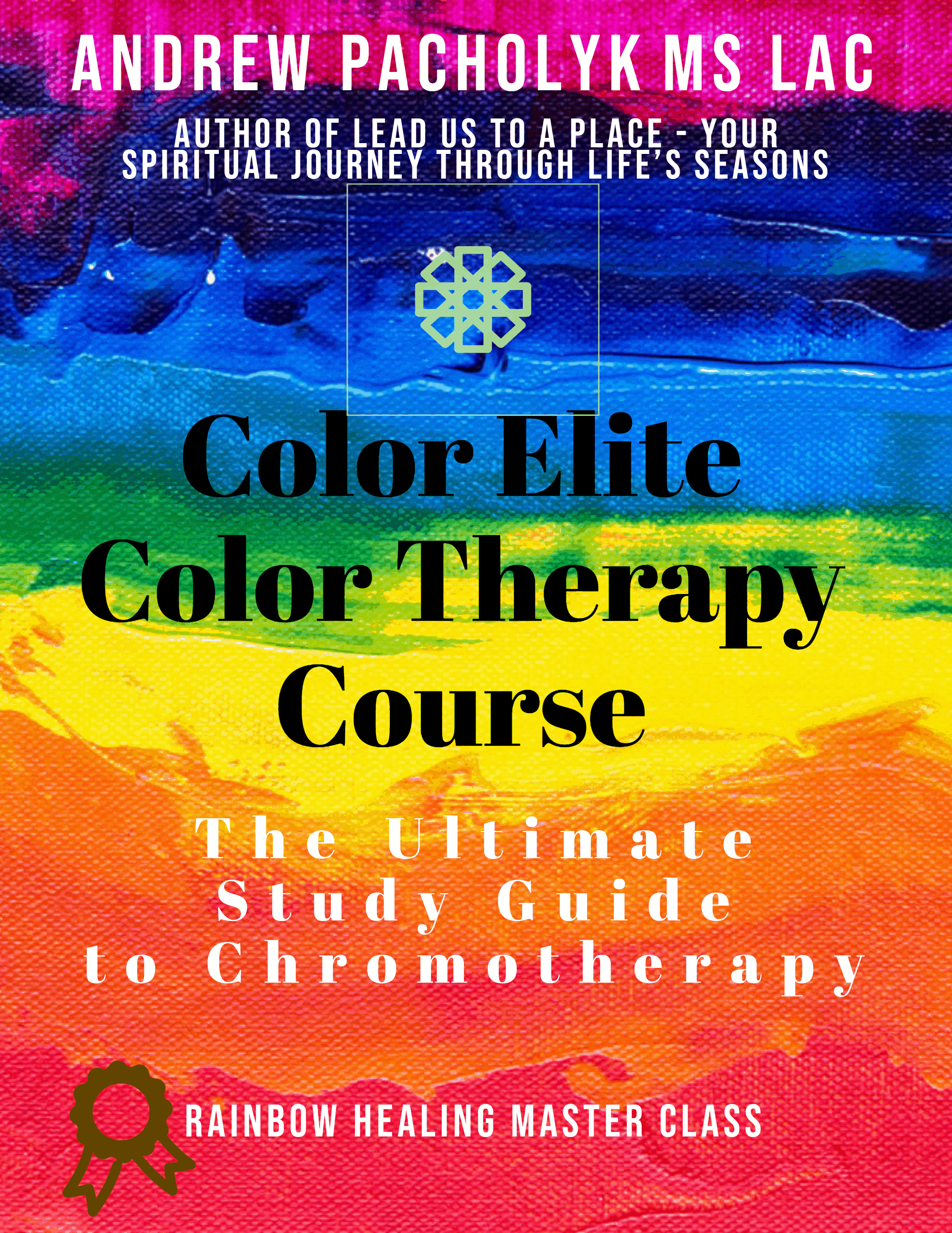 Color Elite Color Therapy
This is the study of Color (Chromotherapy) and how to apply color in the healing arena! This course makes it possible for you to become certified in color therapy. For beginner to advanced healers, this course covers an extensive background on chromotherapy, techniques, history, usage and applications incorporating color into daily life and therapeutic work. This is our approach to "rainbow healing"!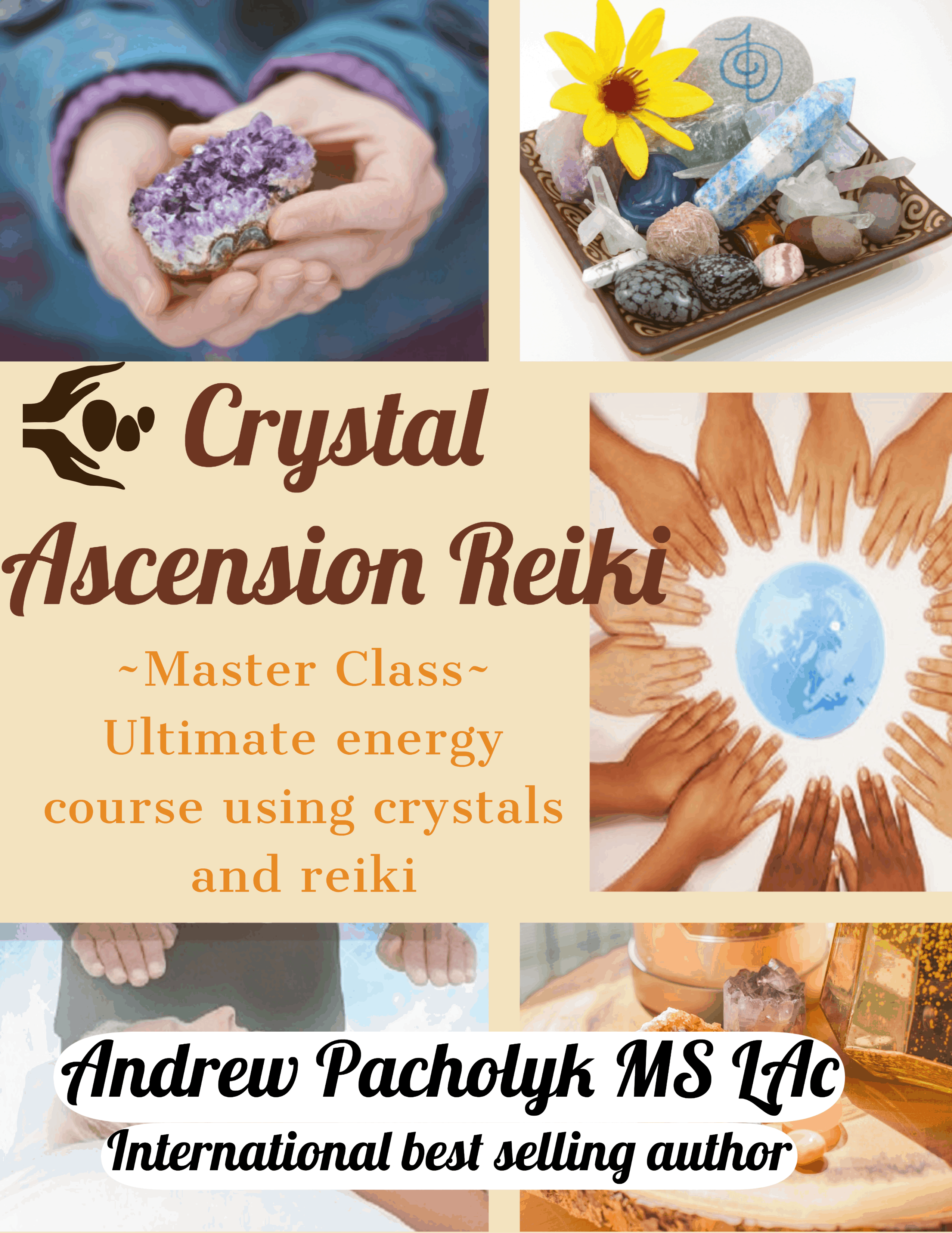 Crystal Ascension Reiki
This course is designed for any kind of healer or therapist. This course, will help to strengthen your practice with the synergistic marriage of both crystal healing and reiki energy while engaging your other senses through music, aromatic essential oils, gemstones, meditations, symbols and reiki charged techniques. Your learn each level of reiki and then how to apply the "crystal ascension" techniques together.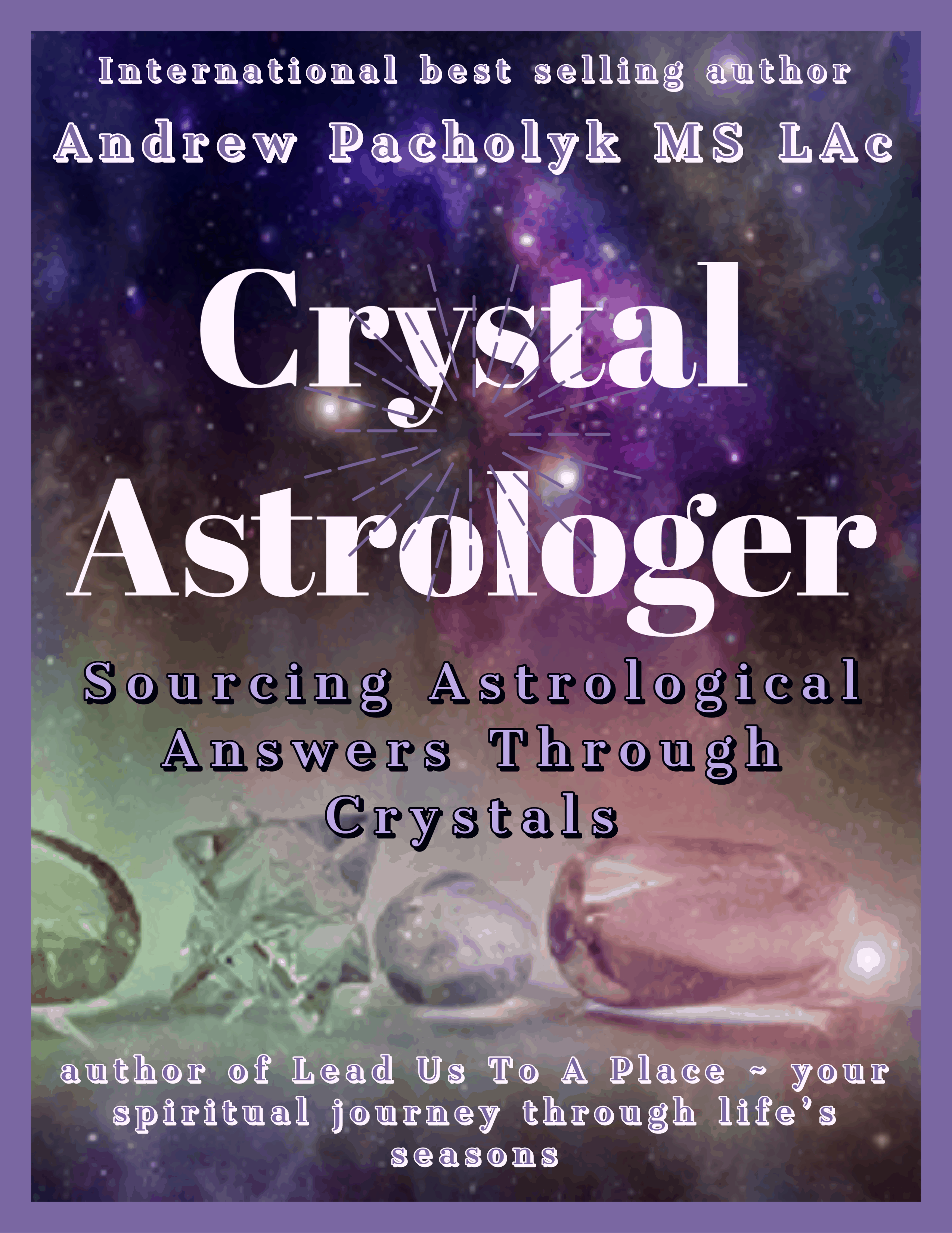 Crystal Astrologer
Sourcing Astrological Answers Through Crystals. In this course we will utilize crystals for astrological exploration, divination, crystal remedies and many other uses. Throughout the centuries, crystals have been used for astrological insight, for their subtle nature, and the belief that they are linked to the vibrational powers of the cosmos. This course opens a path to your own astrological intuition.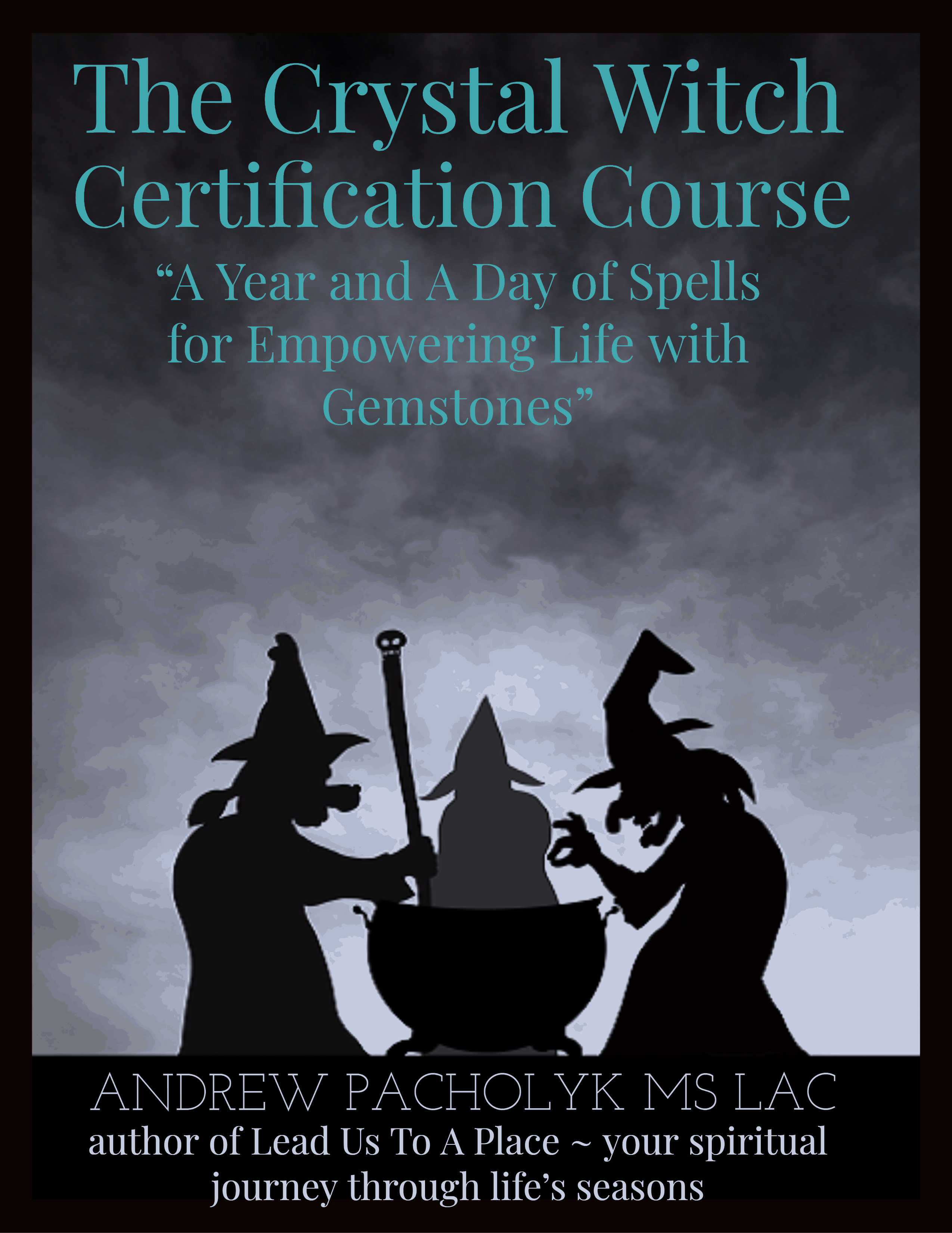 The Crystal Witch
This course uses the natural elements of crystals, along with plants, food, herbs, oils, incense (and common sense) to help you create a positive and affirming path. This course will allow you to see the DIVINE presence in nature and how nature should be honored and respected, loved and protected. This course uses these tools to "spin a spell" or positive affirmation to achieve a desired result!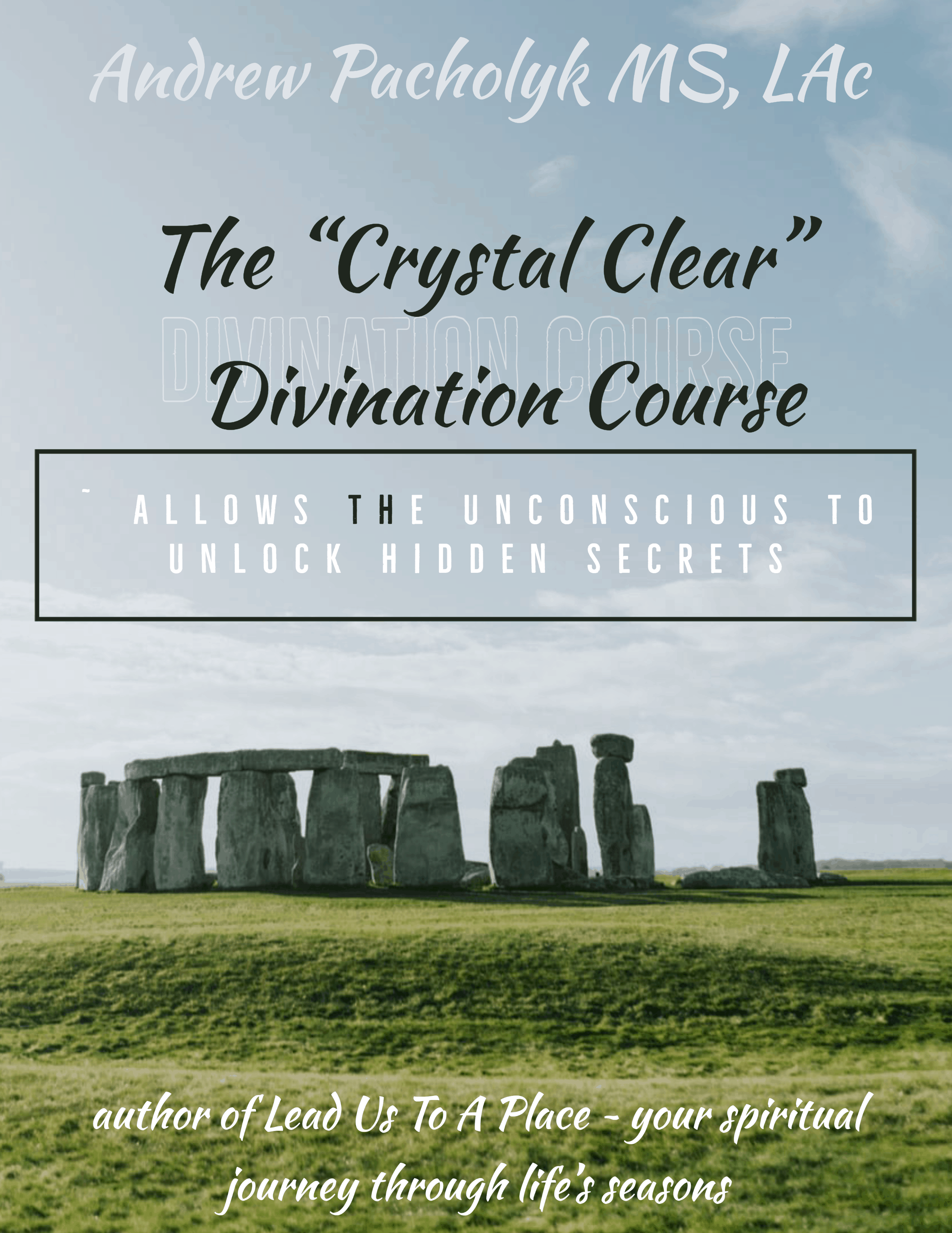 "Crystal Clear" Divination
This is Andrew's popular workbook, utilizing crystals for divination purposes! Andrew includes in this workbook such divining tools as crystal grids, pendulum work and techniques, crystal, color and aura divination, feng shui interpretations, crystal scrying and sacred symbols, crystals and the Major Arcana, Andrew's Crystal Oracle Cards…and more! Become certified in the "Art of Crystal Telling"!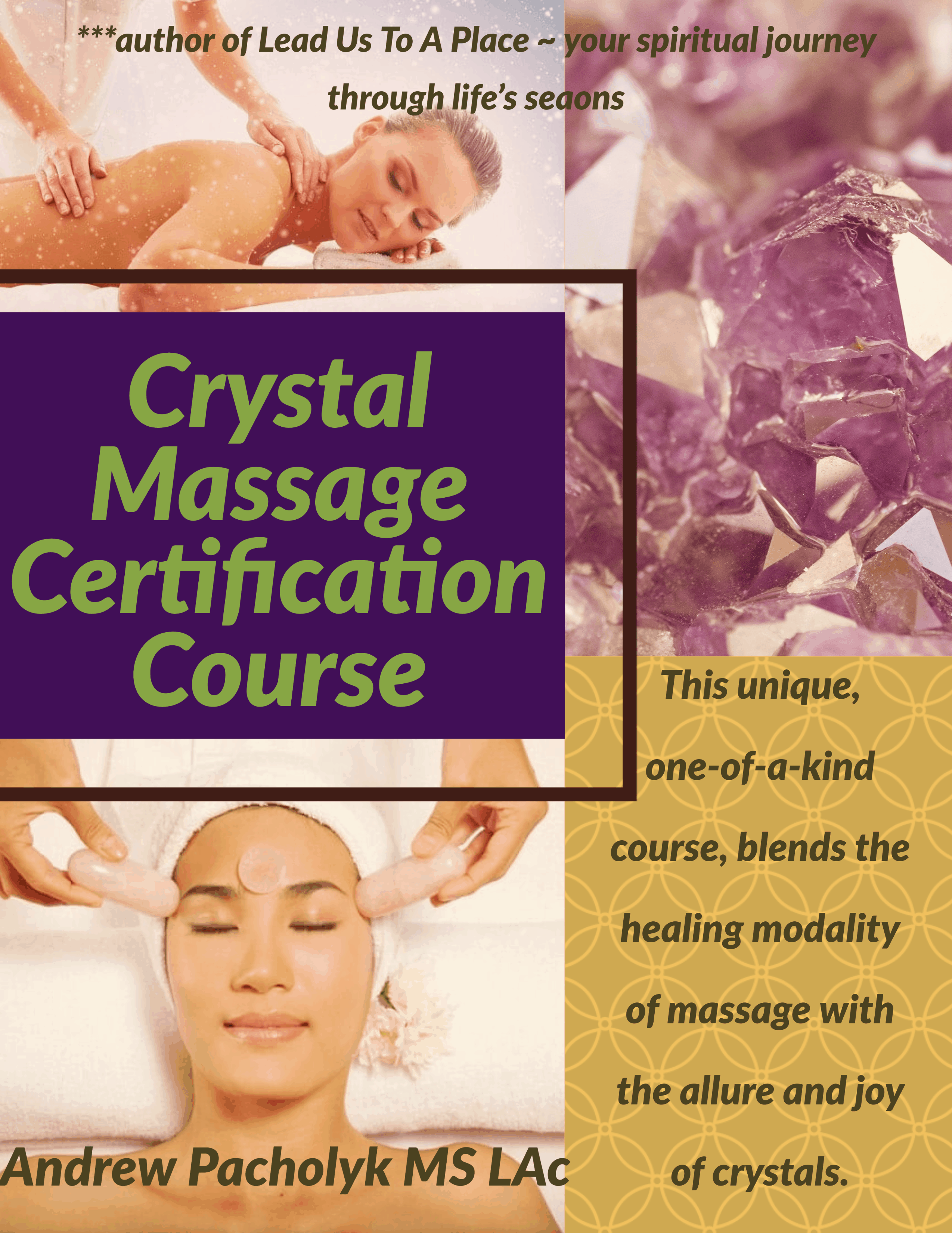 Crystal Massage
This course incorporates Andrew's years of massage experience with his fantastic healing paradigm of crystals as a massage component. Crystal massage can be a beautiful and uplifting experience. The crystal are skillfully chosen for each client's situation and incorporated into the massage. These techniques can be learned by anyone willing to add another method to their healing practice.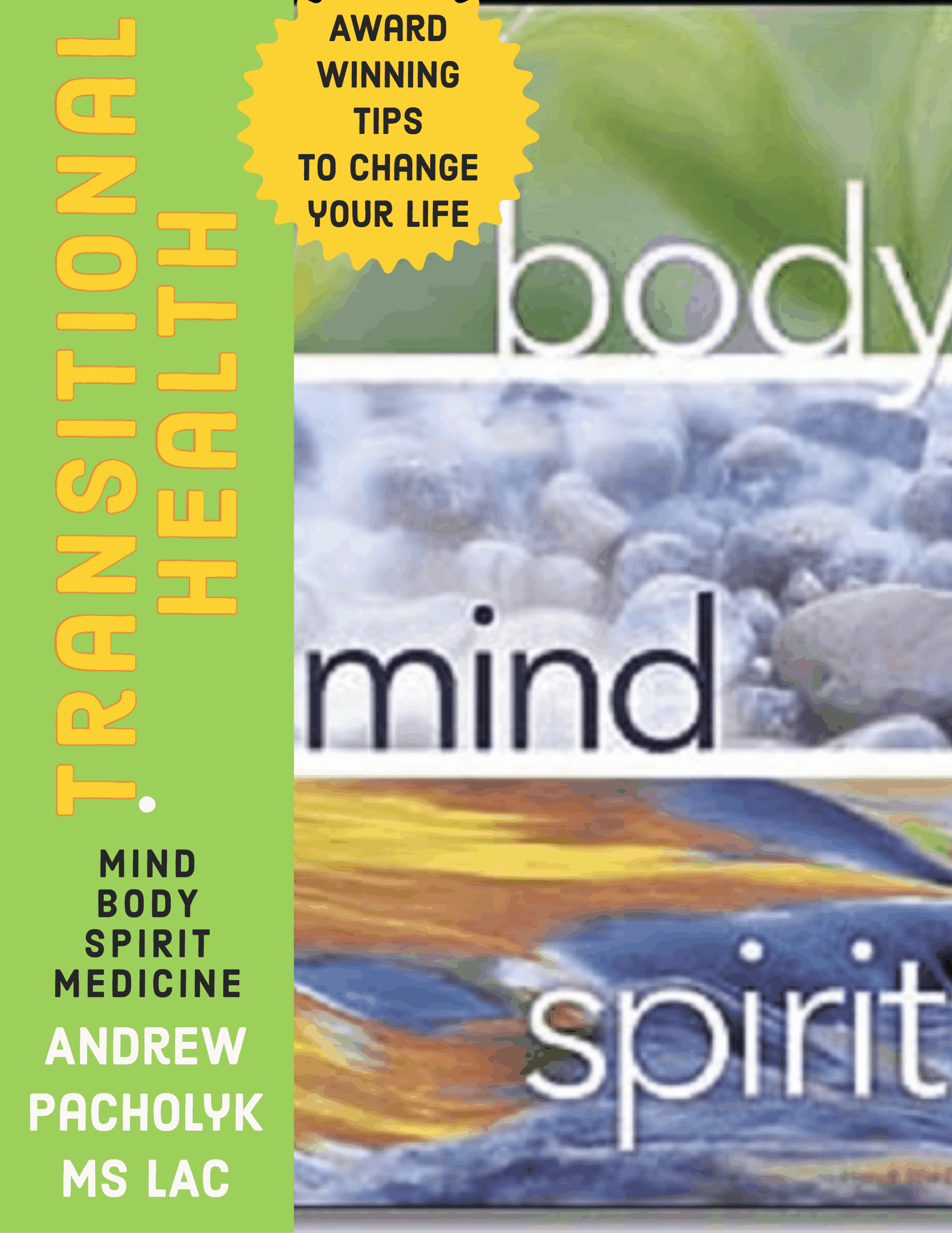 Transitional Healing
The Transformational Guide and Workbook for Creating Great Health is Andrew Pacholyk, MS, L.Ac. culmination of years of clinical work. This is a manual you can use, whether you are healthy or ill or somewhere in between. It gives you a plan to take care of yourself. Use it over and over, it gives you "tools" to use when and where you need them. It offers ways to get you exactly where you want to be!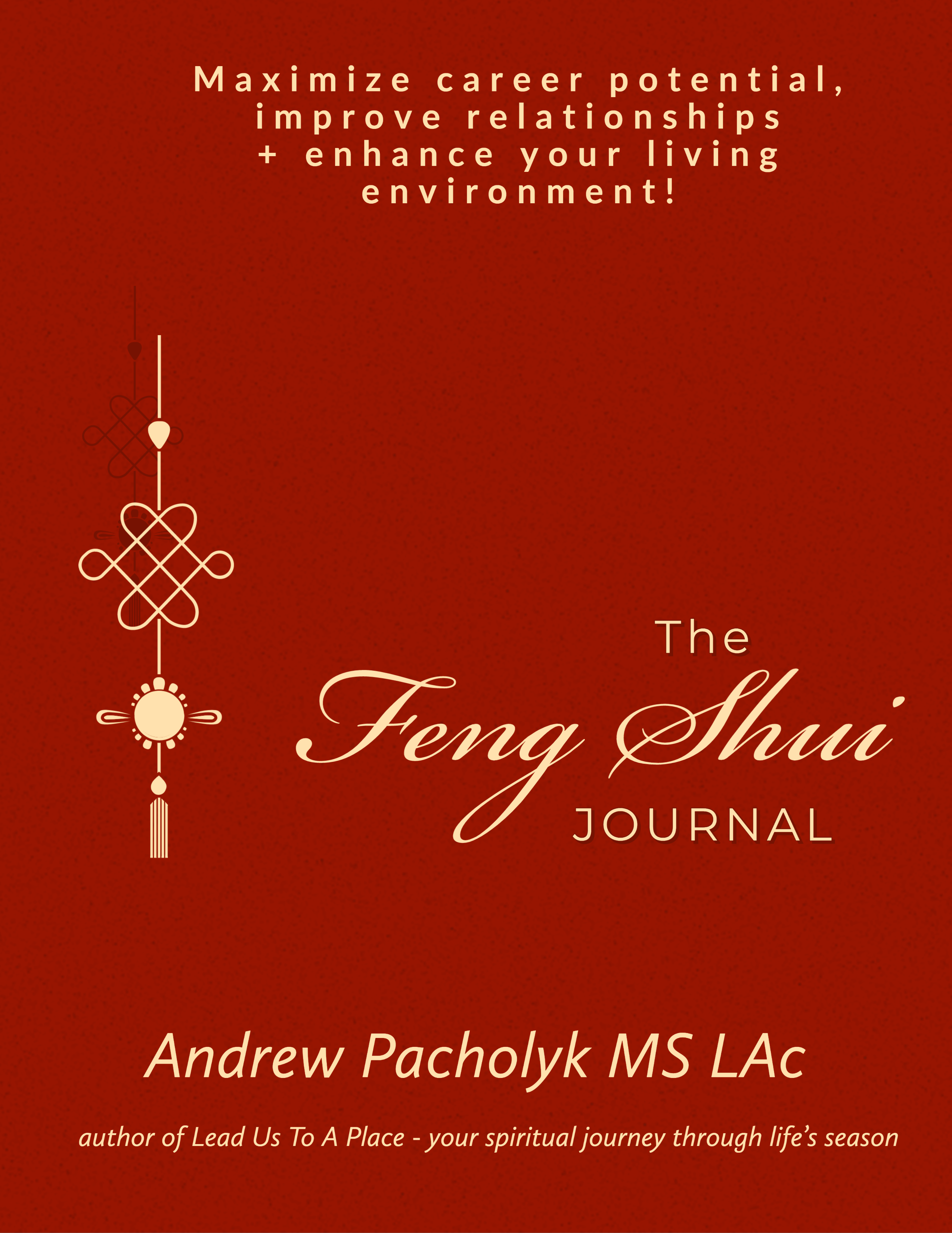 Feng Shui Journal
This course makes it possible for you to improve relationships, maximize career potential and enhance your environment! We are honored to offer the Feng Shui Journal for beginner to advanced Feng Shui practitioners. This journal covers an extensive background on Feng Shui techniques history, usage, clearing, cleansing, manifesting and helpful information in order to bring balance back into your life!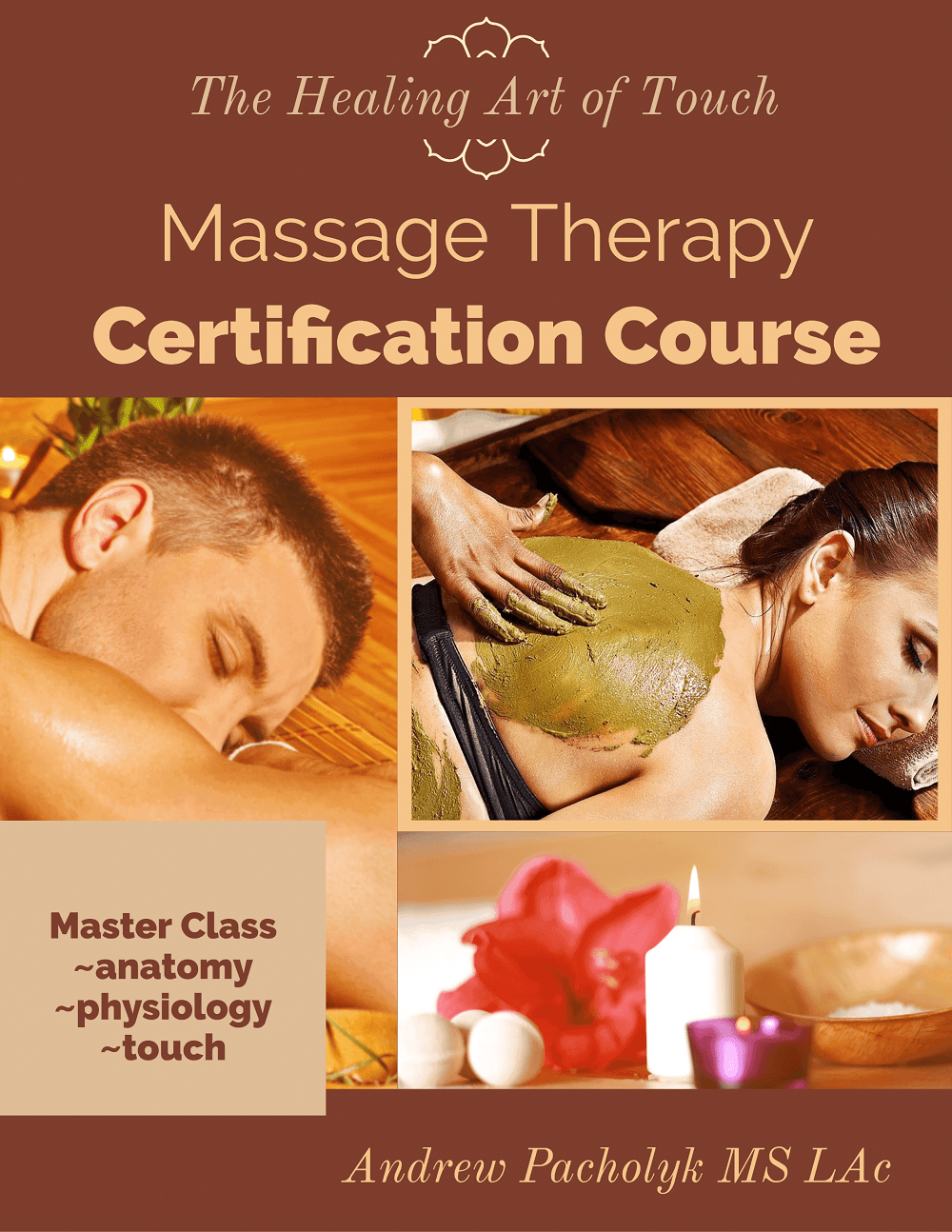 Massage Therapy
The Healing Art of Touch – Learn the art of touch and massage therapy through Andrew's very extensive certification course. Complete anatomy lessons, varied techniques and amazing information is offered in this course. Learn the business of massage, how to cope with all types of clients and the inner workings of energy transference. A great prequel in preparing for massage school and licensure.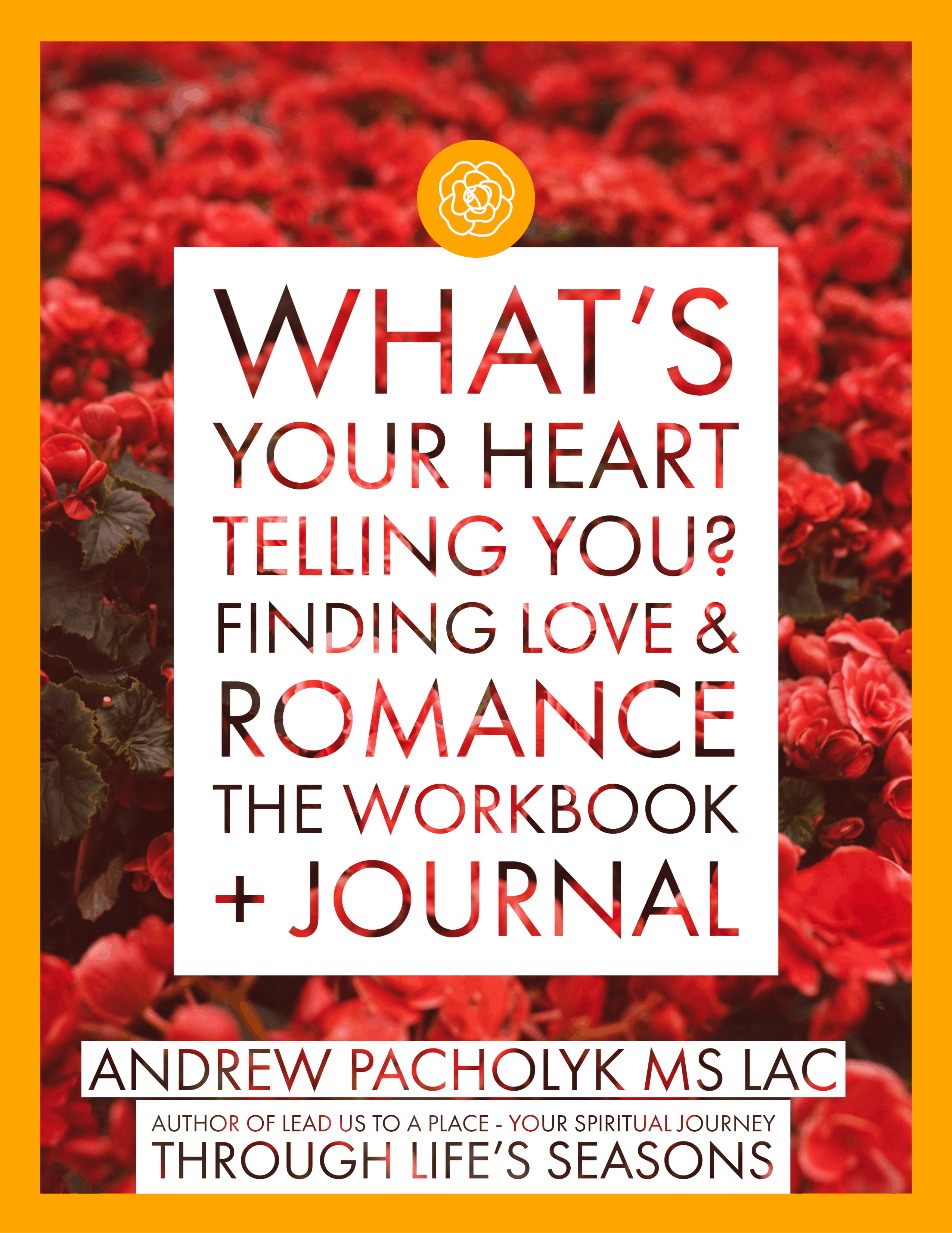 The Love Course
What's Your Heart Telling You? Finding Love and Romance – The Workbook and Journal. Andrew Pacholyk, MS, L.Ac. has published his newest work based on years of personal intimacy, clinical experience, counseling and client research on the ways to navigate love, sex, romance and relationships and for finding, coping and keeping love in your life!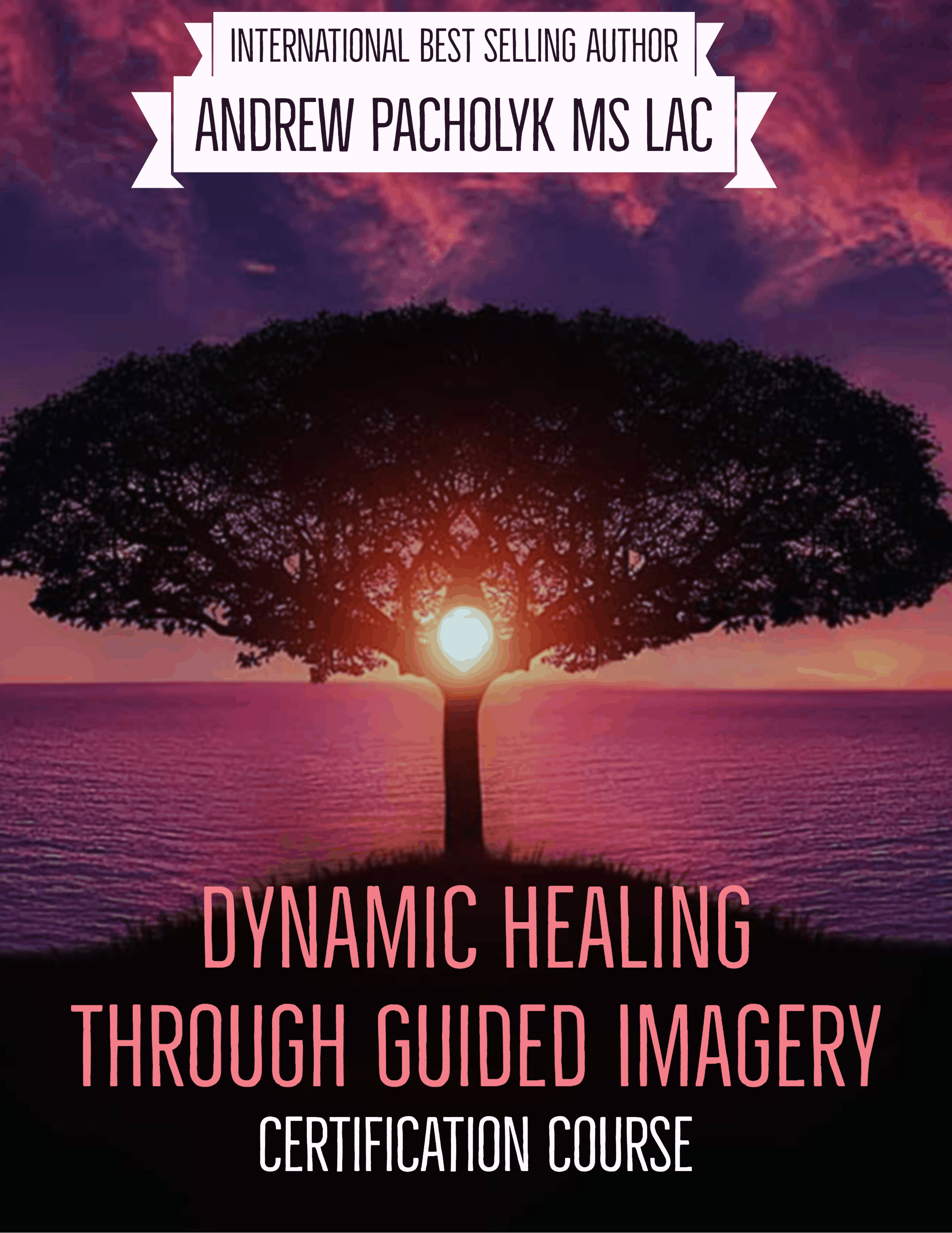 Dynamic Healing Guided Imagery
Dynamic Healing Through Guided Imagery This course certifies you in the art of Guided Imagery! This is an extensive look at visual and guided imagery techniques, history, usage, and therapeutic work. Learn the secrets of visual and guided imagery work, develop your imagination as a healing tool, use "Mind Medicine" to connect mind and body, free yourself from pain, use imagery for ANY medical condition!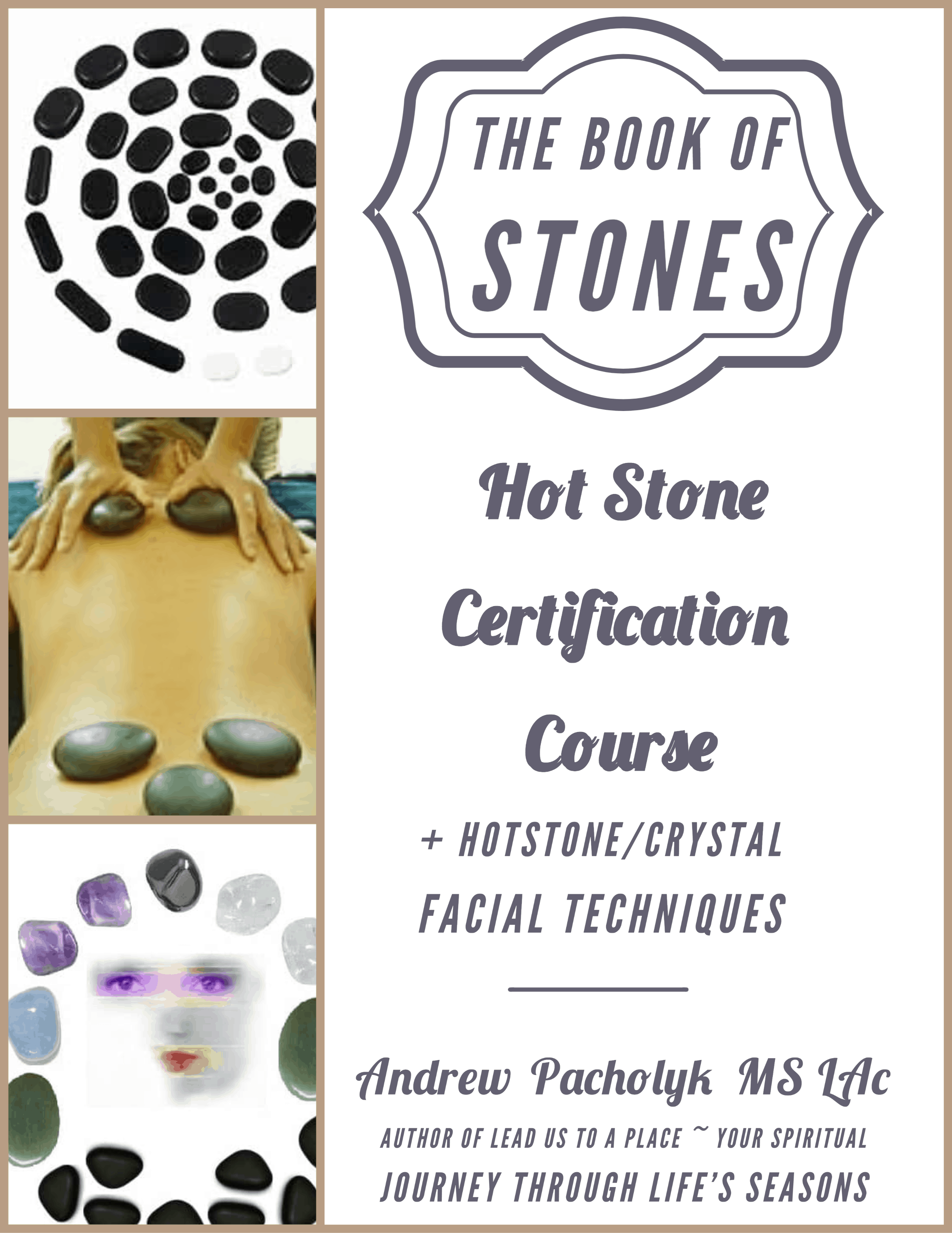 The Book of Stones
Get Certified as a Hot Stone Therapist! This course is a complete hands on study of healing with hot stones, cold stones, and earth's precious gems! This path of study will certify you to work with hot stones with an in depth look at incorporating a variety of treatments with all kinds of stones such as the Chakra stones, cold stones, crystals for facials and "added ons" to your stone healing methods!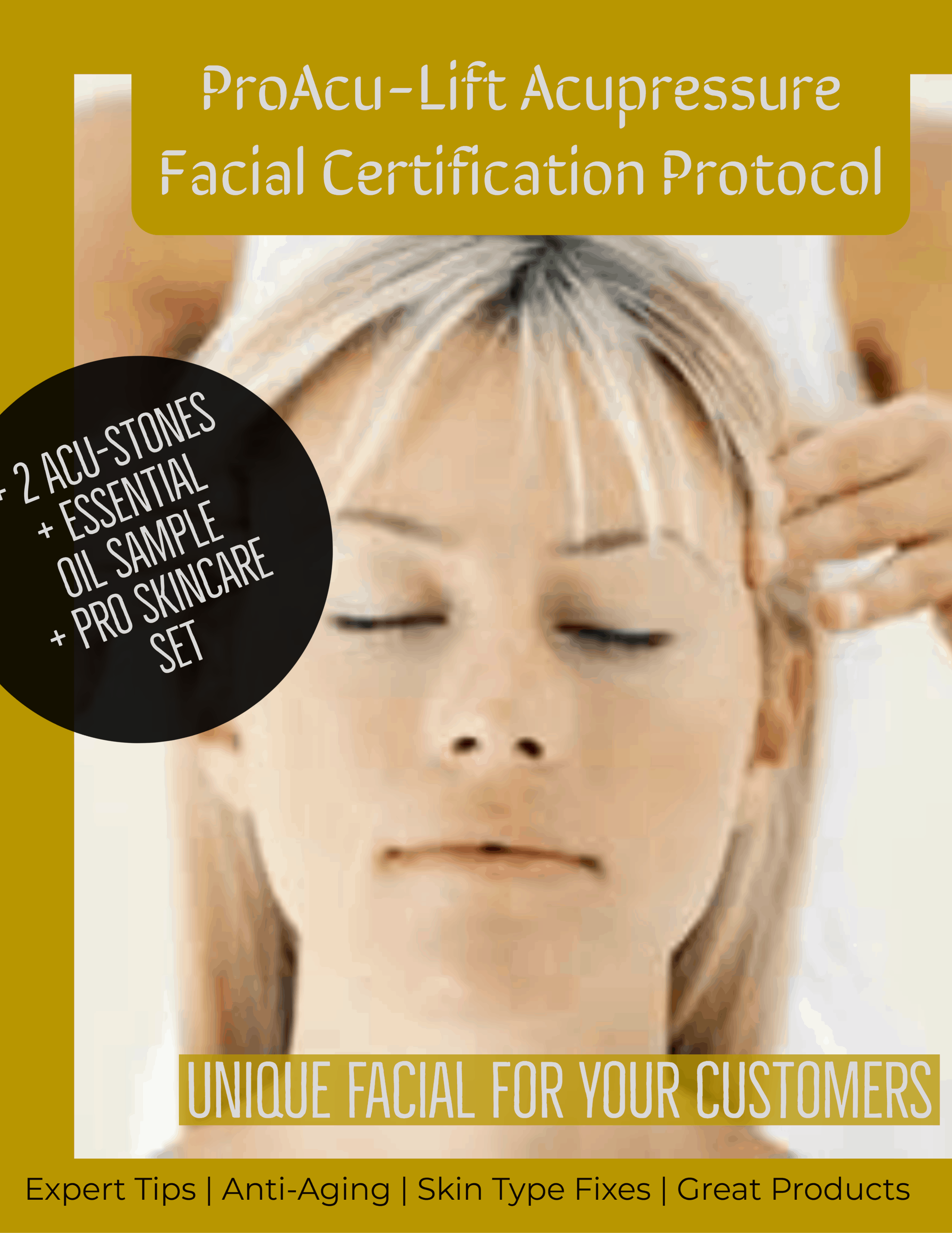 Acupressure Facial
For all healers and therapists. This booklet, for non-acupuncturists, is based on ancient traditions of Chinese Medicine. The Acupressure Face Lift. is a unique therapy to all those who seek to learn its services and discover how it can provide soothing benefits, long lasting results and a wonderful way to balance the health of your skin, and  as an uplifting and detoxing experience.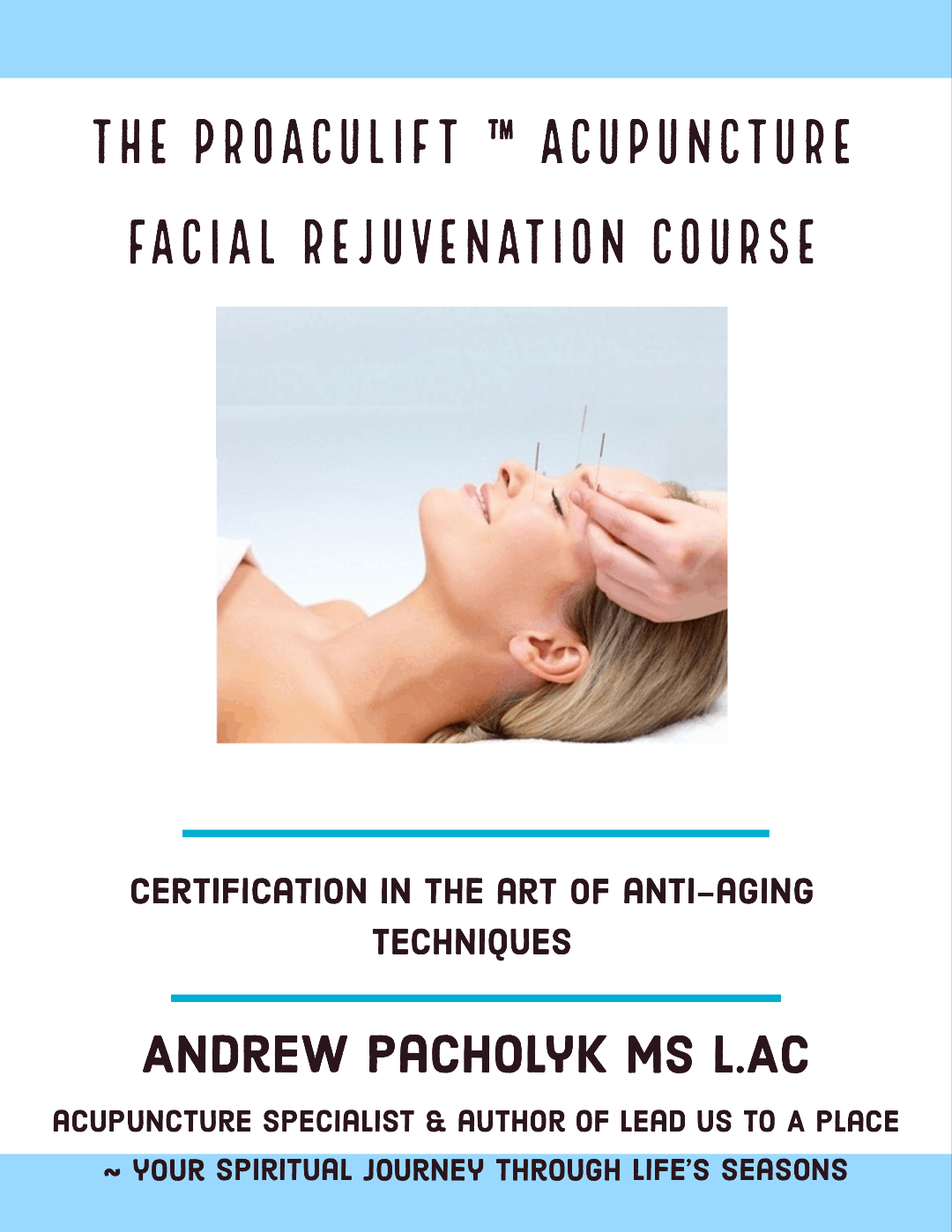 Acupuncture Facial
For licensed acupuncturists only. The ProAcuLift ™ Acupuncture Facial Rejuvenation course has been woven into an extensive study in the acupuncture face lift. Created for his patients in his New York City clinic, Andrew employs a modern twist.to this ancient therapy incorporating acupuncture, electro-stimulation, herbal medicinals, dermatological treatments, nutritional expertise and skin care maintenance.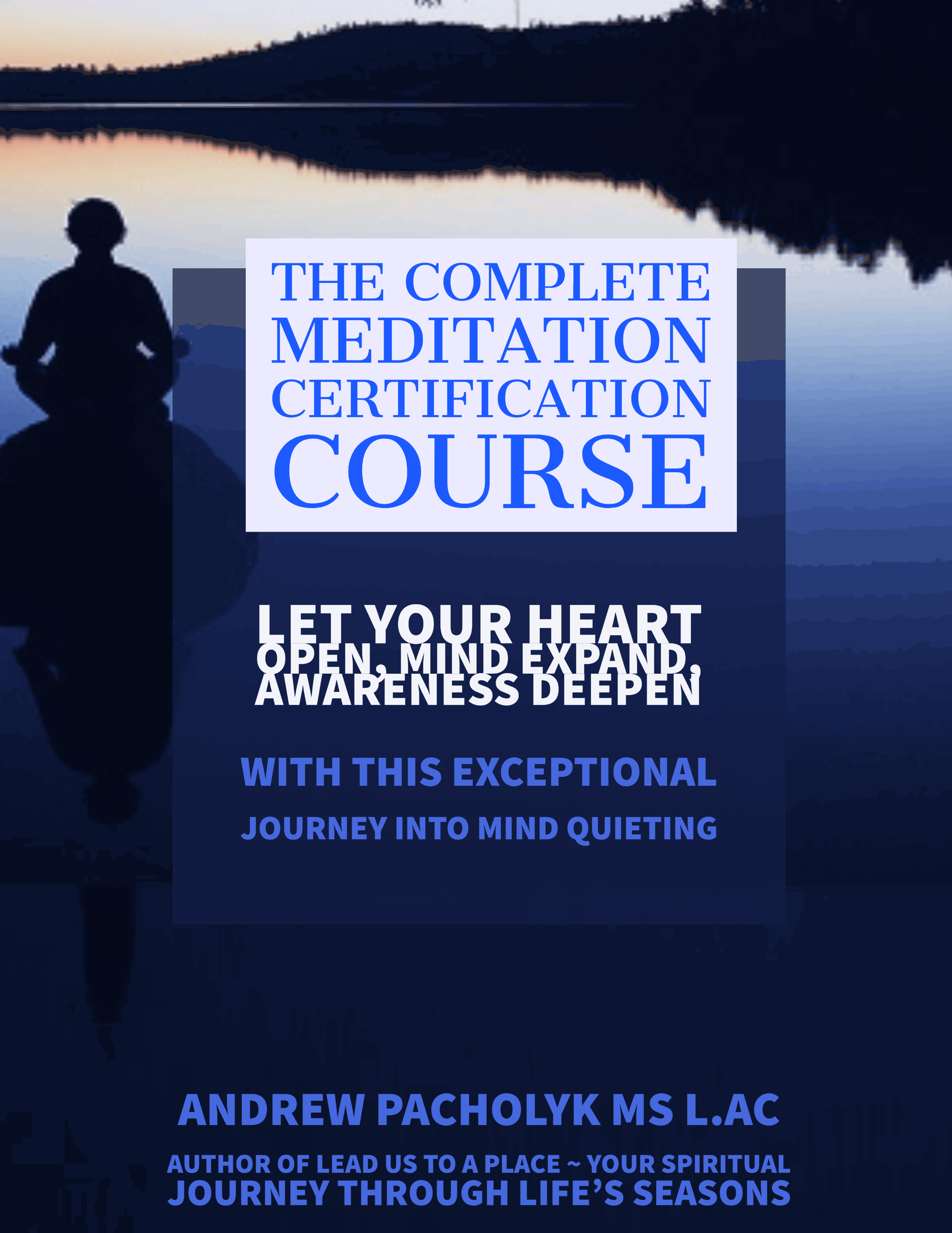 Learn Meditation/Get Certified
The Complete Meditation Certification Course certifies you in the school and art of meditation! Learn the secrets of how to meditate , learn imagery work, develop your connection to your inner spirit and then use them as healing tools, like "Mind Medicine" to connect mind and body, free yourself from pain, find that inner calm and bring your whole body into light and awareness!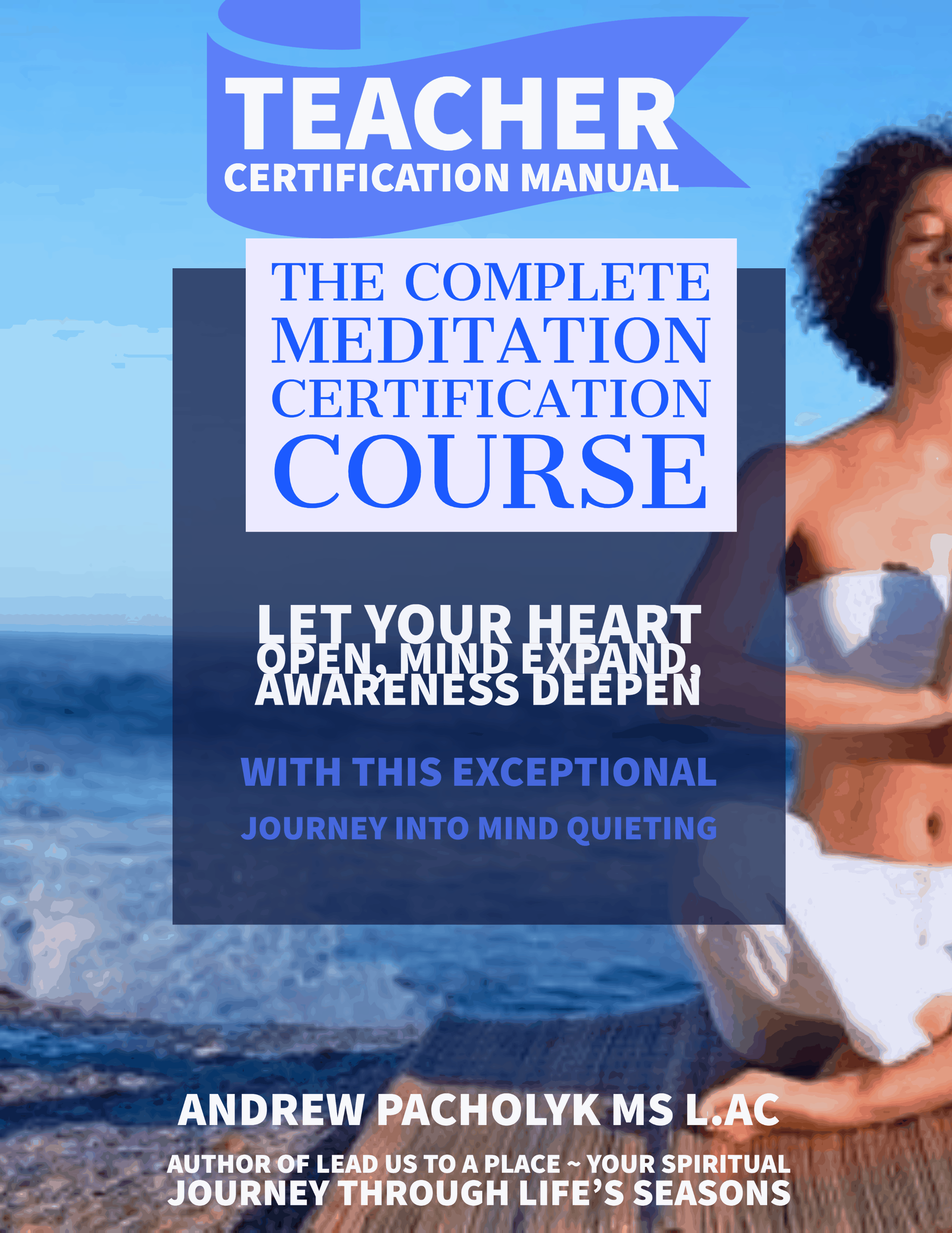 Learn the Art/Teach Meditation
This options offers you BOTH The Complete Meditation Certification Course, as well as, The Complete Meditation Teacher Accreditation Course.Your first course of study offers the many forms and techniques used in meditation and the art of quieting the mind. The second course gives you all the tools you need to be an effective teacher. It offers you the opportunity to be a leader in your field.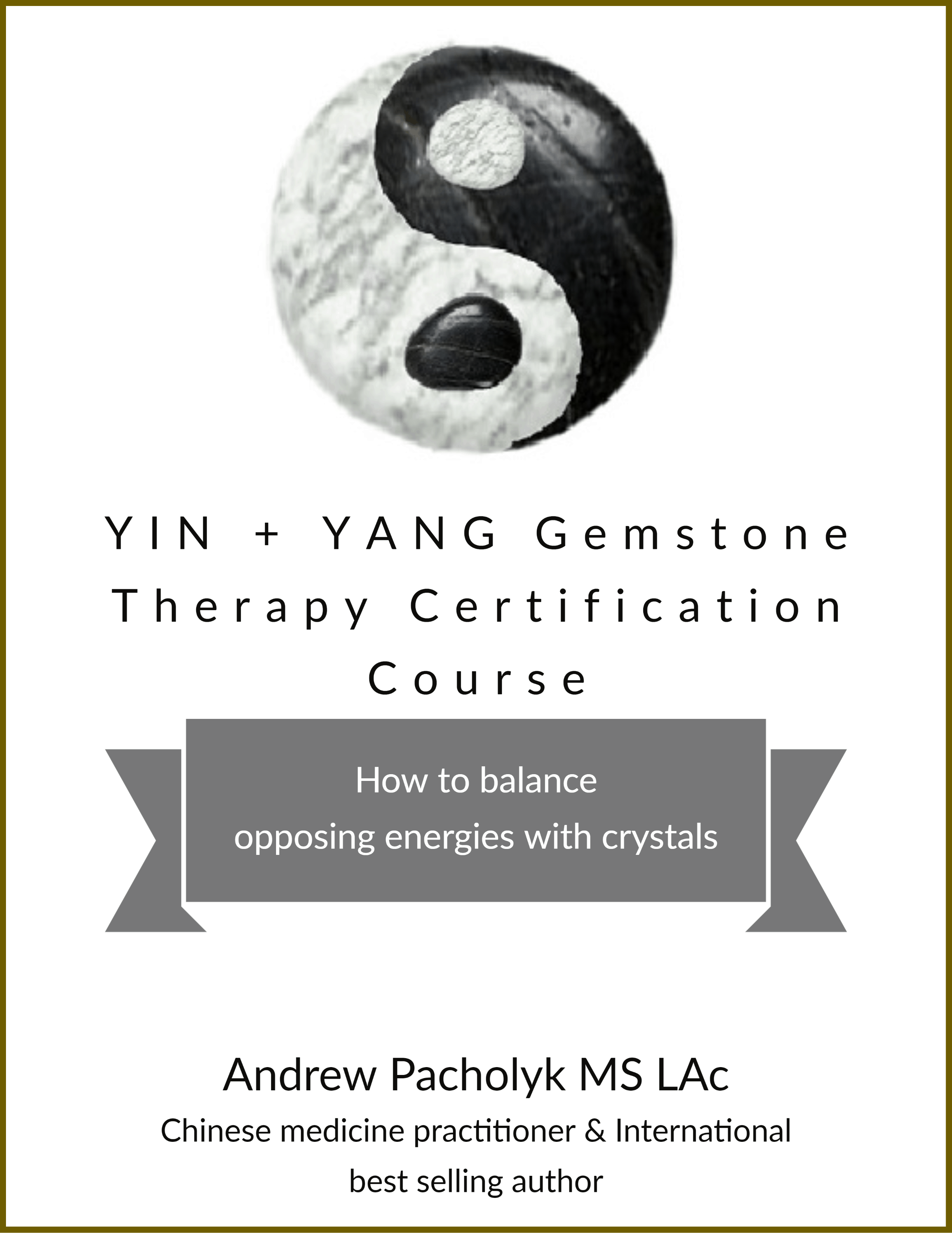 Yin/Yang Gemstone Therapy Course
This brand new MASTER class teaches how to balance opposing energies with crystals. This course trains you in the art of crystal therapy while working in the worlds of Taoist Cosmology, Traditional Chinese Medicine and Feng Shui. Learn the secrets to how the Universe finds its equilibrium and gives you answers to greater life questions. Access the mysteries of love, happiness, protection, and more.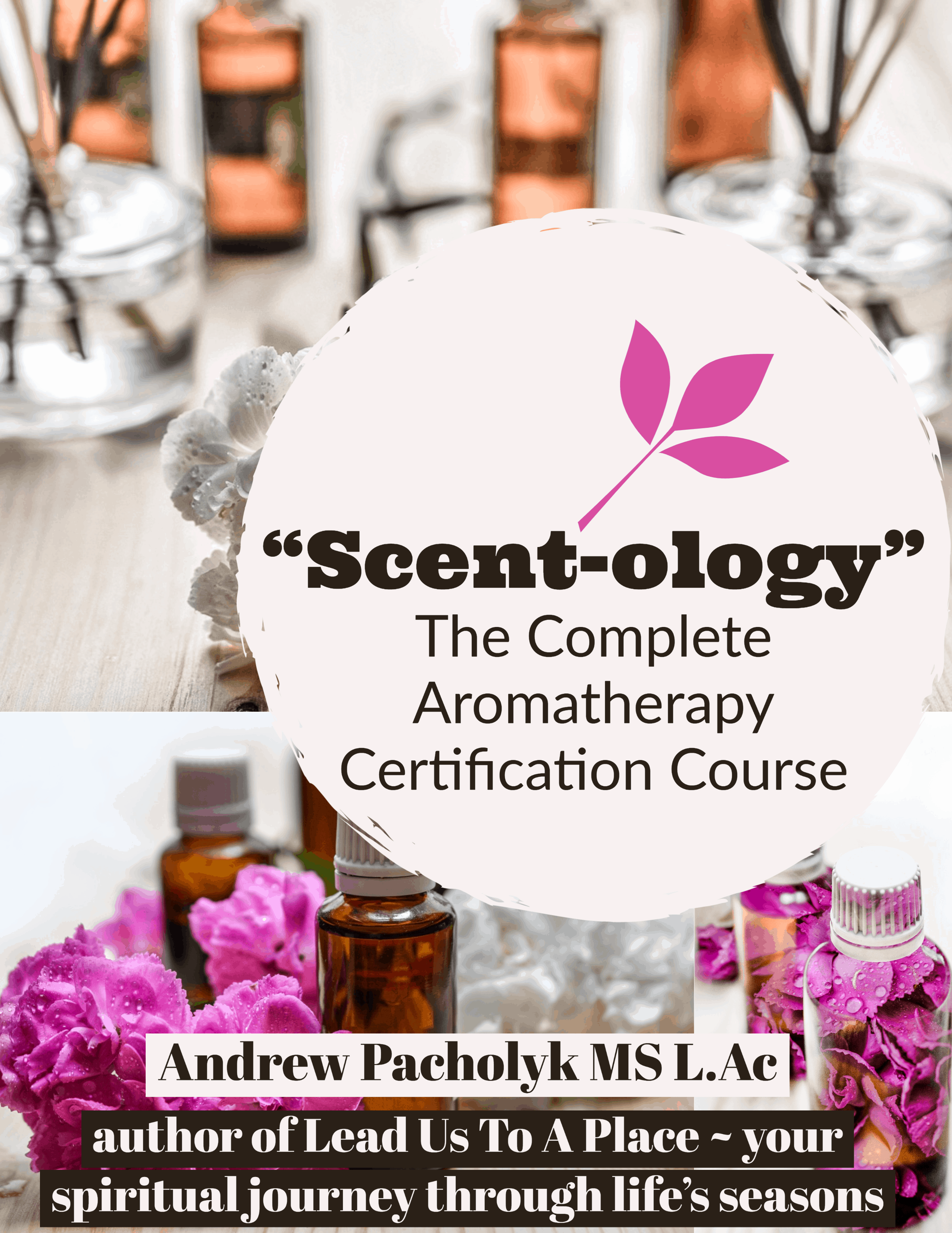 Aromatherapy Certification Course
"Scent-ology" ~The Complete Aromatherapy Certification Course certifies you in the art of scent therapy! This is the most comprehensive and complete aromatherapy course you will ever experience! Certified by the National Association of Holistic Wellness, endorsed by Aromatherapy Times and utilized by some of the most renowned practitioners in the world… this is the course for you!
"Scent-ology" The Complete Aromatherapy Certification Course is built on the very foundation of plant life and the "essence" they produce. You will learn in depth history, plant based information, and herbal knowledge about the foundations of  aromatherapy. Attention is paid to how the oils work on not only a physical level, but a mind-spirit approach as well. The blending, formulating, and creating of essential oil remedies will help you enhance your energy and remain present while giving healing sessions.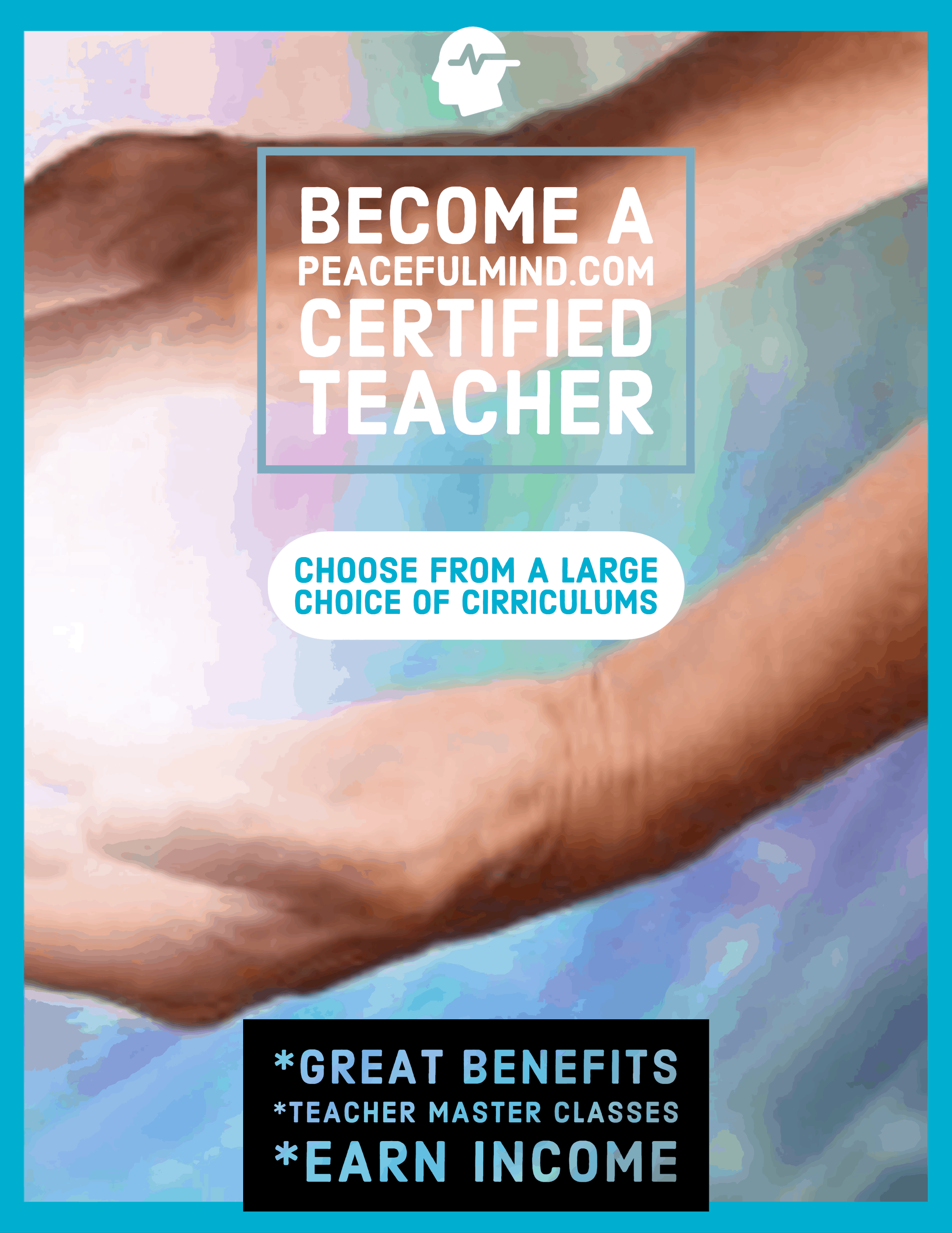 Become A Teacher
Are you already a Crystal Light Crystal Therapist? Become a teacher of Andrew's renowned crystal therapy course. Share in the joy of being a teacher to others and share a part of the profits for your efforts by promoting this wonderful course.
For each course book you sell to a prospective student, you get 20% of each course. You can also go on to offer your students additional items and crystal tools for future crystal work such as chakra kits, pendulums, aura cleansing kits, sacred cleansing herbs and more.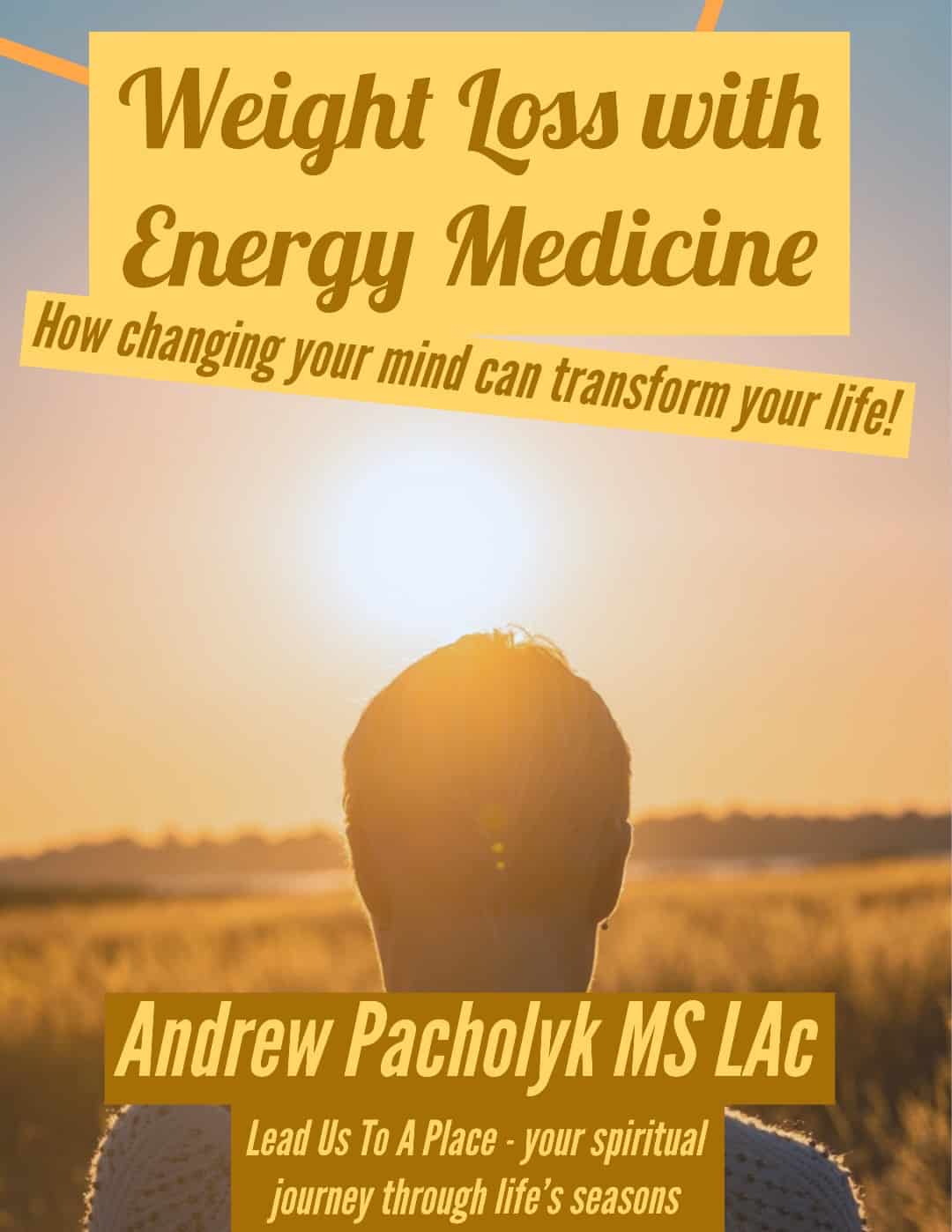 Weight Loss
Using Energetic Therapy To Transform Mind, Body, Spirit! There is an emotional aspect to every illness. Often times, it is the emotional thoughts or "excess emotions" that will lead to illness. Weight gain is often caused by "emotional eating" due to stress, anxiety or social habits. This 35 page course is a profound way to look at loosing weight and the energy and emotional connections that hold us back and keep us from attaining our goals.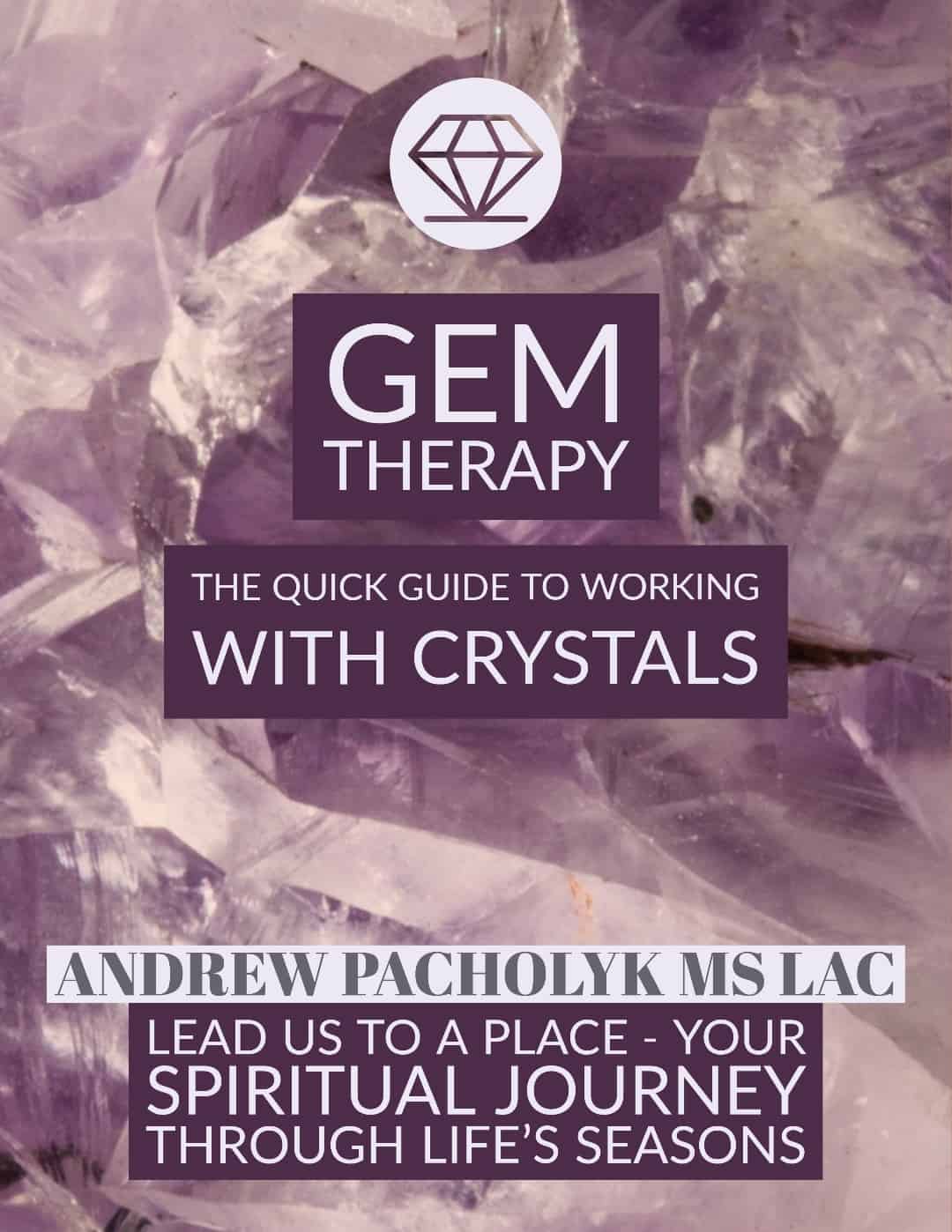 Gem Therapy
Some of the most amazing tools for healing, are the treasures the earth provides us! Crystals and Gemstones are one of the most beautiful, mystical and profound "energy medicine" tools, which have been used for centuries throughout all cultures, religions and empires. This 25 page course is a complete way to work with crystals and it covers all the aspects of how to heal with crystals!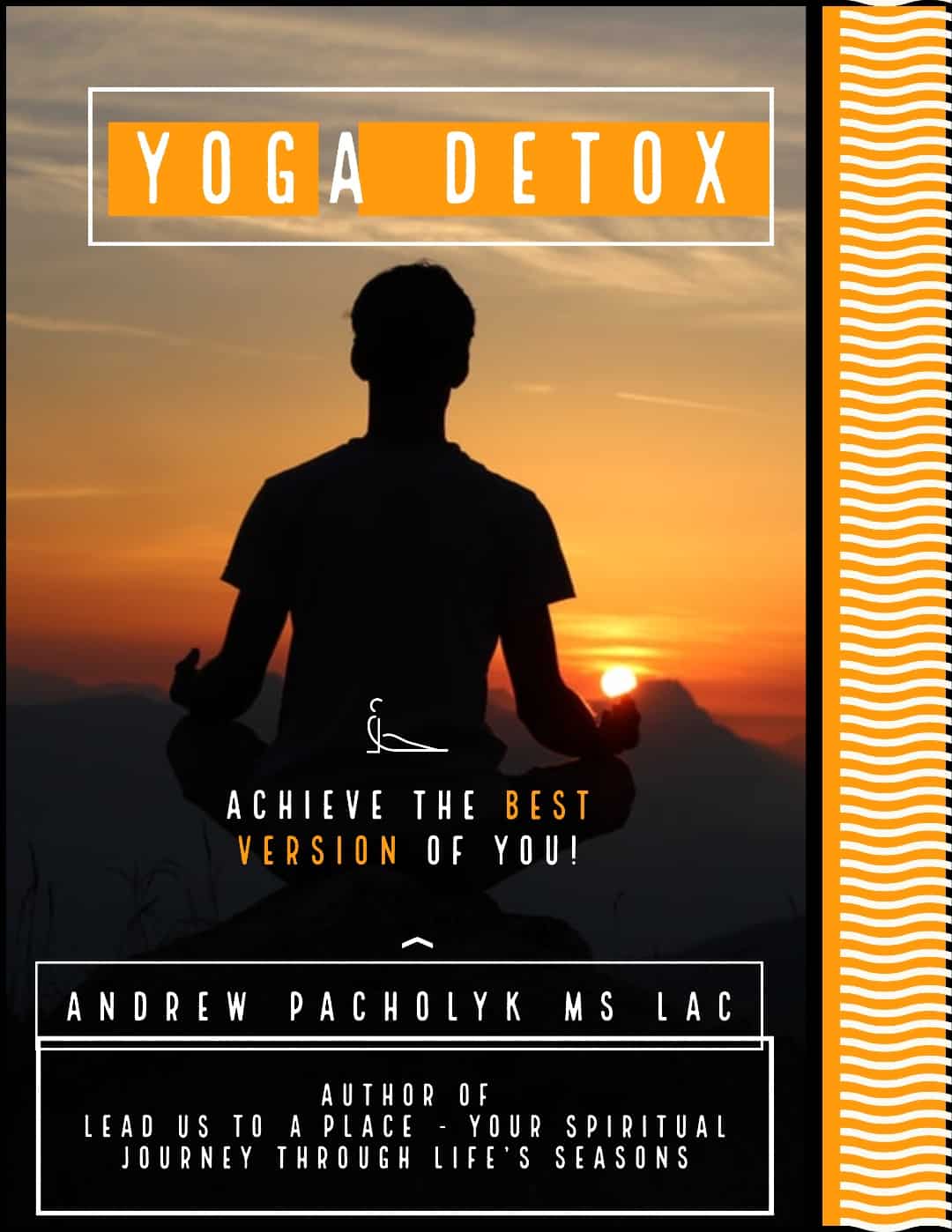 Yoga Detox
The Yoga Detox is a 3,5, or 7 day plan that can be used to help the body to eliminate toxins from your body. This fascinating ebook is an in depth view of the yogic detox plan to cleanse the body, the mind and our etheric body! This 40 page program is an inspirational way to look at detoxing through the tenets of yoga and Ayurvedic principles with a combination of simple foods, uncomplicated yoga poses and soothing meditation to create an empowering plan!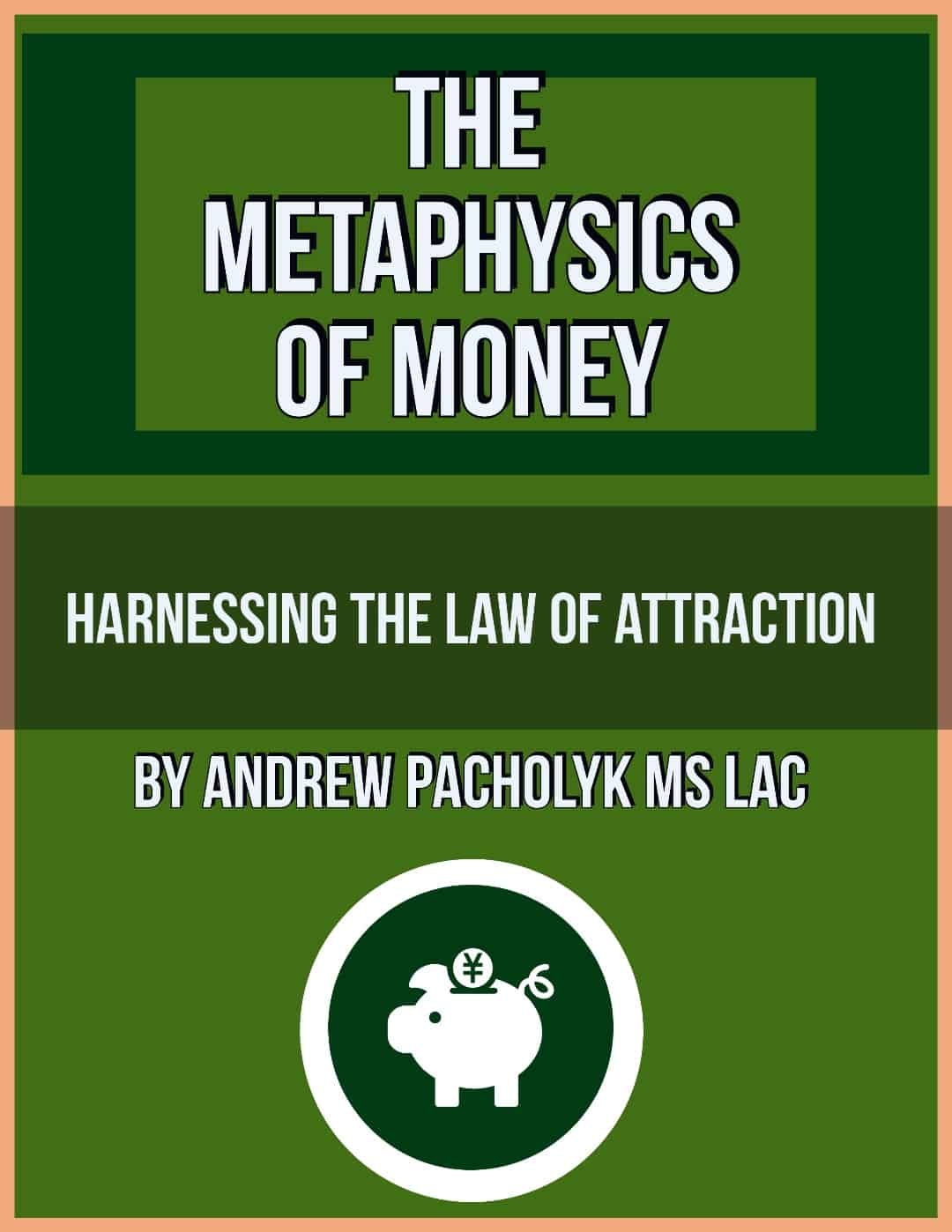 Metaphysics of Money
The Metaphysics of Money is the most important ebook for anyone who needs help with money…getting it, managing it, keeping it! The power of our thoughts has everything to do with how we bring and keep money in our lives! Learn the secrets of being rich and prosperous, how your power of positive thinking brings money to you and how to harness the Law of Attraction. This 35 page program is an exceptional workbook to bring money into your life.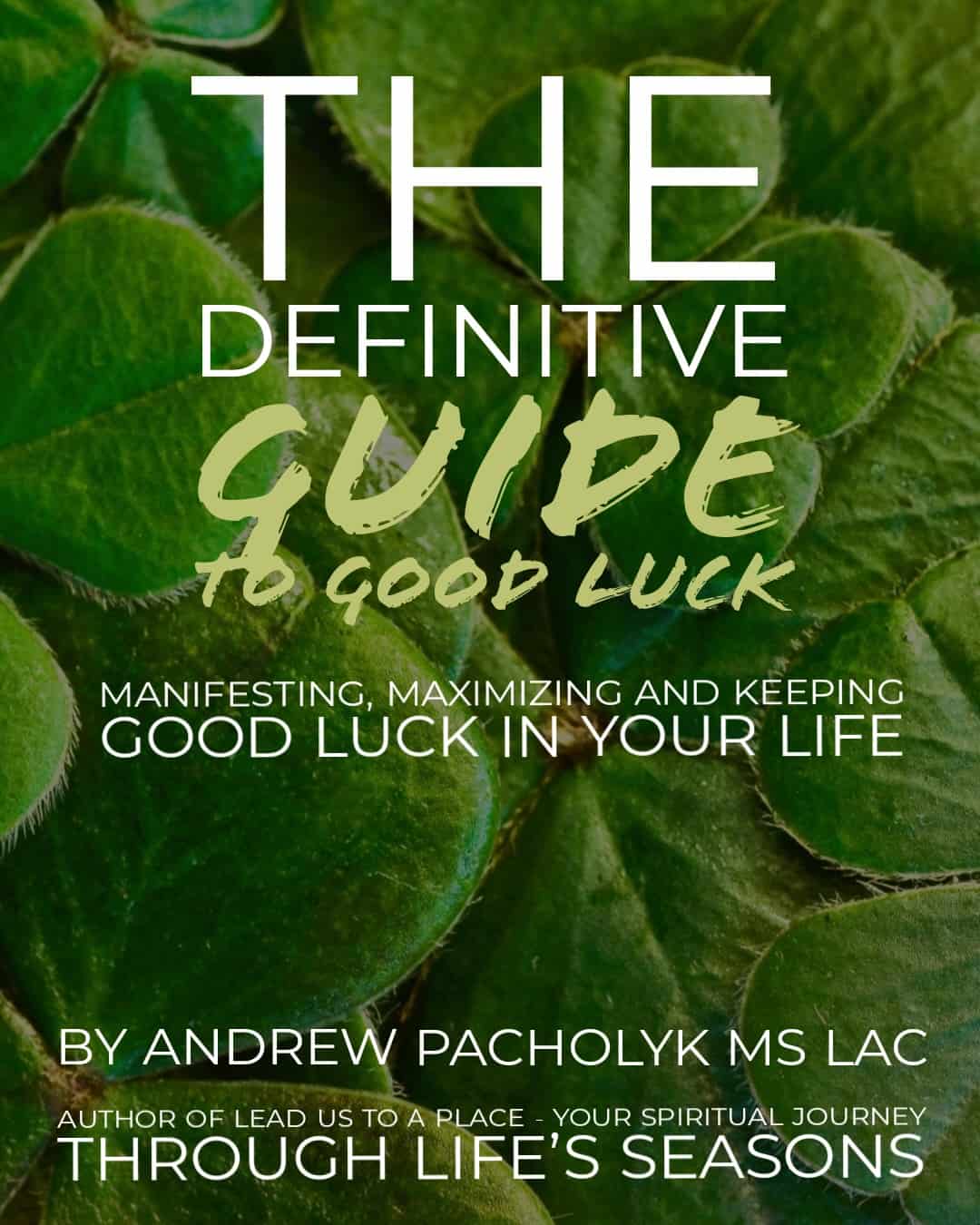 Luck: The Definitive Guide
Manifesting, Maximizing and Keeping Good Luck In Your Life, is Andrew's masterful guide at recognizing, working with and creating luck in YOUR life. His research has been synthesized into a practical guide for understanding how to make luck happen, appreciate the good luck around you daily and building a foundation in your life. This fascinating 40 page course will show you how to bring you luck in love, money and self-power!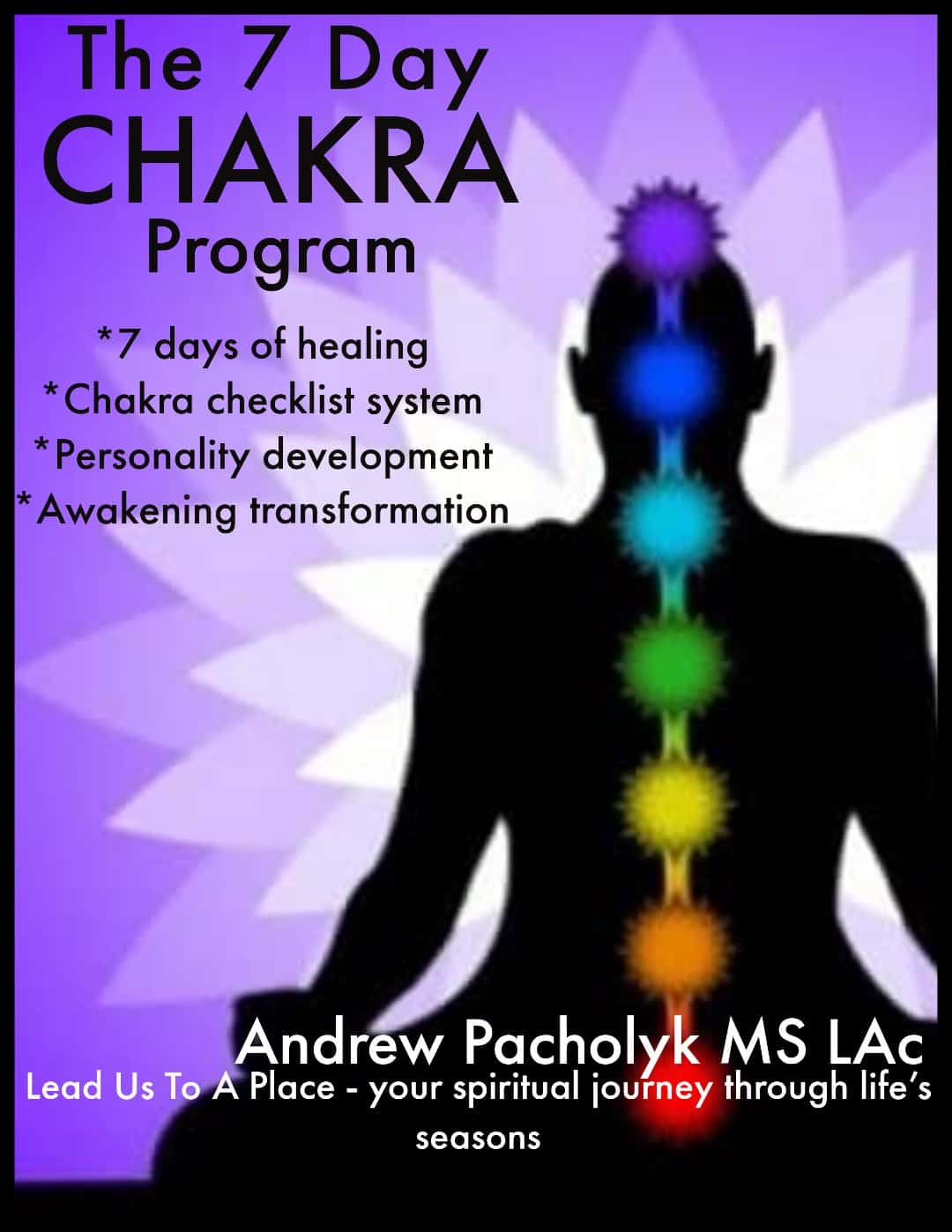 7 Day Chakra Program
*7 days of healing *Chakra checklist system *Personality development *Awakening transformation… Each day a new crystal, oil, color, meditation, life lesson and amazing guidelines for living within this energy system! Reduce your stress and find balance! A daily guided meditation, mental detox program, nutrition – based on the Chakra color system, all designed to engage the forward thinker in Chakra healing! This 61 page book is a profound way to discover your physical, emotional and spiritual connections that help us to find our own peace.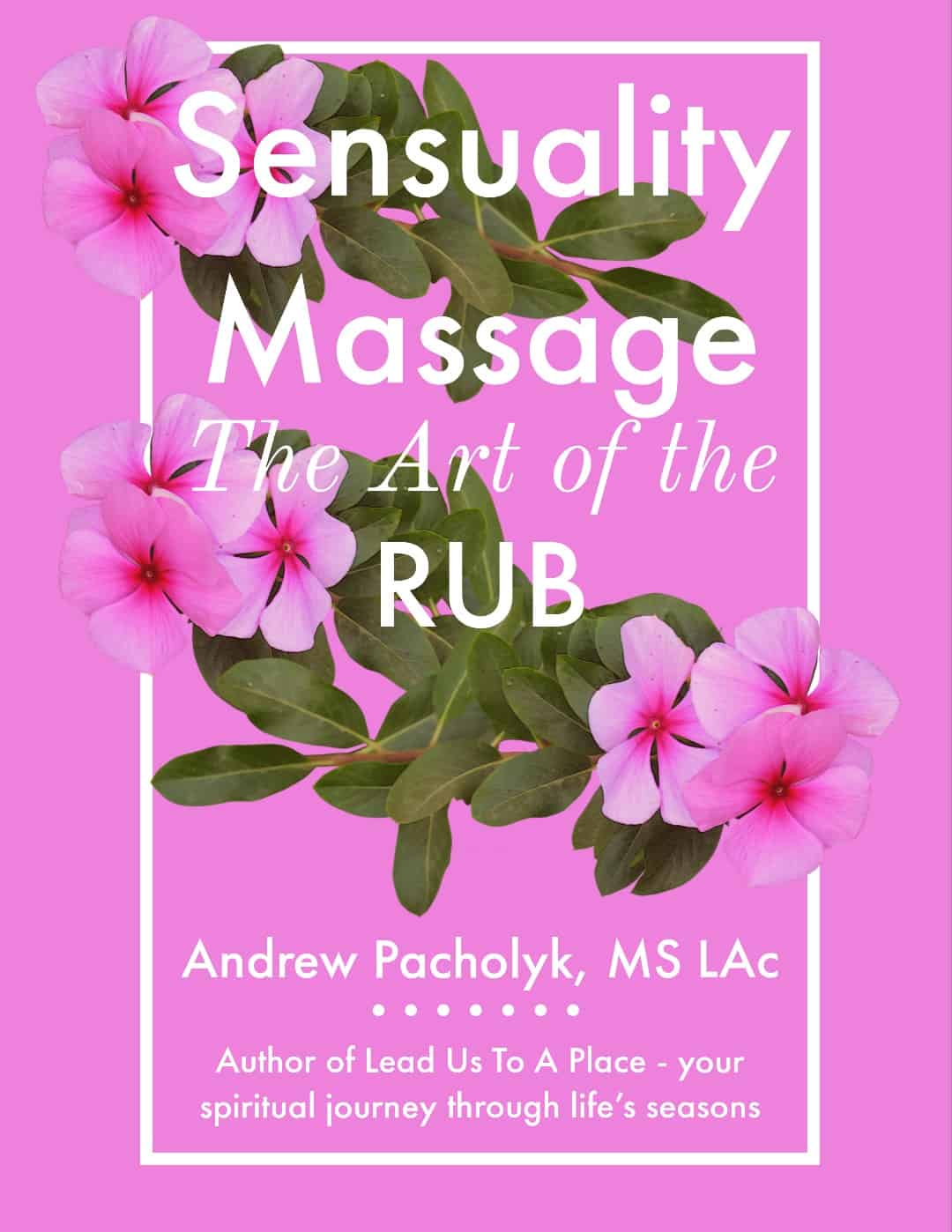 Sensuality Massage
The Art of the Rub. Deepen and activate your power to explore. It's an invitation to embody what it means to be an erotically alive and compassionate. Explore new dimensions of sexuality and consciousness through awakening the erotic innocence, allowing touch as communication and sharing Tantric energies with your partner. Enjoy expanding your orgasmic potential by cultivating vital life force (sexual energy). This 30 page manual is a wonderful way to bring sensuality back into your life.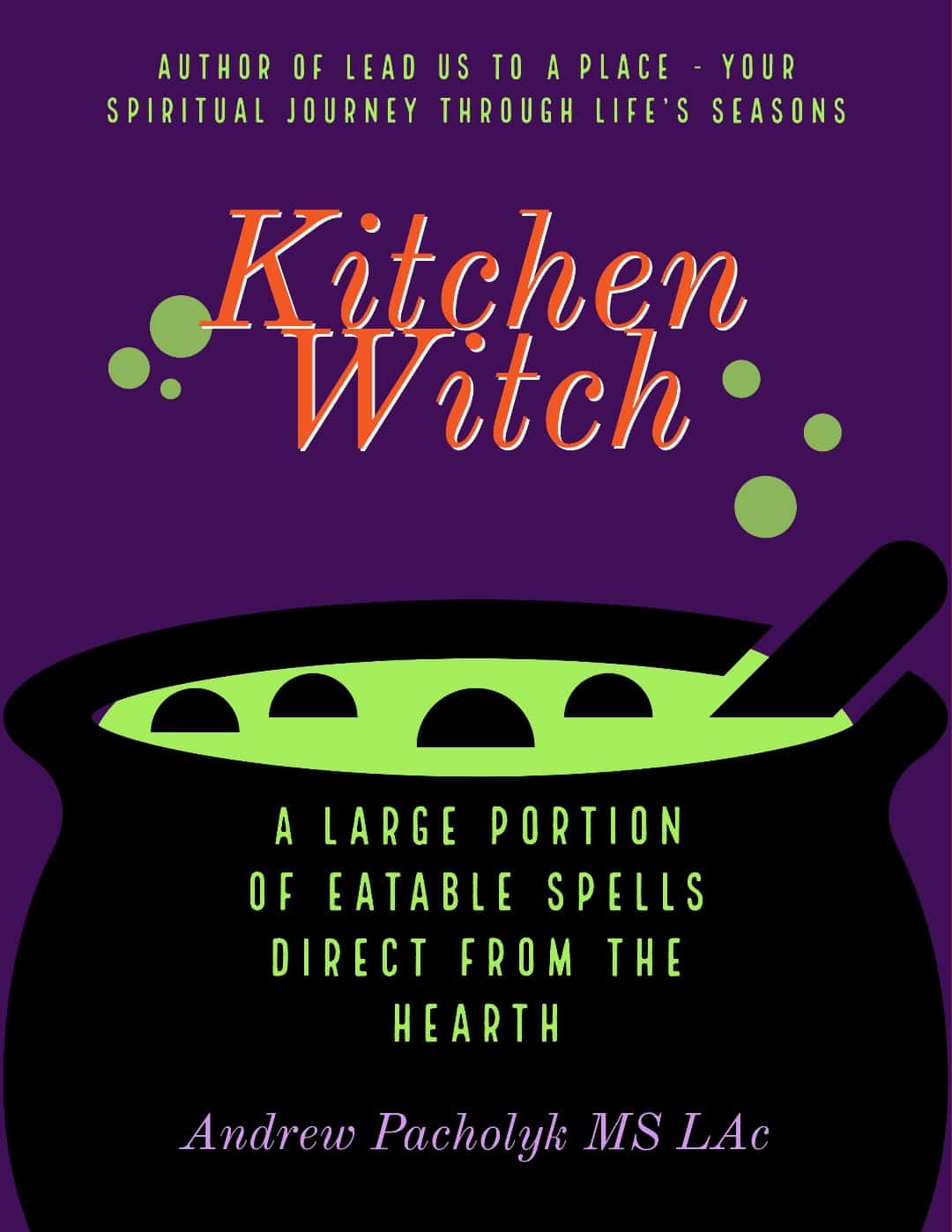 The Kitchen Witch
A Large Portion of Eatable Spells Direct from the Hearth! It is from the perspective of the kitchen. This e book is designed around the hearth and home of 3 kitchen witches, most personal to me. It covers the magic and spells that originated in the home and a little about the history of how spells made it out of the kitchen and into the workings of witches everywhere. Spells for abundance and plenty, love and romance and protection and courage have all come out of the kitchen! This amazing 49 page e-book has 100 recipes that have been created from the culmination of knowledge and historic wisdom gathered throughout time for the purpose of spell working.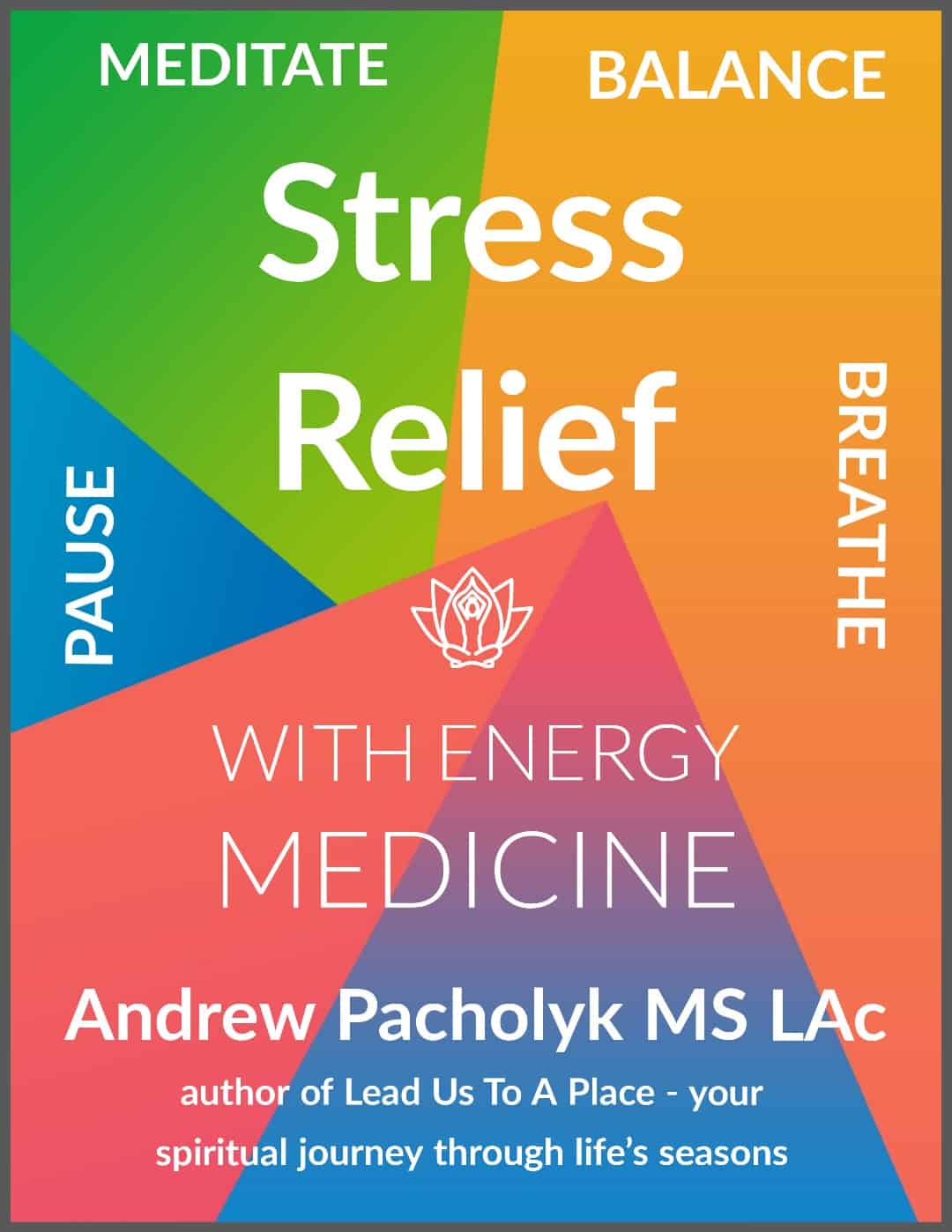 Stress Relief With Energy Medicine
This fantastic ebook is absolutely full of amazing ways to reduce stress and anxiety in your life. Andrew has created this information in a workbook form so that it is fresh and timely every time you read it. This ebook helps you work through stressful situations and allows you better understanding of the processes that repeat themselves and how we can conquer them in daily life. This 51 page book is a profound way to look at stress and the energetic emotional connections that hold us back and keep us from attaining our peace.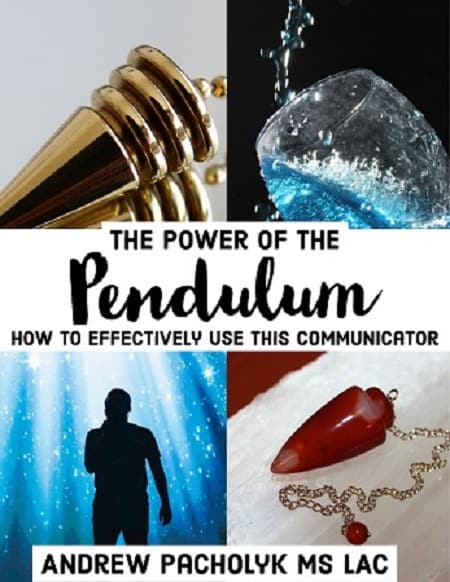 How To Effectively Use A Pendulum
Power of the Pendulum is Andrew's long awaited and most requested ebook to date! For anyone who needs help and answers with events in their life, this ebook is a must have for anyone who wants or owns a pendulum/dowsing tool.As an extension of our mindfulness, the pendulum can give you information from the same two sources as your intuition: from your own subconscious mind; and from your guidance, spirit, or guardian angel. Pendulums are wonderful for healing Chakra work, communication work and making a choice of any kind!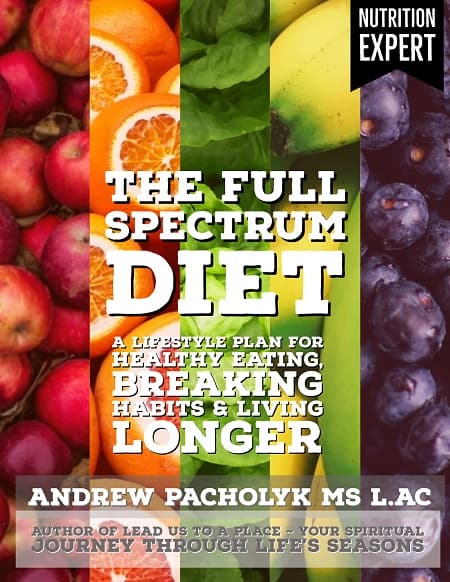 Full Spectrum Diet
This is the last diet plan you will ever need in your life! The Full Spectrum Diet is a common sense, lifestyle plan that will: t transform your body and your life, give you more energy than you ever imagined, help you to shed unwanted pounds, allow you to use healthy, natural food as a tool for weight control and anti-aging. Replace cravings and bringing with sensible eating habits. Educate your mind on the power of fresh, wholesome foods. Empower you to create positive change in the way you eat and how you look at food. 
Self Empowerment
28 self-empowerment kits from Love to Protection and Cleansing to Balance….. these very thorough, do-it-yourself, kits allow you to understand the priorities we have in life. They are self discovery, self-learning tools for helping you to cope with, understand and bring awareness into your life!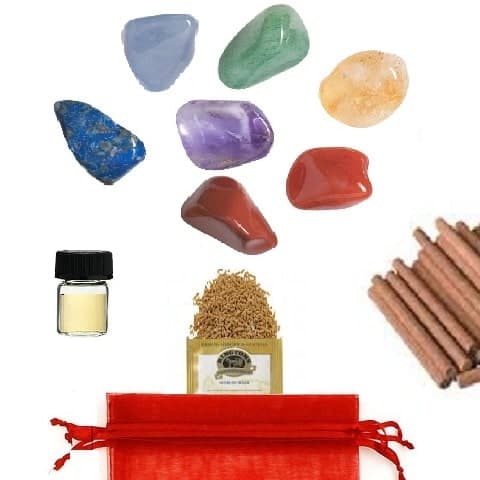 Chakra Kit
This very powerful Chakra healing kit, is like no other!  Learn the lesson of healing the Chakra centers with genuine crystals. Work with your other 6 senses by incorporating our fragrant Chakra incense, our famous Chakra perfume oil, and a tasty sample of one of our Chakra teas!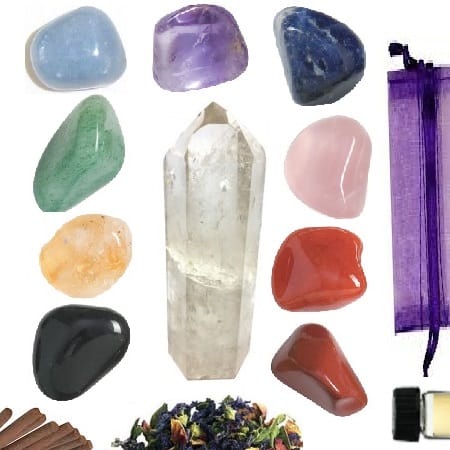 Aura Cleanse Kit
This is the most comprehensive aura cleanse kit on the planet!  Our auric energies "breath in" everything from negative energy to EMF radiation, blocking and confusing our own personal energies on a daily basis. Learn how to cleanse and clear this impending interference and rebalancing your life!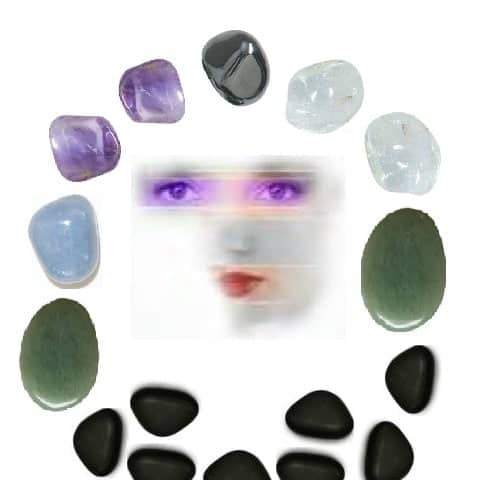 Crystal Facial
This very unique kit was designed by Andrew for his private practice in New York City and is very popular in spas and salons worldwide. This set incorporates the genuine power of crystals and basalt stones with the healing process of a facial. Try this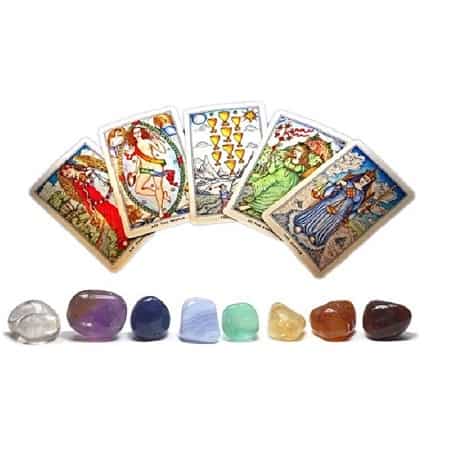 Crystal Tarot
This fantastic crystal tarot kit includes: 22 semi precious stones, representing The Major Arcana, an instruction booklet with in depth directions on how to work with and interpret your crystal tarot, a beautiful bag for storing your kit and sacred Tarot incense to set the mood!  This set also comes with a complete 78-card Tarot deck with the Rider-Waite deck of cards.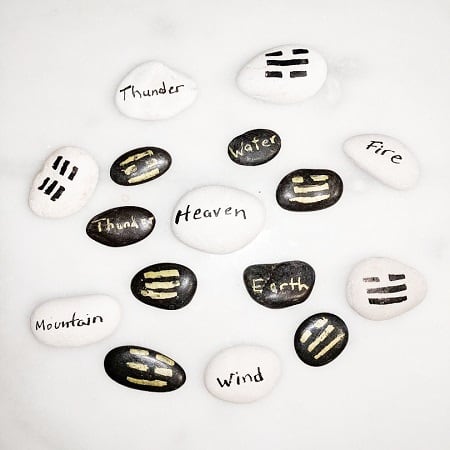 IChing Game
You simple choose one Yin stone and one Yang stone from the game bag provided and look up your interpretation or lesson. These unique and exciting "life lessons" help us to understand the principles of philosophy, behavior, and human nature. You get 8 basalt stones, 8 marble stones, the transformation booklet and IChing bag! Complete and easy-to-read instructions and lessons to improve your life!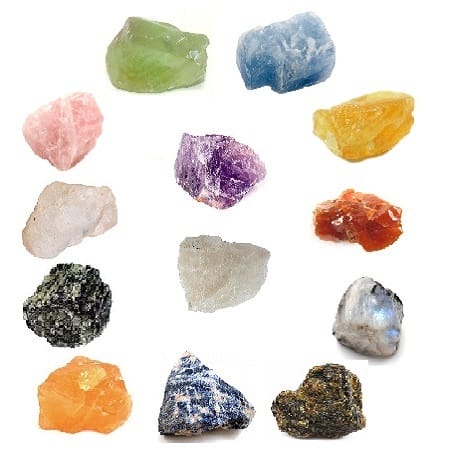 Calcite Divination Set
Based on the fantastical divination system of stone casting, the Mexican Lithomancy System is featured in Andrew's course, The Crystal Witch ~ A Year and a Day of Spells for Empowering Your Life. This amazing set includes 13 rough stones + complete instruction booklet + our divination incense cones + organza storage bag.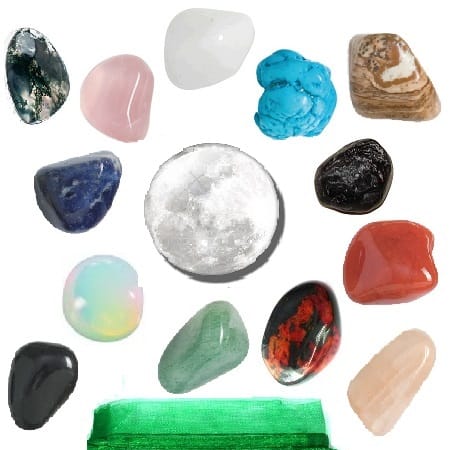 13 Celtic Moon Set
This set takes you on a magical journey and meditation using crystals associated with each moon, birth month, and Sacred tree. You can use the crystals in many ways and the set comes with complete instructions. It includes 13 crystals associated with each moon. The set is complete with a Celtic Zodiac and organza bag for storage.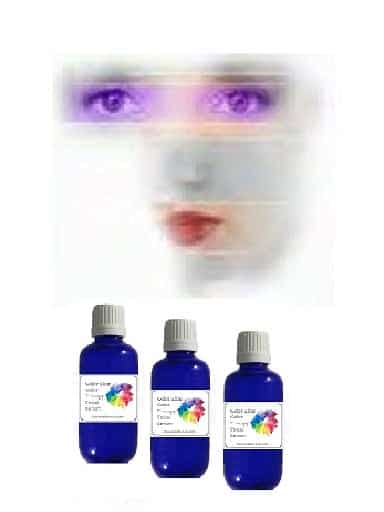 Color Facials
This one-of-a-kind kit was designed around Andrew's Color Elite Color Therapy Course and his knowledge of the face and esoteric healing.  This facial was created to fill a niche for those practitioners, spas and salons looking for something "different" that WORKS and can be added to any spa menu or practitioner's tool belt!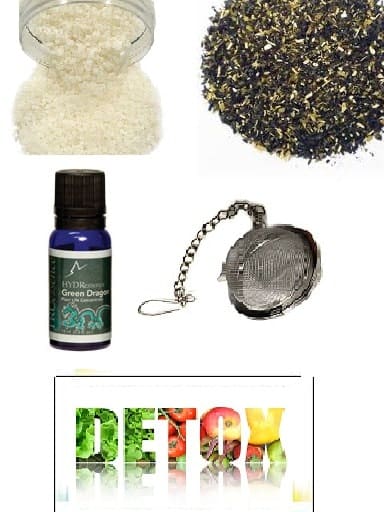 The Detox System
Cleansing your body from the inside out is a great place to start for beautiful, clear skin! We are proud of this wonderful system, which includes all of Andrew's top detox products formulated into one fantastic regime. It also includes  Andrew's booklet: "100 Ways to Detox Safely and Naturally" .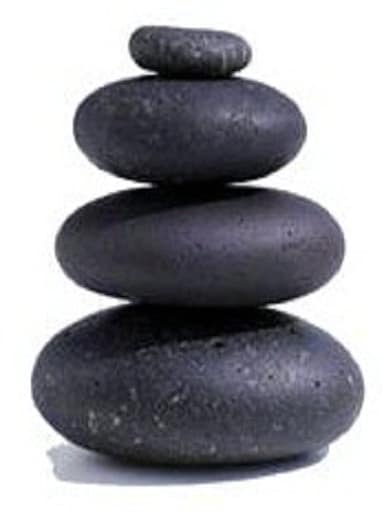 HotStone Massage
Created from centuries old therapy techniques, this is no ordinary hot stone massage kit.  We take real basalt stones that are river tumbled (not by a machine) so they retain their powers from nature and bring them together with 50 of Andrew's fantastic hot stone massage oil, aroma elements & techniques from his HotStone Certification Course!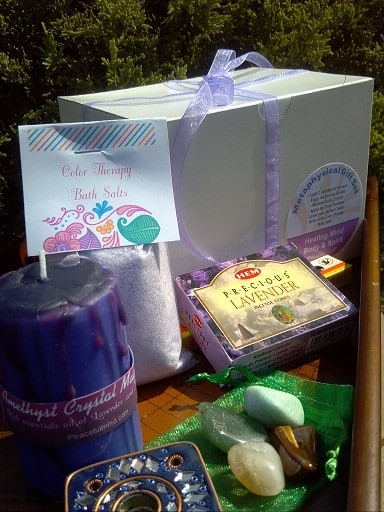 Metaphysical Sampler
Experience the power of positive thinking with our Metaphysical Sampler Kit. Filled with our empowerment candle, genuine crystals, fragrant incense, fantastic bath salts and complete instructions for bringing positive intention, well-being and understanding of metaphysics into your life!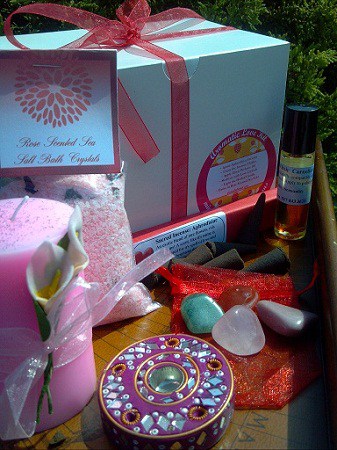 Beltane Love Kit
This Celtic holiday begins celebration on the eve of May 1st. Halfway between the vernal equinox and the summer solstice, it symbolizes the start of summer or the "light half of the year". Most associated with the power of fertility, love and light. Celebrated all over the world …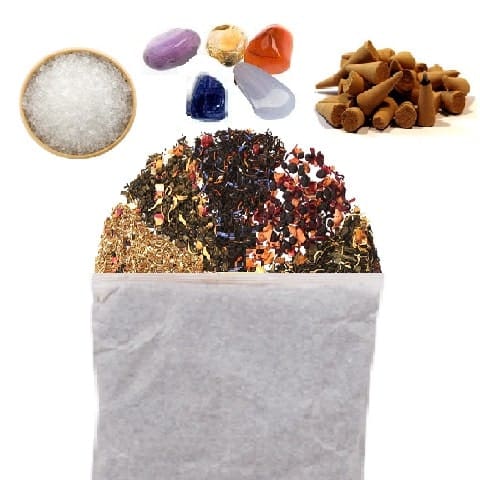 Ritual Baths
My ritual baths work with the traditional cleansing element of water and infuses a combination of sea salt, crystals, herbs, essential oils and color, which are harmonious with the work to be done. This is a complete system, leaving no stone unturn in its approach to achieving a specific goal!
Medicine Wheel
The Medicine Wheel is representative of American Indian Spirituality. The Medicine Wheel symbolizes the individual journey we each must take to find our own path. The Medicine Wheel is a representation of all of creation and how it works within the seasons. Each stone tells part of the story.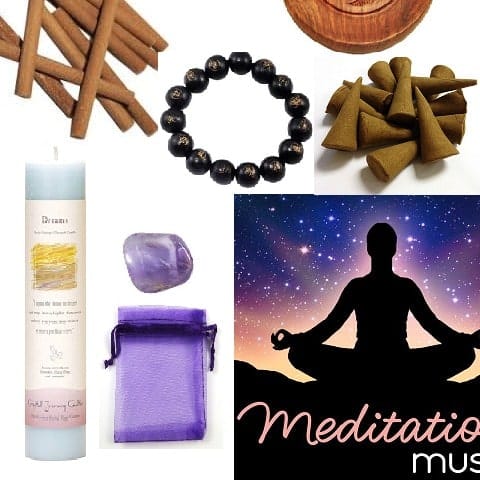 Meditation Kit
Andrew's Complete Meditation Kit is the first step in tuning into your mind and body awareness! This kit is for beginners to advanced alike and is filled with great tools for meditation including, music, meditation beads, candle, crystal, incense and complete instructions for making meditation part of your life!
International Energy Medicine Therapist Directory
~ Find a therapist, practitioner or energy worker, worldwide!
Click here