Ready to feel the beating heart of existence?
~Kick off your shoes and discover the ultimate way to navigate uncharted waters.
Andrew Pacholyk was a gawky kid with big ideas. Awkward and out-of-place as a teen, he relished the moment he discovered dancing and the ecstasy of the rhythm of his body. But it wasn't until he caught his first wave on the wide-open ocean that this nature-lover truly began to comprehend the vast balance on tap in the cosmos.
Barefoot ~ A Surfer's View of the Universe…
is the unvarnished true tale of a spirited man's life with sand between his toes and senses on high alert. With stunning lessons of solace and eye-opening insights, the lifelong surfer, professional dancer, and acupuncturist's journey through the blue serves as an everyday account of the power of paying attention. And with talented storytelling and vivid prose, diving deep into this memoir-like search for meaning will leave you feeling refreshed, blissfully connected, and transformed.
The Deluxe Audiobook Is Available!
Barefoot ~ A Surfer's View of the Universe arrives on 49 different audiobook platforms, including Audible, Scribd, Kobo, Hoopla, Google, and more!  The Deluxe Beach edition is wonderfully narrated by Zack Percell, taking you on an incredible adventure around the world offering a new perspective on contentment and finding passion in life!
Dive deep into this lifelong surfer and healer's powerful guide to reconnecting with mind, body, & soul!
24symbols / Anyplay / Apple / Audiobooks.com / AudiobooksNow / Authors Direct / BajaLibros / BAM / Beek / BingeBooks / Bokus Play / Bookmate / Chirp / Cliq / Downpour / eStories / Google Play / Hummingbird / Instaread / Kobo, Walmart / Leamos / Libro.FM / Milkbox / My Audiobook Library / Nextory / NOOK Audiobooks / Radish / Scribd / Spotify / Storytel / Ubook / Axiell / Baker & Taylor / Bibliotheca / Bidi / EBSCO / Follett / hoopla / MLOL / Odilo / Overdrive / Perma-Bound / Ulverscroft / Wheelers / 3Leaf Group
Barefoot – Winner of the Literary Titan Gold Book Award
September, 2022 – The Literary Titan Book Awards are given to books and authors that have astounded and amazed us with unique writing styles, vivid worlds, complex characters, and original ideas. These books deserve extraordinary praise and we are proud to acknowledge the hard work, dedication, and writing skill of talented authors.
The Literary Titan Gold Award is bestowed on books that we found to be perfect in their delivery of original content, utilizing fresh themes to convey innovative ideas, and deftly uses elegant prose to transform words into expertly written literature.
"…What I enjoyed most about this book is how the author is comfortable with his vulnerabilities and doesn't shy away from discussing his insecurities growing up. He reminisces about friendships through his surfing adventures and mentors who contributed to the quality of his experiences. Pacholyk writes a beautiful memoir interspersed with nuggets of wisdom and valuable lessons that shaped how he navigated through life. When you read Pacholyk's exciting and enlightening memoir, you'll feel inspired by the author's unbridled passion for a life of energy and pushing one's limits.
~ Thomas Anderson, Literary Titan
FOR IMMEDIATE RELEASE
California Surf Museum Adds Andrew Pacholyk's Book, "Barefoot: A Surfer's View of the Universe," to Its Best Surfer Books Collection
[Oceanside, CA September 15, 2023] – The California Surf Museum is pleased to announce the addition of Andrew Pacholyk's latest book, "Barefoot: A Surfer's View of the Universe," to its prestigious collection of best surfer books. This captivating memoir takes readers on a thrilling journey through the world of surfing, offering a unique perspective on the sport and its profound connection to the universe.
The California Surf Museum is honored to include "Barefoot: A Surfer's View of the Universe" in its esteemed collection of surfer books. With a beautiful forward, written by surfing legend Joey Cabell, this addition further solidifies the museum's commitment to showcasing the best works that celebrate the rich history and culture of surfing. With its captivating storytelling and profound messages, Pacholyk's book is certain to engage surf enthusiasts and literature lovers alike.
In Barefoot ~ A Surfer's View of the Universe, you'll appreciate:
– The practice of accepting who you are and embracing what you find
– How daily discipline and awareness build courage and confidence
– Tips for helping your fellow humans in this grand struggle called life
– Techniques to cope through connecting with the body and soul
– The magic and genius of nature, and much, much more! 
International Best-Selling Author
Andrew Pacholyk…wasn't always an influential spiritual thinker and teacher of healing techniques that bring unity to mind and body.  He was a kid from a small town in New York, filled with impossible dreams and no way to achieve them. Then Andrew discovered his inner beach bum –  and life has never been the same since. 
This engaging book is part surfing memoir and part spiritual journey. Inside, you see the universe the way it looks on top of a majestic ocean wave, barreling towards shore with unbelievable power. Each chapter is filled with surfing adventures and poignant lessons about spirituality, happiness, and the meaning of the Universe.
Barefoot ~ A Surfer's View of the Universe
…is a doorway to resetting the self.
If you've ever heard the call to adventure and/or felt the nagging sensation that there's much more to the world than you can see, this book is for you!
If you're ready to uncover the mysteries of the Universe, one barefoot adventure at a time…
If you like powerful observational wisdom, thought-provoking revelations, and the gift of learning from each moment, then you'll love Andrew Pacholyk's breathtaking story of his pilgrimage through time.
Buy Barefoot ~ A Surfer's View of the Universe to ride the waves of perception today!
"This book is a sweeping, cinematic musical journey about a boy, his surfboard, and the bigger than life adventures he rolls in on. This life and career is filled with more entertaining adventures than many experience. This book is very nearly a travelogue!" 
"This must-read coming of age story takes its reader not only over the waves, but over the rainbow. From the LA surf capital and breathtaking Hawaii, to Bali, Bangkok, and the coast of Ecuador. This high-velocity life of a career dancer and lifelong surfer will lead you on a whirlwind adventure."
"Joyful, heartfelt, emotionally charged – this book has it all. For anyone on a search for the meaning of the Universe, you'll find more than you could ever imagine. All through the eyes of this young, awkward boy who, on his journey, grows into a well-versed, confident, and spiritual man."
BAREFOOT
I am the "every man." Every man (woman or child) that has ever been drawn to the sea and surf.
I represent the collective soul seeker who has been called to the sea. The person that finds solace at the water's edge.
I am a surfer.
I am not a world-class champion nor a kook, but a person who has mastered his board and has enjoyed countless days dangling his feet in the water, searching for the perfect wave.
UNEXPECTED
I never set out to do anything more than be able to stand up on my plank and catch a wave.
What I ended up experiencing was how a small microcosm of humankind has become regarded as the epitome of the Universe.
I have engaged in some of my most life-altering moments, barefoot. I am most connected to the earth and sea through the hundreds of sensors at the bottom of my shoeless feet. When I'm barefoot, I am grounded, centered, and feel my best sense of balance. I am connected to my board. I am more aware of who I am, when I indelibly dig my feet into the sand.
WHERE SOUL MEETS SURF
'Barefoot' is my journey through life on the waves. It is a cathartic and self-realizing journey of how surfing changed my life and helped me find self-esteem, courage, and self-confidence.  These values I have learned in the "soup" have helped me in relationships, business, and being comfortable in my own skin.
This is a story for anyone who has searched for answers in their life. With Barefoot you will discover a connection to your own struggles and a "board buddy" to help you navigate your way across uncharted waters.
Surf's up!
"This combination memoir/self-help/inspirational guide offers unexpected insight into the hidden benefits of dancing, surfing, and the simple pleasures of life. This work is a pleasure to read, thanks to the author's clear and passionate writing, where his joy and love of these endeavors shine through.
Andrew provides a unique approach to finding fulfillment in a variety of sources. Joyful and inspirational, his insight brings a new perspective on contentment and finding passion in life. Andrew and his passions are the main focus here, and his experiences jump off the page. His excitement and joy in what he does are infectious."
"This intriguing, profound, and highly descriptive memoir about surfing the deep blue seas will appeal to those who wish to know what it feels like to do something so dangerously thrilling as surfing and others who have previously experienced it and want to feel the excitement again through another's story. I was completely immersed in the memoir; the scenes, people, surfing styles, and the other elements are described down to the last detail. Andrew Pacholyk shares several quotable and bookmark-worthy insights on different concepts like rejection, loss, insecurity, bullying, growing up, overcoming challenges, having the right mindset, and some philosophical ideas. Barefoot contains some of the most interesting, free-spirited characters I've seen in a memoir, and I really enjoyed the deeply therapeutic and scenic descriptions. What a blast! Thank you, Andrew!"
Table of Contents
 
Introduction: Dawn Patrol 
Chapter 1. My Inner Beach Bum 
Chapter 2. LA. Here I Come
Chapter 3. Becoming Drew 
Chapter 4. Finding My Footing 
Chapter 5. Discovering My Resolve 
Chapter 6. Rites of Passage 
Chapter 7. Surfing Lessons 
Chapter 8: The Winds of Change 
Chapter 9: The Aloha State 
Chapter 10: Spiritual Awakenings 
Chapter 11: LA, Together 
Chapter 12: She Changed My Life 
Chapter 13: Whirlwind Manhattan 
Chapter 14: The Mystical Far East 
Chapter 15: Namaste 
Chapter 16: The Space Between 
Chapter 17: The Path of Dharma 
Chapter 18: What's Next 
Chapter 19: A Change in Times 
Chapter 20: Escape from LA 
Chapter 21: The Paddle Out 
Chapter 22: Miami Magic 
Chapter 23: Accepting 
Chapter 24: Trial by Fire 
Chapter 25: Within the Dimmest Light 
Dedication

 
This book is dedicated to all those who dare to go beyond the comfort of their front door and make their dreams a reality. For anyone who's looked up at the stars and wondered where their place in life lies… for anyone who has looked out over the horizon and wondered what's waiting for them over that line… or for anyone who's ever felt like there is something more waiting for them around the corner… I dedicate this journey to you! Find your inner confidence and step forward. Find the passion inside your heart. Use your fortitude and raw guts. This is what makes you ~ you.
We are all on a pilgrimage. We start from the birth of our unconscious beginnings. We gather experiences throughout our life span, no matter how short or how long that span may run and are finally reunified with the Divine. As we travel the path, we are no longer polarized between unconsciousness and conscious, but if we pay attention, we may realize we've stepped forward with a better sense of who we've become.
This realization is surely illumination. In the process, we can fully gain a conscious understanding of who we are and if we're lucky, how we've become a more integral part of that Divine.  Take that journey. Take that chance. Remember, it's always best if you follow your heart.
 Live for the Sun

"Surf's up!
The board glides 'cross the water's edge with elegance and grace… 
between the perfect wave that rolls us up and glides us down its face. 

It shows how we should roll with life, just taking on each ride. 
As resistance drags and pulls us down and slows the flow of ebb and tide.
From dawn patrol with breaks of light that slowly stretch 'cross morning seas, 
to late day sun that glows with joy and peace and all the hope we need.
This sun it offers us great life and symbolizes conscious thought, 
reminding us as day is done, the precious lessons we've been taught.
I'm grateful every day for what I've learned, perched out here on my board,
For these are gifts I'll take with me, as trophies and a just reward.
 ~ Andrew Pacholyk MS L.Ac
"Live life, one wave at a time."
"Surfing is a metaphor for life. Surfing through life gives the impression that everything is easy and that everything is ok. If you were a surfer, it would appear that you subscribed to that belief. Maybe that is the attraction."
"As I'd learned, surfing was an inner struggle. Although you may be surfing with a pack of guys and gals who loved and adored the sport, ultimately, it was a competition within yourself. Just learning the basics could bring a whole new sense of awareness to your body and your mind."
"The physical aspects of surfing were mastered through practice and awareness, but the mental relationship to the art of wave riding was so much more. It took persistence and passion. Both of which were a mental tug of war between how good you wanted to be and how good you could be. It offered traits of trust, believing in yourself, and ways to gaining confidence. Every lesson I needed to learn in life!"
  Ho'omaika'i 'ana and congratulations to Andrew for writing a well-rounded and real tale about the life of a surfer and his view of the Universe. As a surfer who has traveled around the world, discovered the incredible joys the ocean offers and found peace in endless summers, I have relived these amazing recollections through this mesmerizing memoir.
Andrew conveys in this exciting book, the most important elements I personally live by in surfing that is dedication, commitment, and earning respect. Being prepared and ready for what's ahead is not only the mantra of a surfer, but are important life lessons we should embrace.
 You can feel Andrew's sheer commitment to the ocean. From his exceptional descriptions of the sea and breathtaking sunsets, to how caring, clean-up, and community play a big role in how we love and respect our planet. The self-realizations and discoveries Andrew find on his journey are both awkward and wonderful as he captures just how every one of us stumbles through the processes of life until we find that road to self-confidence, self-love, and self-awareness.
This book is an ode to the love and art of surfing. It elevates the manner and style in which surfing is intertwined with life. Lessons learned in the soup can be taken anywhere. I have personally applied these lessons to my business practices, my relationship, and my overall outlook on life. Surfing has given me the various traits everyone can learn from and that is being faithful, honest, and committed to everything you love.
Mahalo, Joey
This exciting book is now available at…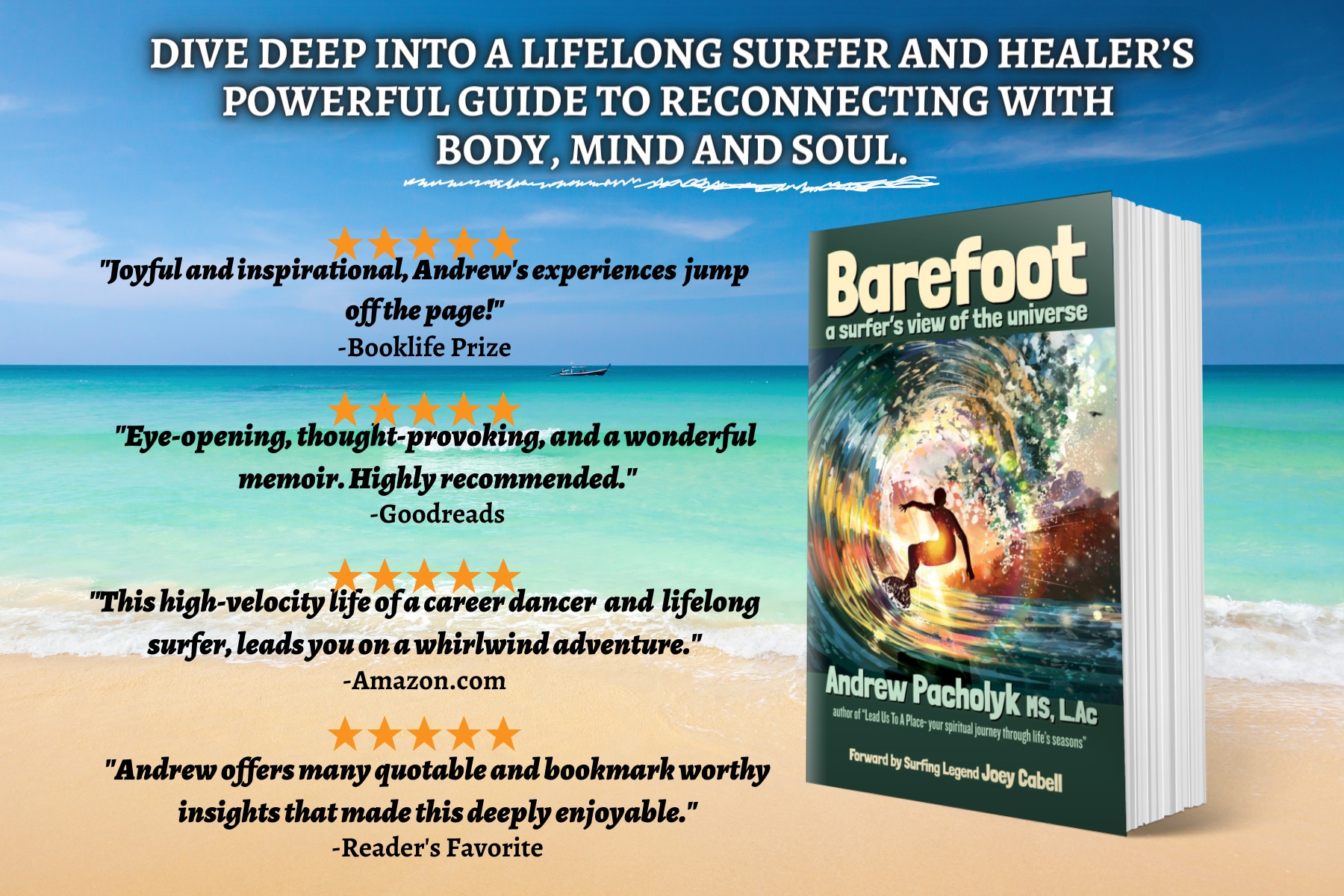 Order Your Signed Copy Today
Order a signed copy of Andrew's book, here!   If you would like it signed, let us know to whom you would like the book made out to.
We can ship this exciting book, signed, to you, a friend, or a family member!
Business Opportunities for Retailers
Order wholesale with small minimums for your business, studio, gift shop or store!