Yin Yang Gemstone Therapy Course
~This MASTER certification course combines the healing power of the mineral kingdom, with Taoism Cosmology, Traditional Chinese Medicine and Feng Shui focusing on the positive power of opposites and their opposing forces!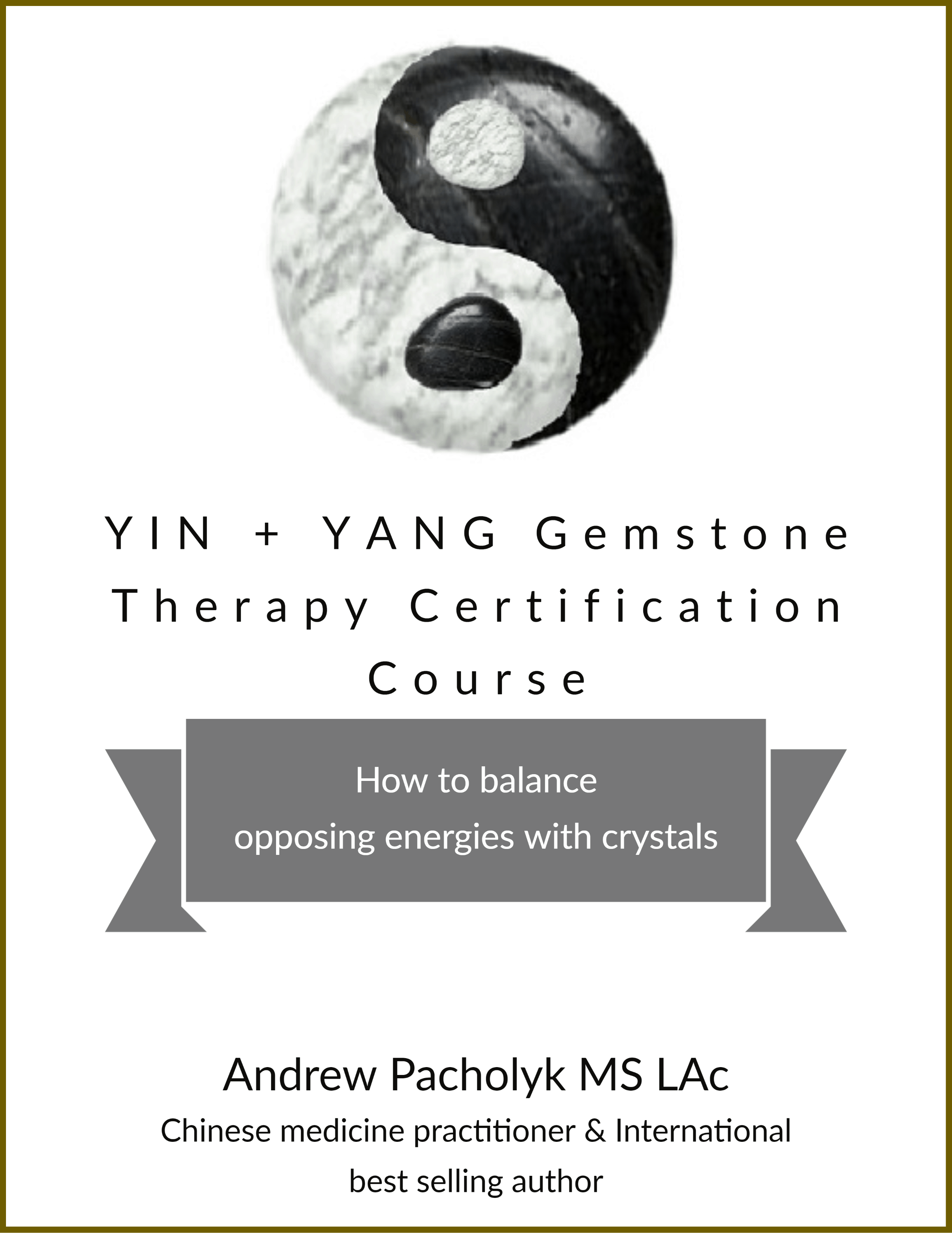 This is a brand new MASTER class that was created and taught by Andrew in New York City.  
This course has been designed to assist in the healing of mind, body, and spirit on both a physical/emotional level, as well as through a spiritual approach. Explore areas of healing, you never thought you could access, with this well-done, easy to understand approach to balancing your life!
This unique course centers on the positive power of opposites and their opposing forces. This course trains you in the art of crystal therapy while working in the worlds of Taoist Cosmology, Traditional Chinese Medicine and Feng Shui. You will learn the secrets to how the Universe finds its equilibrium and gives you answers to greater life questions. Access the mysteries of love, happiness, protection, forgiveness, and more…
This course teaches how to balance opposing energies with crystals. 
CERTIFICATION
We award those that complete the program with the "Yin/Yang Gemstone Therapist Certification" from the National Association of Holistic Wellness.  After completing the course and passing the final exam, students are awarded this certificate. Our Yin/Yang Gemstone Master Course has been designed for people who wish to use the knowledge, understanding and techniques of ancient, well-established paradigms and healing from other cultures, in a clinical setting. It can assist us in connecting to the endless "stream of energy and light."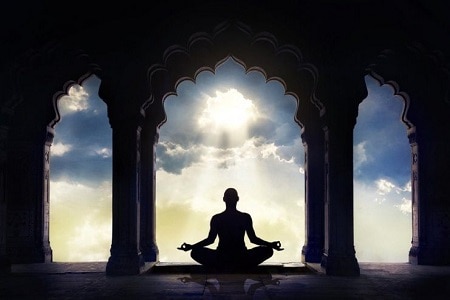 YOU WILL LEARN
Andrew has devised this masterful course, by combining the knowledge of the East with the power of the mineral kingdom. Through your sense of intuition you will become more in tune with your higher self. Through your sense of awareness, you will become more engaged with opposing forces and the energetic dualism surrounding us. Through your instinctive abilities, you will be able to see the outcome that this course will offer you. Andrew also engages your other senses by relating the five element theories, seven emotions, the four seasons, Chakra centers, the aura fields, and much more!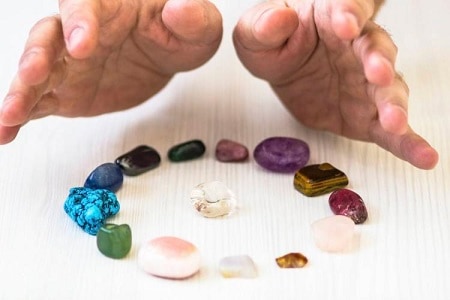 YOU WILL EXPERIENCE
Andrew uses an array of specific healing crystals and applies them to the Yin/Yang theory. You will learn how to incorporate them into the  paradigm of Chinese medicine several ways including crystal-body treatments, gem elixirs and essences, crystal grids, Yin/Yang muscle testing, and pendulum work. This course shows you incredible crystal layouts that work, along with the relationship between the Yin/Yang aspects of the body. He goes into the healing crystals which hold either Yin qualities, Yang qualities, or both Yin and Yang properties.
I took Andrew's master class in New York and it blew me away. It was an entirely new way to approach crystal healing. Like no other method I have ever seen. It was a great learning experience. A nice refresher as well with Chakra and aura healing, but he took it to the next level by incorporating the opposing opposites of each aspect.  He introduced ancient concepts that seemed to come alive in a modern approach through the art of crystal healing.  Highly recommended.
Amanda Roland, Certified Yoga Instructor
Rama Dass Yoga, NY
Andrew brought a unique look to healing with crystals.  For some of us, who have been in this healing industry for many many years, I was reluctant to take another course on crystals. BUT, I have to say I was very impressed by the "twist" on this master certification course.  Andrew also reviewed over 30 major crystals and went over if they were yin or yang or both.  I loved that, as it really opened up a whole other avenue when choosing the right stones to heal a client with. Great treatment plans
Josie Davis
Crystal Intentions Healing Center
Andrew, many thanks for this new Master course.  I ordered it from the back of your book I got on Amazon.  I was so impressed, as you really introduced concepts that were so new to me. My Buddhist mother, loved the cosmology you discussed in the course. She said it took her back to when she was a little child. In her village, cosmology was a central concept to understanding the world they lived in.  I also loved the relationship to crystals you connected to everything. Well done.  I can't wait to try these techniques on my patients. 
Many thanks
Indira Mabivida
THE FLOW OF Qi ENERGY
Qi is the idea that an unseen "life force energy" flows through and around us and is what causes us to be alive. If one's "life force energy" is low, then we are more likely to get sick or feel stressed. If this life force is high, we are more capable of being balanced and healthy.  Through the use of these techniques, practitioners are transferring Universal energy (or Qi) in the formation and use of certain stone combinations and layouts.  This energy medicine allows for self-healing and a state of balance or equilibrium to occur. By using the proper crystals, forms and techniques, Qi energy is doubled or enhanced!
LEARN AT YOUR OWN PACE
The home study student can work at their own pace and enjoy the benefits of learning whenever they have the time to do so.  Everyone can work when they want, on their own time. You may take as long as you wish to complete this course. There are NO deadlines, NO expectations, NO pressure. The intention is to make this a hands-on practical course which becomes a living experience, NOT just interesting reading. Andrew encourages you to take your time, process the learning experience and "feel" or understand what you are doing.
ADDING TO YOUR  "TOOL BELT"
This home study course builds in different "tools and techniques" to your healing arsenal of therapeutic crystal knowledge. It opens your mind up to other approaches when working with stones that you may not have been aware of. It gives you a range of ideas and scope of practice to pick and choose from.  If one type of therapy may not be effective for a particular client, you have several ways to achieve the same goal.  The theory of opposing energies is often forgotten about or not realized in the healing process. This is what makes this course so special.

This incredible course curriculum includes:
*Introduction
*Interplay of Yin/Yang
*Yang Energy
*Yin Energy
*The Yin and Yang of Crystals
*Mineral Make-up/Composition
*3 Types of Rock Formation
*Piezoelectric/Pyroelectric
*Crystal Work- choosing, programming, placement
*13 Ways to Cleanse Your Stones
*Crystal Healing Methods
*41 Crystals, Properties: Yin/Yang Distinction
*Preparing Crystal Grids/Layouts
*10 Sacred Geometry Crystal Grids
*Aura Healing/Cleansing
*Color Healing Therapy & Crystals
*Chakra Meditation
*Yin/Yang Theory & History
*Yin/Yang as Vital Qi
*The Five Tastes
*The Five Notes: Music Therapy
*The Five Elements
*The Seven Emotions
*Treating Opposing Emotions
*Spring-Wood-Anger-Green
Liver-Gallbladder
Wood Element
Crystals for Wood
Spring depression
Anger
Crystals for Anger
Forgiveness, Patience, Acceptance
*Summer-Fire-Joy-Red
Heart-Small Intestine
Fire Element
Crystals for Fire
Joy
Crystals for Joy
*Late Summer-Earth-Worry-Yellow
Spleen-Stomach
Earth Element
Crystals for Earth
Pensiveness,Worry
Crystals for Worry
*Fall-Metal-Grief-White
Lung-Large Intestine
Metal Element
Crystals for Metal
Air Element
Crystals for Air
Dryness
Grief
Crystals for Grief
*Winter-Water-Fear-Blue/Black
Kidney-Bladder
Water Element
Crystals for Water
Fear
Crystals for Fear
Shock
Crystals for Shock
*The Ultimate Goal
*The Contrast of Relationships
*How to Prepare Gem Essence
*How to Prepare Crystal Elixirs
*Taoist Cosmology
*Mastering the IChing
*Chinese Medicine Theory
*Yin and Yang in Chinese Medicine
*Meridian Crystal Healing
*Crystal Herbs
*Favorite Yin/Yang Energy Stones
*Feng Shui Introduction
*Clearing/Decluttering
*The Bagua
*Feng Shui and Crystals
*Feng Shui Cures and Remedies
*Relationship
*Career
*Prosperity
*Casting Stones
*Cosmic Cleansing
*From Forgiveness to Love
*From Intuition to Protection
*From Spiritual Development to Self-Esteem
*Sun/Moon Meditation
*Day Start/Day End
*Your Yin/Yang Journal
*Gratitude Project
*Final Exam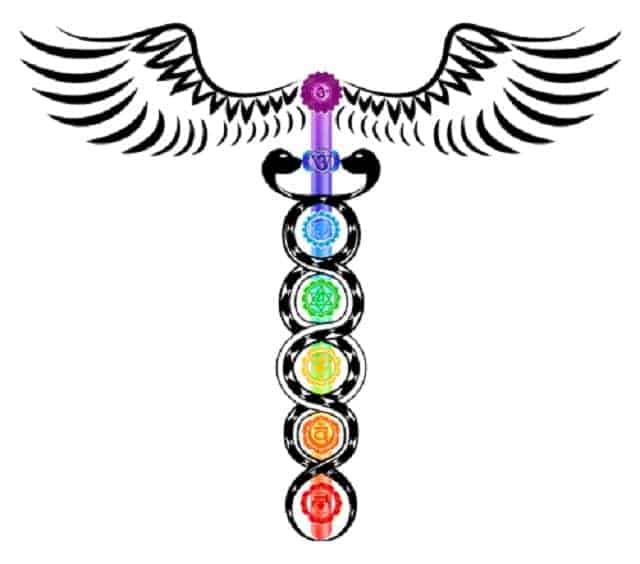 OVER 300 HOURS OF STUDY
 You will gain over 300-hours upon successful completion of this program. This can be the advancement of your rewarding career in crystal energy medicine and therapy.
Acquire the  education of extensive, world class techniques, as well as clinical counseling techniques which are necessary for any healer.
You will learn the transformation and personal growth that has come to be known as the "Peacefulmind.com Energy Experience".  This foundation is the basis of all our homestudy courses and ebooks. It is the process of learning with an open mind, learning information that builds upon itself and helps you to comprehend healing information in a positive, non-judgmental way.  This helps you to embody the skills and practices of a lifestyle of wellness and wholeness.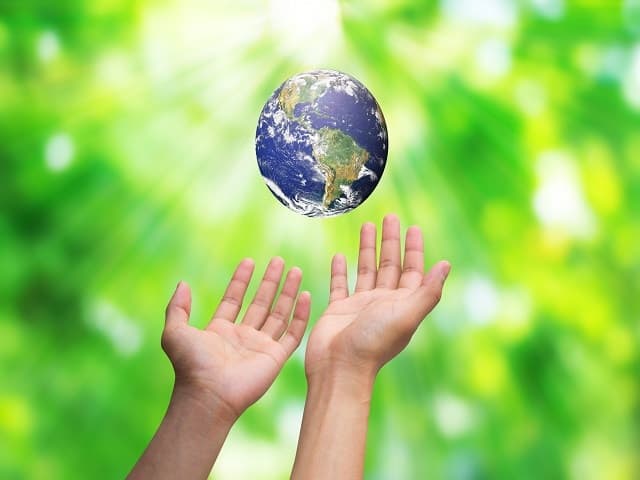 ADDED STRENGTH OF COMMUNITY
Immersion in a holistic learning community dedicated to the calling of natural healing and compassionate service.
You will have ALL Access to every aspects of the Peacefulmind.com Learning Experience: including color therapy pages, the meditation village, therapy modalities, online library and online help and assistance, when in need.
You are given FREE access to our 10,000+ members community, Alternative Answers and our 1500+ members community, Stones and Crystals
Immerse yourself, discuss and engage in conversations and the power of community shared by others with your own interests!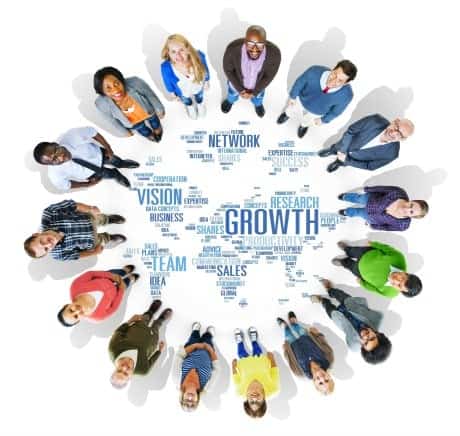 FREE DIRECTORY LISTING
As our "thank you to you", once you have passed your course, we offer you a FREE listing in the International Therapists Directory.
This world-wide listing gives others access to your practice!  You can share your important information with those who are seeking your service and help.
This directory is endorsed by the National Association of Holistic Wellness. We have teamed up with the world leader in database and communication – nSphere unlocking the world's local information and is powered by a unique approach to local search that has generated results for thousands of data partners.
Fantastic course!!
This just added another level to the crystal healing process that is not often practiced or even understood.  If you think about it, there are always forces working with us/and against us. Good/evil. fast/slow, push/shove, stop/go….everything can be looked at in this duality. This is what makes this course so interesting.  Not only that, Andrew incorporates ancient healing tools from Daoist astrology, Feng Shui, IChing, and other Eastern rituals that just make sense. 
You have to get THIS one.
Erica Kenna Lee
Milburn, Kentucky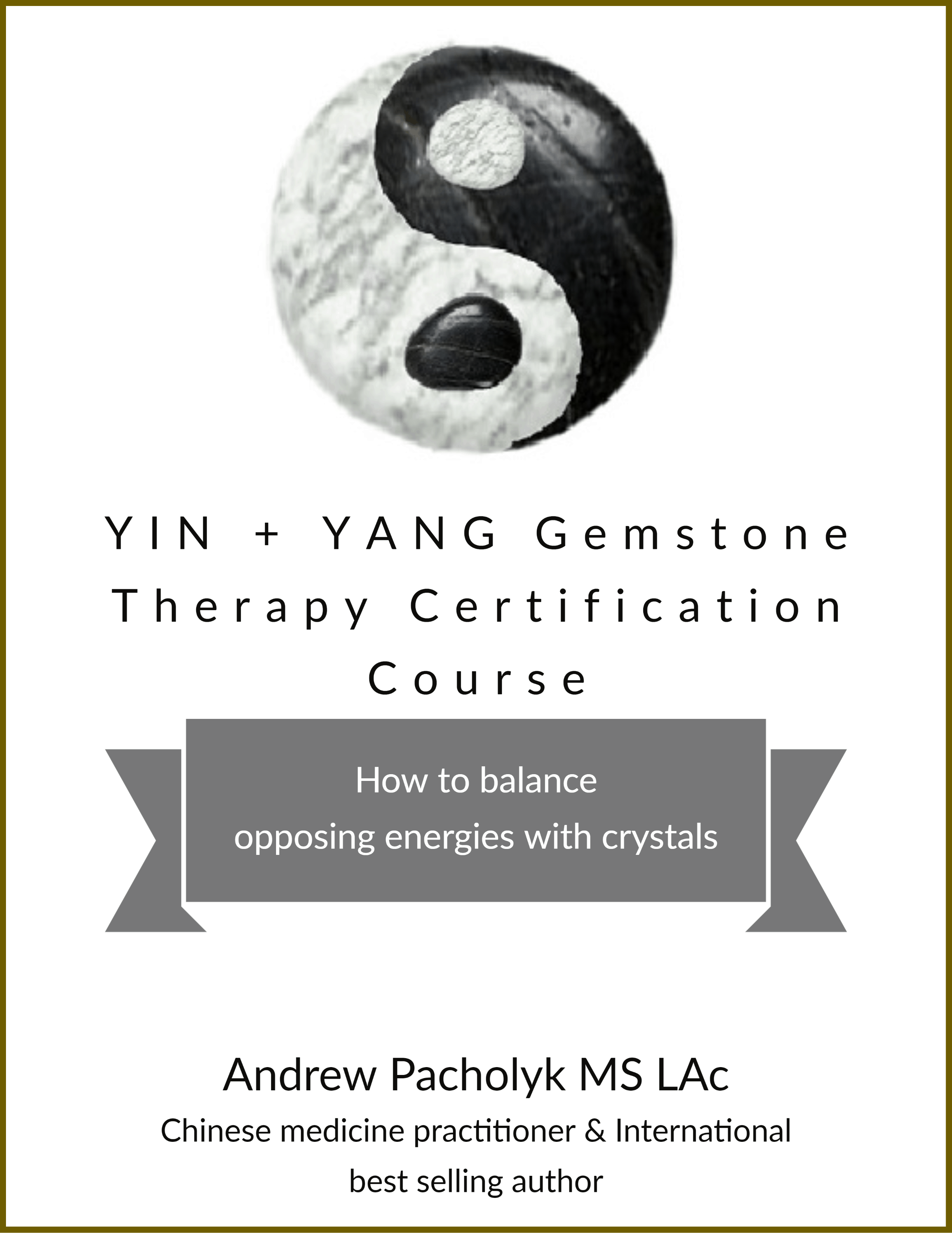 ORDER NOW
Your official "Yin/Yang Gemstone Therapist Certification" offers you new and exciting professional possibilities anywhere in the World!  You will receive your one program book filled with information, lessons, quizzes, the final test exam, in the mail, as soon as you join!
Working with stones and minerals can have a profound affect on the holistic paradigm.  bringing awareness can transform the mental-emotional experience, which in turn can change the way you handle a physical situation. It may even change your path of healing in ways you have not even begun to imagine!
The "Yin/Yang Gemstone Therapist Certification Course" Program Tuition is $249.00 US. for the entire course!  This is a phenomenal offer for the information and certification you gain from this course!
 I got the "PLUS" version of this course.  Great materials. I especially loved the IChing stones. You are able to access all 64 hexagrams of the IChing with these tools.  Also, loved the Tao perfume oil and incense!  The crystals are also big and a very nice quality. Well worth the money. The whole course is a nice addition for healers or those searching for a deeper spiritual experience.
Angel Rodriguez, LA, CA.
The Yin/Yang Gemstone PLUS Experience
With this version, you will receive your one program book filled with information, lessons, quizzes, the final test exam as soon as you join!  You will also receive:
*7 hand selected tumbled stones
*3 Yin/Yang center/master stones
*1 magnetic hematite pair
*"The Tao" ~ roll on perfume blend 
*"The Tao" ~ Incense pak (cones, sticks, resins, woods)
*IChing stones (8 basalt stones, 8 marble stones)
These tools will allow you to start work right away by applying what you are learning with the course! These tools are valued at almost $120.00 if purchased separately!
We hope this helps in your quest for a wonderful, educational Yin/Yang Gemstone Therapist Certification Program that will benefit you and all those you touch!
The Yin/Yang Gemstone Therapist Certification Course Tuition is $269.00 US. for the entire course and above materials (which allow you to get started on your course, right away!)  This is a phenomenal offer for the information and certification you gain from this course!