Crystal Medicine Certification Course
~A Unique Clinical Approach to Healing. This is the most complete and definitive guide to working with, understanding and healing through crystal medicine! Learn techniques, protocols and unique methods to heal mind, body & spirit.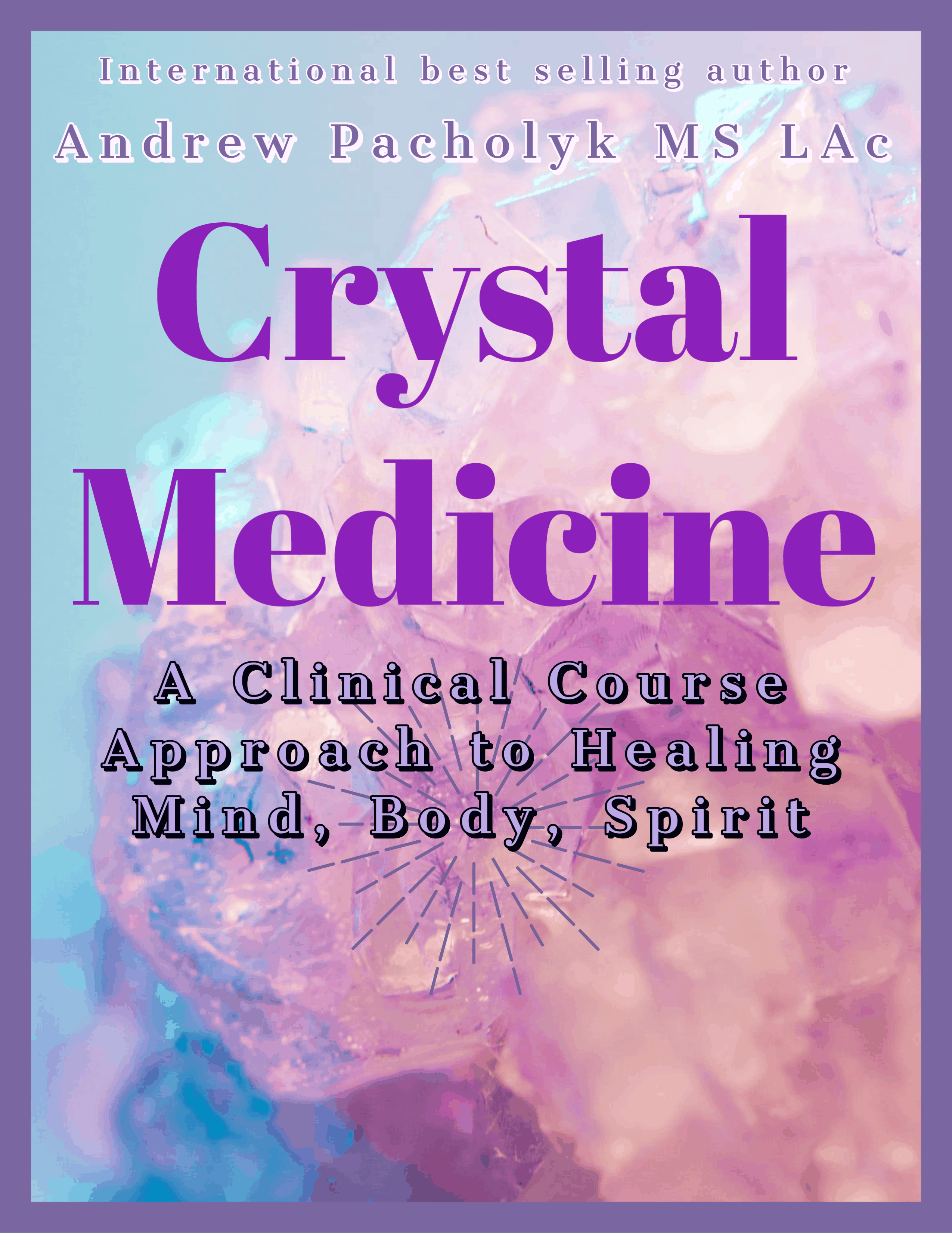 This is the fantastic follow up and continuation of the Crystal Light Crystal Therapy certification course!
Extremely extensive with over 250 pages of remedies, treatments and special prescriptives, this one of a kind course goes beyond basic crystal layouts, incorporating the ancient use of crystals in herbal formulas, attention to specific healing crystals used in homeopathy, several ways to make gem elixirs and essences, crystal grids, muscle testing with crystals and pendulum dowsing. This course shows you incredible crystal layouts that work, the relationship between the periodic table and the most healing crystals on earth, as well as how to treat specific physical, emotional and mental imbalances.
Andrew Pacholyk, MS, L.Ac., who has built his famous New York City practice, by incorporating acupuncture, herbal medicine, color and crystal therapies, takes us on a journey of healing the subtle energies and bio-magnetic fields with his clinically-proven techniques. Andrew has designed this course for anyone wishing to understand and learn how to use crystals in a more in depth healing capacity.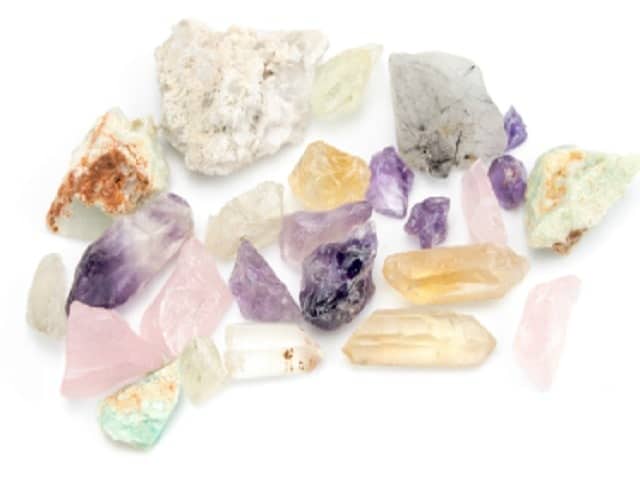 CERTIFICATION
We award those that complete the program with the "Crystal Medicine Therapist Certification" from the National Association of Holistic Wellness.  After completing the course and passing the final exam, students are awarded this certificate. Our Crystal Medicine Course has been designed for people who wish to use the knowledge, understanding and techniques of energy medicine and healing from other cultures, in a clinical setting.
YOU WILL LEARN
Andrew has devised this very thorough course incorporating different cultural therapies such as Native American, Chinese Medicine, Ayurveda, Feng Shui, Massage, Aromatherapy, Astrology, Psychology and Numerology in order to learn incredible healing techniques and applications for not only yourself but for those who are practitioners, Andrew has created great methods for your patients as well.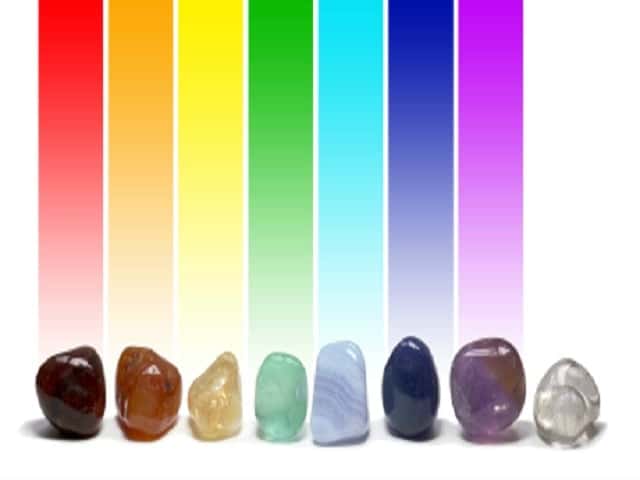 YOU WILL EXPERIENCE
You will comprehend cultural crystal healing and effective methods and techniques that will enhance your approach and outlook and add another dimension to your healing work. You will discover light and crystal therapies for energy fields, healing meditations, the way of blending, brewing and configuring crystals for hundreds of different situations. We include techniques that every Crystal Medicine therapist should know.
Over all great course!  Really good methods for coping with fear and anxiety and headaches.  I personally loved the entire physical body portion of this course. The crystal massage for migraines work all the time!  I appreciate the hard work, time and effort you put into synthesizing this down from your practice to a written course.  My book is full of notes and references and is now my "new bible" on crystal healing.
Karen Stranford, L.Ac. CA
Very pleased with my test results. What a comprehensive course.  Andrew has obviously studied many modalities to put them all together into this book.  They really work.  I found this course to be challenging, which made it even more a win for me. It is a good thing we have all the time in the world to comprehend it. It gave me the ability to really analyze (and enjoy) these methods and really, really understand them
Highly recommended,
Cheryl Burdock
I think this is one of Andrew's best!!!  By the time I finished the course, I had already practiced so many of these "tools" on my current clients.  It really gave me the opportunity to feel what these techniques were like and getting feed back from my clients was priceless!   Thank you, Andrew for expanding my mind. It is so refreshing to learn something new, especially after this old dog, thought he knew it all.  You are a great teacher.
Many thanks,
Ryan Telemond
THE ADVANCEMENT OF CRYSTAL MEDICINE
Crystal medicine is now used in many forms of healing including, color therapy, crystal gridding, yoga, acupressure, meditation, mental, physical, emotional aspects, crystal essence therapy, aromatherapy, visceral associations, traditional Chinese, Ayurvedic and Tibetan medicine, astrological signs, mind associations, spiritual guidance, physical approaches to healing and balancing our etheric energy source.
LEARN AT YOUR OWN PACE
The home study student can work at their own pace and enjoy the benefits of learning whenever they have the time to do so.  Everyone can work when they want, on their own time. You may take as long as you wish to complete this course. There are NO deadlines, NO expectations, NO pressure. The intention is to make this a hands-on practical course which becomes a living experience, NOT just interesting reading.
ADDING TO YOUR  "TOOL BELT"
This home study course builds in different "tools and techniques" to your healing arsenal of therapeutic crystal knowledge. It opens your mind up to other approaches when working with stones that you may not have been aware of. It gives you a range of ideas and scope of practice to pick and choose from.  If one type of therapy may not be effective for a particular client, you have several ways to achieve the same goal.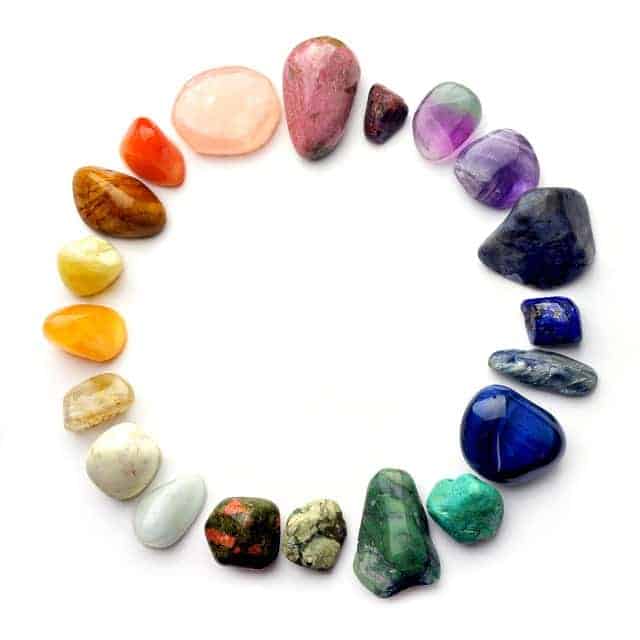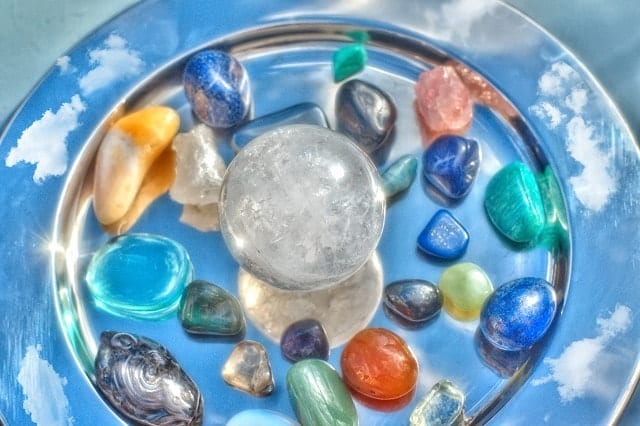 This incredible course curriculum includes:
The Tools:
*Crystaline Structures
*Piezoelectric and Pyroelectric
*Crystal Selecting
*Crystal Healing Methods
*Crystal Cleansing
*Metaphysical Properties
The Subtle Energies:
* The Aura
* The Chakra
* The Meridian System
* The Endocrine System
* The Periodic Table Method
Healing Approach:
* Crystal Grids
*Laying of Stones
*Gem Essence, Elixirs, Waters
*Homeopathy
*Crystal Herbals
*Pendulum Dowsing
*Muscle Testing
*The Medicine Wheel
Healing the Body:
Addiction
Aging
Allergies
Appetite Disturbance
Arthritis
Asthma/Bronchitis
Blood Problems
Candidiasis
Chronic Fatigue Syndrome
Circulation, Poor
Colds/Flu
Constipation
Cuts/Bruises
Cystitis
Detoxing
Female Problems
Fibromyalgia
Headaches
Indigestion
Insomnia
Male Problems
Migraine
Muscle Aches/Pain
Sinusitis
Skin Problems
Stress
Weak Immunity
Healing the Mind/Emotional Body:
Remedies for Undesired Emotions
Abandonment
Abuse
Aggression
Anger
Depression
Disappointment
Fear
Grief
Hysteria/Panic
Impatience/Irritability
Indecision/Indifference
Jealousy/Resentment
Loneliness
Sadness
Shock/Trauma
Remedies for Positive Emotions
Awareness/Consciousness
Acceptance
Change
Concentration/Memory
Confidence/Courage
Creativity
Forgiveness
Happiness/Joy
Harmony/Balance
Intuition
Love
Meditation
Memory
Peace/Calmness
Self Esteem
Sexual Desire
Healing the Spiritual Body:
Absent Healing
Angelic Attunement
Aura Cleansing
Balancing the Elements
Breaking Ties/Connections
Chakra Balancing
Cosmic Cleansing
Inner Child Awareness
Karmic Continuum
Meditation
Protection
Space Clearing
Spiritual Development
Soul Connecting
* Final Exam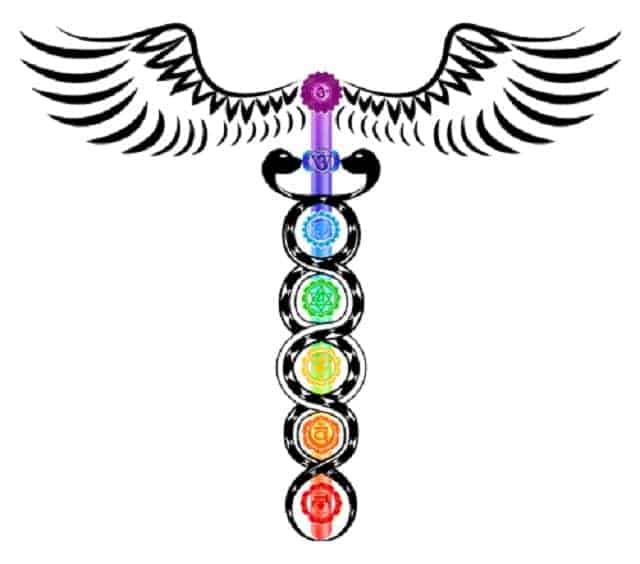 OVER 300 HOURS OF STUDY
 You will gain over 300-hours upon successful completion of this program. This can be the advancement of your rewarding career in crystal medicine and therapy.
Acquire the  education of extensive, world class techniques, as well as clinical counseling techniques which are necessary for any healer.
You will learn the transformation and personal growth that has come to be known as the "Peacefulmind.com Energy Experience".  This foundation is the basis of all our homestudy courses and ebooks. It is the process of learning with an open mind, learning information that builds upon itself and helps you to comprehend healing information in a positive, non-judgmental way.  This helps you to embody the skills and practices of a lifestyle of wellness and wholeness.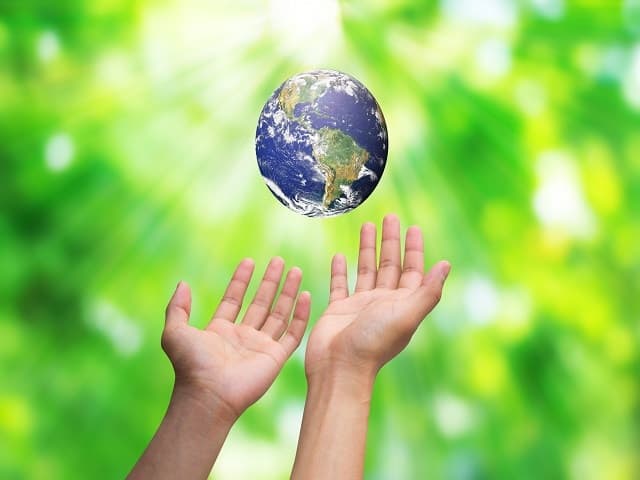 ADDED STRENGTH OF COMMUNITY
Immersion in a holistic learning community dedicated to the calling of natural healing and compassionate service.
You will have ALL Access to every aspects of the Peacefulmind.com Learning Experience: including color therapy pages, the meditation village, therapy modalities, online library and online help and assistance, when in need.
You are given FREE access to our 10,000+ members community, Alternative Answers and our 1500+ members community, Stones and Crystals
Immerse yourself, discuss and engage in conversations and the power of community shared by others with your own interests!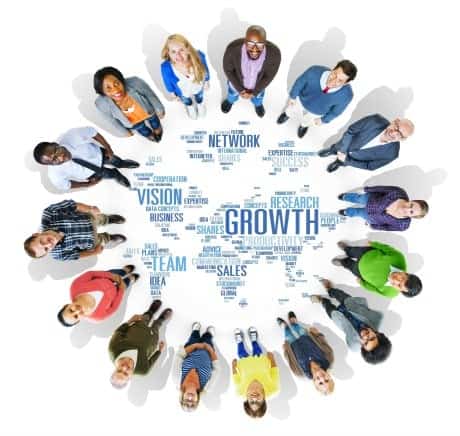 FREE DIRECTORY LISTING
As our "thank you to you", once you have passed your course, we offer you a FREE listing in the International Therapists Directory.
This world-wide listing gives others access to your practice!  You can share your important information with those who are seeking your service and help.
This directory is endorsed by the National Association of Holistic Wellness. We have teamed up with the world leader in database and communication – nSphere unlocking the world's local information and is powered by a unique approach to local search that has generated results for thousands of data partners.
The best course I have ever taken.  The amount of information and ways to work with crystals are mind blowing.  I was particularly impressed with the techniques Andrew offers from other areas of medicine.  I give my patients homeopathic crystals all the time now.  The ideas here really broadened my view from just laying on of stones. Of course, Andrew has a twist on these methods too.
Thanks for your expertise and the way you have been such a pioneer in this industry.
Best,
Troy Mischan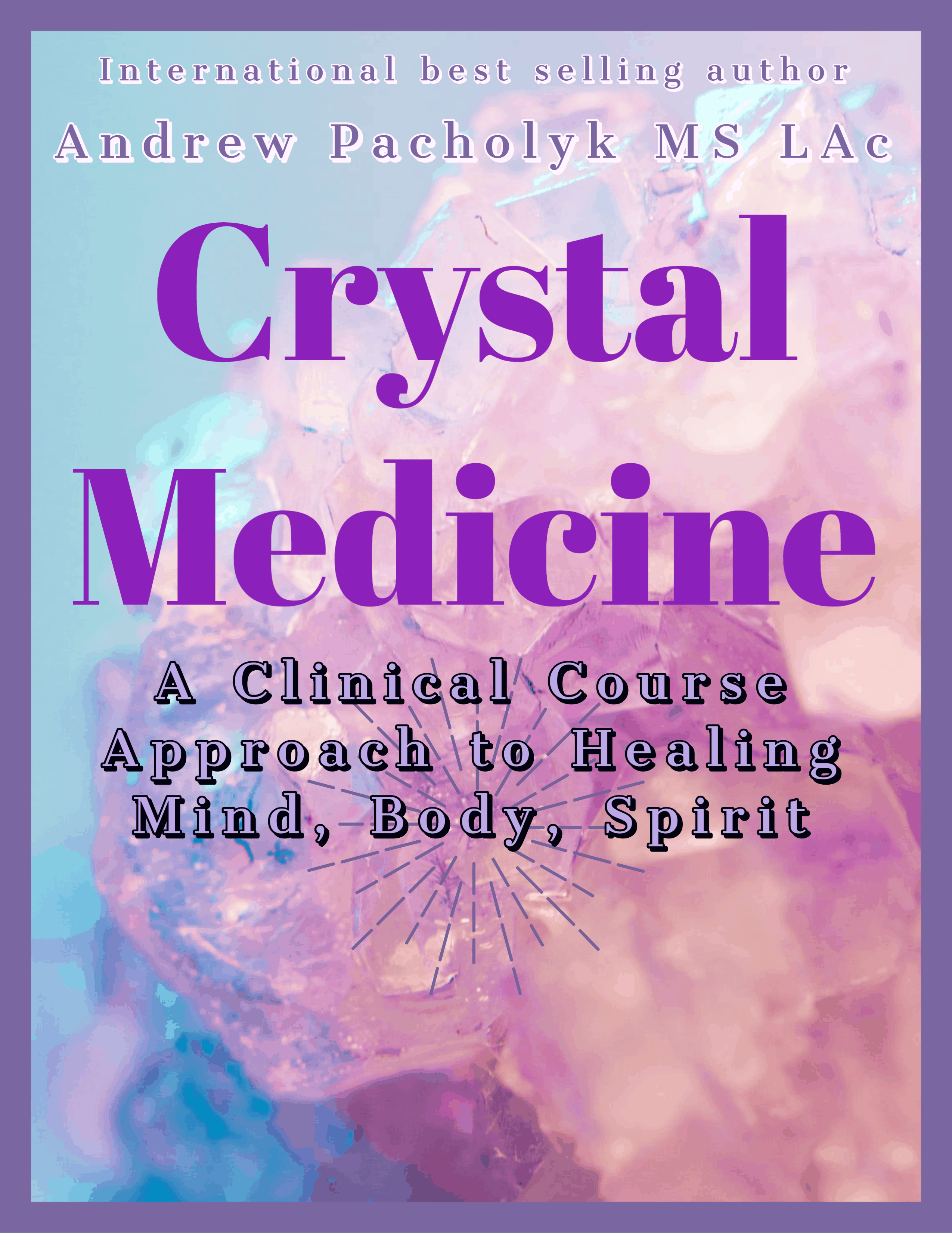 ORDER NOW
Working with stones and minerals can have a profound affect on the holistic paradigm.  bringing awareness can transform the mental-emotional experience, which in turn can change the way you handle a physical situation. It may even change your path of healing in ways you have not even begun to imagine!
Your official "Crystal Medicine" Therapy Certification offers you new and exciting professional possibilities anywhere in the World!  You will receive your one program book filled with information, lessons, quizzes, the final test exam, in the mail, as soon as you join!
The "Crystal Medicine" A Clinical Approach to Healing Mind, Body, Spirit Course Program Tuition is $245.00 US. for the entire course!  This is a phenomenal offer for the information and certification you gain from this course!
Thank you very much for all your great work. A couple more of your courses and I think I will have finished all the ones you offer.
All your courses are brilliant. They are very informative and very well presented. I really enjoy studying them. I will be ordering the rest of the courses soon.
Maria Prescott, Certified Crystal Medicine Practitioner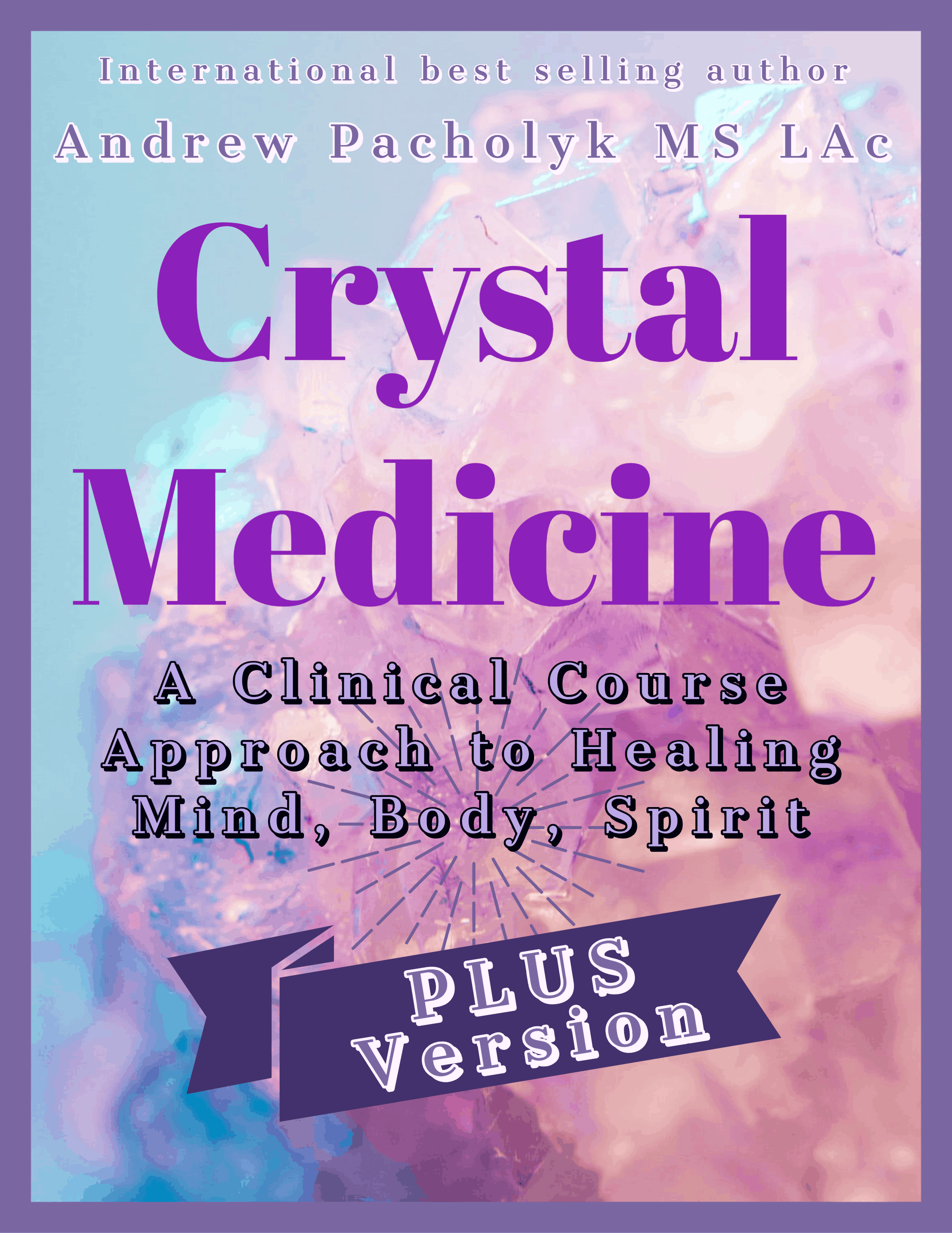 The Crystal Medicine PLUS Experience
With this version, you will receive your one program book filled with information, lessons, quizzes, the final test exam as soon as you join!  You will also receive:
*7 semi-precious stones for chakra and aura work
*1 quartz point for body scanning, meditation and more
* 1 pair magnetic hematite for grounding, pain management & acupressure
*1 gem essence spray
*1 crystal elixir oil
*1 crystal bracelet
*instruction booklet
*and FREE Gift bag
These tools will allow you to start work right away by applying what you are learning with the workbook and manual!
We invite you to participate in what may be one of the most valuable experiences of your life!
We hope this helps in your quest for a wonderful, educational Crystal Medicine Therapy Certification Program that will benefit you and all those you touch!
The "Crystal Medicine" PLUS Course Program Tuition is $269.95 US. for the entire course and above materials (which allow you to get started on your course, right away!)  This is a phenomenal offer for the information and certification you gain from this course!