by Andrew Pacholyk MS L.Ac
Peacefulmind.com
Summer is my favorite season! Born on the solstice, the Gemini in me is attracted to everything and anything that I find curious, communicative and intriguing. Crystals draw me in and introduce an entire world ofmystery and joy. My favorite crystals for summer have several connections. The element associated with summer is fire and the associated color, red. These crystal's energies are fiery, passionate and spark the kundalini into motion. The other theme, synergistic to these crystals are pink and green stones relating to the heart chakra, the organ most associated with summer, in the Chinese medicine paradigm. Lastly, some of my favorite stones of the sea are sprinkled in to honor my love for the beach and ocean.
Most often found in North America. Comes in shades of orange, brown, blue, or green. Strong connection to the energies of the earth. Excellent stone to use before meditating. Induces a feeling of relaxation. Helps alleviate problems relating to the stomach and endocrine system. Helps you examine and deal with problems in a calm and safe manner. Helps take the edge off difficult experiences. Recommended for dentists, optometrists, and those in the healing profession.
 Aquamarine:
This stone has the calming, soothing energy of the sea. This is the stone of courage. Tranquilizing, uplifting, openness, innocence, lightheartedness, creativity, communication, self-awareness, confidence, purpose. Throat Chakra, Sacral Spleen Chakra, Heart Chakra. Used for protection on journeys, especially those who travel on water. Affects etheric and mental levels. Helps stabilize and harmonize unsettled surroundings. Helps reduce fears. Has an affinity with sensitive and mystical people. Increases creativity and sharpens intuition. Excellent stone for meditation. Helps one attune to nature. Quiets the mind and reduces stress. Helps bring about a tolerance toward others. Recommended as a purifier of the throat and helps sore throats. Clears blocked communication and aids the user in verbal expression. This stone allows us to find our individually and be ourselves. It is helpful to those who wear it, in regards to finding love, promoting fidelity and smoothing out differences between others.
 Chrysoprase:
This stone allows greater flexibility, wisdom, generosity, and self-confidence. Heals depression, excess self-focus, emotions/sexual imbalance. Placed on heart, neck, or on brown for meditation. This stone uplifts the Heart Chakra. It soothes the energy of the heart when you are heart heavy. It therefore brings internal peace, harmony and contentment. This stone symbolizes clarity of thought. It soothes the central nervous system and creates calm. It is a stone that leads its user to new and intellectual approaches. When working with Chrysoprase as a healing stone, it must be laid on the body for a long time. Helps one achieve greater personal insight, feel more calm, become less egotistical, and more open to new surroundings and situations. Stimulates creativity and draws out unknown talents. This stone provides balance between the conscious and the unconscious.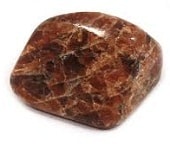 Garnet:
This stone symbolizes faith, love, devotion and trust. Garnet is most famous for balancing our emotional states. Therefore, garnet is one of the best stones for soothing emotional stress and balancing out anger that is held in and not expressed. Therefore, garnet is good for those who have anger issues directed to themselves, NOT for those who spew anger like venom or attack others with their anger (think orange or yellow stones for this condition)! Garnet is a stone of passion. It is given as a gift of love's attraction, a gift of estranged love or a gift of quick return. Red represent love and helps the aspirant to strive for improvement in moral conduct.
  Ocean Jasper:
Ocean Jasper is produced from only one mine near Marovato, Madagascar. The deposit, being located at the edge of the ocean, can only be seen and collected at low tide. This remote area has no roads so the material must be transported to civilization by boat. Technically considered "Orbicular Jasper" in reference to its colorful orbs, some have adopted the name "Moon Jewel Jasper." But "Ocean Jasper" seems most fitting, as it was found right along the shore. Orbicular jasper's distinctive patterns are made up of round or spherical inclusions of contrasting colors floating in solid jasper. The orbs can range in diameter from a millimeter to a centimeter, and frequently show a particularly dramatic concentric banding. How orbicular jasper forms is still a scientific mystery. This stone helps one to accept responsibilities, develop patience and help with circular breathing during meditation. Orbicular Jasper allows for nutritional stabilization, to improve digestion and assist in detoxification and elimination.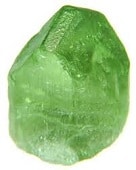 Peridot:
This stone is traditionally used for health, wealth, and protection. Helps understand relationships and other realities. Alleviates depression, anger, fear, jealousy, anxiety. A visionary stone. Helps connect us to our destinies and to an understanding of the purpose of existence. Can help us visualize not only the ultimate peak of physical, but of spiritual continuation as well. However, if you are confused or fearful, Peridot should be used in a limited way. Peridot is a warm and friendly stone. The more green the stone, it is used at the Heart Chakra, to clear a pathway, strengthening the breath of life, and the ideals of prosperity, growth, and openness. The more yellow the stone, it is used on the Solar Plexus Chakra.
  Rhodochrosite:
Gentle and yet probably the most vibrant loving stone to heal the Heart Chakra, especially for giving/receiving love. Rhodochrosite is the "Stone of Love and Balance". Also for loneliness, loss, heartache, fear, insecurities, inner-child issues, abuse and incest. Helps self-forgiveness, deserving and trust issues, spiritual and self-love, desire to live and purpose. Best worn 24 hrs. a day. Most effective for opening the hand healing Chakra. It is used in times of transition by providing comfort and support. Helps you alleviate irrational fears and paranoia. Will enhance the dream state.
  Rhodonite:
Rhodonite is the "Stone of Love"! This stone symbolizes "self realization". Rhodonite works with the Heart Chakra by soothing the heart center as well as the Root Chakra for grounding and balancing, due to the presence of black oxides in this stone. This balance of colors allows for a powerful and vibration for caring for one's self. Rhodonite allows for confidence and self worth. Helps us express confidence and loving on physical plane in day-to-day ways. Calms and feeds the soul through the heart; love and service. It helps us with confusion and allows us to focus. This stone helps to strengthen mantras, chanting, affirmations, singing and toning.
  Rose Quartz:
Rose Quartz represents love, beauty, peacefulness, forgiving, lovingness, self-love and emotional balance! Rose Quartz works with the Heart Chakra. It is a soft, gentle, soothing stone that warms the heart center. Its value as a nurturing friend cannot be overstated. Neither can it's soothing influence. Helps diffuse negative stimuli and uncomfortable memories. Helps us discover the ability to love ourselves and makes us more open to other people. It is of particular value in helping us to forgive ourselves, hastening self-acceptance. Helps us realize that all change is important, even difficult change. Stimulates love and tender appreciation of all things.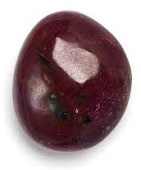 Ruby:
Wealth, Joy, Love, Sexual Energy and Power. Warms, energizes after exhaustion. Strengthens physical and emotional Heart Chakra, love, courage, confidence, vitality, stamina, strength, leadership, success over challenges. Intensifies all emotions (passion, jealousy, impatience, love…) Attempted use for pressure/control (for love) backfires onto user. Used for reproductive, Root Chakra; infections, cholesterol, clots, blood detox (alcohol, caffeine), sexual blocks. A wonderful stone whose stimulating energy can bring startling things to light. An amplifier of energy-both positive and negative. Can bring anger or negativity to the surface quickly. Should be used with a knowledge of how to gain from the experience. Otherwise you are likely to be overcome by the passion it stirs up. Can also amplify positive energy. Helps us in all matters of love, including love of ourselves. Stimulates motivation and visualization.
Learn more about the loves of summer…