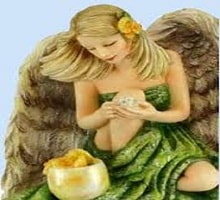 Angel of Prosperity: Anauel
Anauel offers success and prosperity. She offers us the ability to produce wealth and inspires us to share that wealth with other people.
Angel Anauel is the angel of unity. Firstly, the meaning of this name is "The Gentle God". In the Jewish culture, she is one of the Beni Elohims, ruled by Archangel Ariel. But in the Christian culture, Guardian Angel Anauel belongs to the Archangels. Being ruled by Archangel Michael.
Appreciation offers insight into what we should be very thankful for. When we truly appreciate, we are truly prosperous. We hold the key in our hands. We are the owners of our destiny. Really appreciating what we DO have as opposed to what we would like to have, will make a significant difference. This is always an important element in a wealthy person that is often neglected.
Accepting compliments is one of the first steps in acknowledging your prosperity! When someone offers you a compliment, they are acknowledging one of your prosperous gifts, out loud. Accept it graciously and say "thank you". You may even want to privately dwell on this gift of prosperity as you may not have even realized how wonderful it is!
Giving is a proponent of prosperity. Because if you do not give, you do not get back in return. This fundamental Universal truth is well known. The more you give, the more you will get. This law of nature flows freely with each gift you give. It does not necessarily have to be a gift of material means, but a simple compliment is a gift. You do not have to be rich in material wealth to give. The selfless expression in itself can change lives. Start changing others lives today. You will see how it echoes back to you!