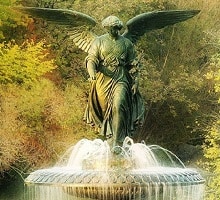 Angel of Journeys
"Behold, I send an Angel before thee, to keep thee in the way, and to bring thee into the place which I have prepared."
Our journeys are about making choices. Whether it is a choice about where to go, how to go or when to go, the choice determines our outcome.
Soul satisfying journeys are mindful trips that include self-awareness and a look within ourselves. This pertains to any journey, be it from place to place, action to action or decision to decision. The sum of our choices constitutes our life. The journey we take from start to finish. We may not always make the proper choices, but we are always allowed the ability to make another. No matter how far down the "wrong" road we may be, this road we chose, we chose for a reason. Here in lies life's lessons.
Learn the lesson, then make your next choice. This is how we discover the daily journeys in a span of time that is ours and ours alone.
"My holy angel guardian, ask the Lord to bless the journey which I undertake, that it may profit the health of my soul and body; that I may reach its end; and that, returning safe and sound, I may find all at home in good health. Do thou guard, guide, and preserve us."