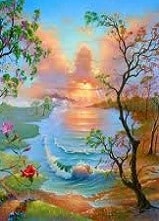 Angel of Earth
Elemental Correspondences: Earth.
Element Ruled by: Taurus.
Earth Guardian Angel: Archangel Uriel. ( Some traditions indicate as: Gabriel)
Earth Angel: Phorlakh.
Earth Ruler: Kerub.
Earth King: Ghob.
Direction: North. (in some traditions East).
Time Ruled: Midnight.
Zodiac: Capricorn, Taurus and Virgo.
Winds: Boreas and Ophion.
Sense: Touch.
Qualities: Cold, Moist, Passive and Heavy.
Hour of Day Governed: Midnight.
Season Governed: Winter.
Alchemical Symbol: See Above.
Magical Phrase: Tacere, to keep silent.
Magical Tool: Pentacle and Crystals.
Tattivic Symbol: Yellow Square (Prithivi).
Tattivic Season: December 23rd to March 21st.
Symbolic Creatures: Sphinx and Bull.
Elemental Symbol: Shekel of Gold.
Elemental Spirits: Gnomes.
Elemental Colour: Brown, Black and Green.
Gem: Rock Crystal and Salt.
Incense: Storax.
Animal: Cow, Bull or Stag.
Tree: Oak.
Elemental Plants: Red Poopy and Thrift.
Elemental Tarot – Major Arcana: Universe (XXI).
Elemental Tarot – Minor Arcana: Pentacles.
Talismanic Elemental Angel: Vioel.
Geomantic Number 10.
Sefira Number 3.
Body System Ruled: Sex Organs and Bones.
Positive Aspects: Reliable, Stable, Punctual and Persevering.
Negative Aspects: Materialistic, Greed, Non-progressive and Sensualist.