The Mineral Kingdom
Crystals are profound gifts and a great integrative therapy that can be used in conjunction with any other form of health care. We have collected the most beneficial products to work with the incredible mastery of the healing arts.
Metaphysical Properties
Crystal's healing properties, mental-emotional connections and psycho-spiritual powers can be found here about every crystal, stone and mineral.
Homestudy Courses
These are the most sought after, affordable and exceptional home study course on the Internet! Rich in content with various themes, most of the courses are certification courses. Become an expert in crystal healing, medicine and transformational healing!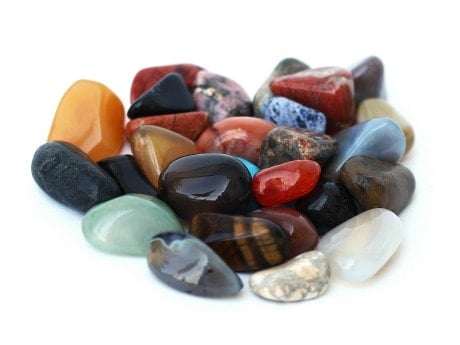 Tumblestones
Tumble-polished to smooth stones, these crystals are often used for Chakra healing, energy work, massage tools to stimulate the meridians of the body, as well as, tools of intention, intuition, skill, psychic work and healing.
Crystal Jewelry
Beautiful talismans, crystal bracelets, stone pendants, Chakra necklaces… crystals can be worn as jewelry to help in maintaining balance, focus, self-centering, mental clarity as well as, physical and emotional stability.
Specialties/Gifts
Healing crystal gift sets, Chakra healing kits, worry stones, aura cleanse kits, color therapy kits, crystal elixirs, crystal hearts, fairies cross, shiva lingams, medicine pouches and much, much more!
Crystal Pouches
Crystal pouches are one of the oldest remedies. We have pouches to carrying with you, hang around your neck, on the door, in your purse, pocket or create a meditation circle or sacred space. This is a great way to keep certain crystals together or store them away when not in use.
Wands/Pendulums
As an extension of our mindfulness, both the pendulum and the wand can give you information from the same two sources as your intuition: your own subconscious mind and from your guidance, spirit or guardian angel.
Spheres & Eggs
We carry crystal spheres and eggs of all kinds. Here you will find crystal balls, crystal and stone eggs, cylinders, crystal marbles, boji stones, geodes, thundereggs, mochi balls and much more…
Rough, Raw & Clusters
All unpolished stones and cluster crystals bring the "group energy" to the surrounding environment, enhance harmony, bring peace work as a charger for other crystals and are wonderful healing tools!
Gem of the Month Club
Love Crystals? Crystal Therapy is about our emotional sense of well being and self discovery. A holistic therapy that promotes harmony in body, mind and spirit. Empower yourself or someone you love with an exclusive membership in our Crystal Gem of the Month Club!  
Each month we deliver a monthly shipment consisting of three crystal products. We offer unique, high quality, natural gem stones to allow our members to experience true crystal healing. What sets this gift of the month club apart from others is education. We believe in educating the consumer.
With all the hundreds of beautiful crystals on earth, how do you know which ones are right for you? Take our Crystal Quiz! As you learn a little bit more about yourself, you will discover which crystals are best for you to work with. You read more about your choices and even purchase what you need right now! Learn which crystals should be in your life!….
Energy Medicine
An extensive set of crystal tools to work with Chakra, Aura, Qi and Orgone energies. Here you will find Chakra kits, aura cleansers, reiki grid sets, crystal massage oils, crystal massage sets, hot stone massage kits, medicine wheels and so much more…
Working with Crystals
Here you will learn all about how to choose a crystal, cleanse it and learn how to accept it's energy. You will unfold techniques for working with your specific crystals, creating a sacred space, meditation with your stone and unleashing its hidden vibrations. Use our crystal remedy reference too!
Crystal & Energy Therapists
The International Energy Medicine Therapist Directory is a free to list, free to find resource for any and all types of energy workers from crystal therapists, guided imagery therapists, massage and reiki therapists, chakra, aura and EFT therapists, acupuncturists, herbalist and designers of metaphysical products.