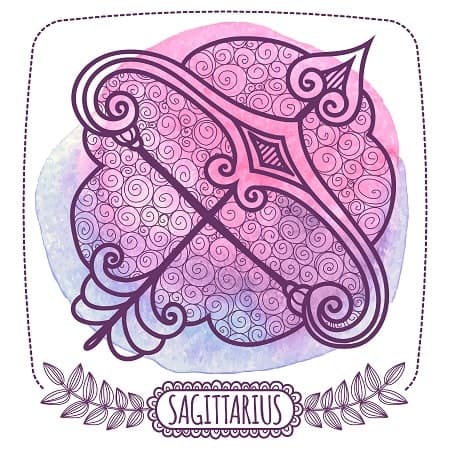 Sagittarius: The Versatile Archer (November 22 – December 21)
The Archer is brilliant at public relations. They tend toward the excessive, expressing it as carefree, adventurous and always searching. With their expansive nature, they are freedom loving and fortunate because of this attitude, yet very judgmental of others. They are both engaging and intuitive.
They enjoy traveling and exploration, because their minds are constantly open to new dimensions of thought. They are basically ambitious and optimistic, and continue to be so even when their hopes are dashed. Their strongly idealistic natures can also suffer many disappointments without being affected.
Greatest Gift: Compassion, Freedom
Birthstone: Blue Topaz, Turquoise
Gemstone: Lapis Lazuli
Colors: Blue, Purple, White
Metal: Aluminum, Tin, Silver
Zodiac Symbol: The Archer
Zodiac Element: Fire
Zodiac Quality: Mutable Signs
Planet: Jupiter
Astro Medical: hips, thighs, liver, sciatic nerve
House: 9th House
Chakra Energies: For Today
Yin-Yang Quality: Yang Energy
Chinese equivalent is the Rat
Decanate is a subdivision of a sun sign. Every sun sign in divided into three parts. Your decanate individualizes the characteristics of your particular time of birth.
First Subdivision / Decanate of Sagittarius (0 degrees to 10 degrees)
From November 25th to December 2nd:
Ruler:Jupiter
Attributes: Independant, forth-right, self-reliant, think/act with their own code
Second Subdivision / Decanate of Sagittarius (10 degrees to 20 degrees)
From December 3rd to December 10th:
Ruler: Jupiter
Sub Ruler: Neptune
Attributes: Different and not afraid to show it, originators, expect others to understand your thought process
Third Subdivision / Decanate of Sagittarius (20 degrees to 30 degrees)
From December 11th to December 21st:
Ruler:Jupiter
Sub Ruler: Moon
Attributes: The titan, who thinks big and acts large, puts their service in the hands of higher causes