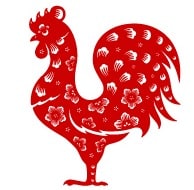 Rooster
Roosters indicate a person who is hard-working and definite about their decisions. Roosters are not afraid to speak their minds and can therefore sometimes come across as boastful. Usually deep thinkers, they are very talented. They like to be busy and are devoted beyond their capabilities.
They are often a bit eccentric and often have problems in relationship with others. They are a dreamer, a flashy dresser and/or extravagant to an extreme. The Rooster person is acute, neat, meticulous, organized, self-assured, decisive, conservative, critical, perfectionist, alert, zealous, practical, scientific, responsible. They can also sometimes be over zealous and critical. The Rooster person uses their good administrative skills and efficient, precise and methodical nature to achieve their goals.
Virtues: Hard-working, Eccentric
Nature: Yin Energy
Trine: 2nd Trine
Sign: Romance
Hour: 5pm – 7pm
Organ: Kidneys
Color: White/Silver
Element: Metal
Direction: West
Season: Fall
Gemstone: Citrine
Outer Persona: Rooster
Inner Persona: Your Birth Month
Secret Persona: Your Time of Birth
Compatibility: Dragon, Oxen and Snake
Lucky Numbers: 1, 5, 6, 12, 15, 16, 24 and 51.