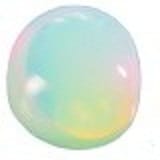 Rainbow Opal is the result of diffracting light and water. Rainbow opals are considered a sign of hope. A symbol for bridging the gap between your ego-self and your true self or your unconscious. It is a symbol of happiness. The world is full of color and happiness, if you choose to open your eyes and find it. If you want to see the rainbow, you have to tolerate the rain as the world is a myriad of color. Rainbow opals are also a symbol of inner peace and harmony of body, mind and spirit. It represent the bridge between heaven and earth. Seeing a rainbow is an omen indicating that good fortune may also be an illusion. In spiritual terms, however the colorful arc of a rainbow shows that you are at peace with God and the world. It is always a sign that an important reconciliation is possible. They are associated with mystic vision, imagination and rainbow healing.
Folk Remedies: The ancient Greeks believed opals gave their owners the gift of prophecy and guarded them from disease.
Crystal Cleansing: method 3, method 5 and method 7
Feng Shui: Use opal in any area of your home that needs, light or healing. This stone can also be used in the Prosperity or Skills/Knowledge area. Use this stone where ever you need the water element, such as the Career area.
History: Opal (SiO2·nH2O) is a hydrated amorphous form of silica. It's water content may range from 3 to 21% by weight, but is usually between 6 and 10%. Because of its amorphous character, it is classed as a mineraloid, unlike crystalline forms of silica, which are classed as minerals. It is deposited at a relatively low temperature and may occur in the fissures of almost any kind of rock, being most commonly found with limonite, sandstone, rhyolite, marl, and basalt. Opal is the national gemstone of Australia.
The internal structure of precious opal makes it diffract light. Depending on the conditions in which it formed, it can take on many colors. Precious opal ranges from clear through white, gray, red, orange, yellow, green, blue, magenta, rose, pink, slate, olive, brown, and black. Of these hues, the black opals are the most rare, whereas white and greens are the most common. Opals vary in optical density from opaque to semitransparent.
Writers have compared opals to volcanoes, galaxies, and fireworks. Admirers gave extraordinary opals poetic names like Pandora, Light of the World, and Empress. In ancient Rome, this gem symbolized love and hope. The Romans gave it a name—opalus—that was synonymous with "precious stone."
In 75 AD, the Roman scholar Pliny observed, "Some opali carry such a play within them that they equal the deepest and richest colors of painters. Others…simulate the flaming fire of burning sulphur and even the bright blaze of burning oil." He marveled that this kaleidoscopic gem encompassed the red of ruby, the green of emerald, the yellow of topaz, the blue of sapphire, and the purple of amethyst.
Many cultures have credited opal with supernatural origins and powers. Arabic legends say it falls from the heavens in flashes of lightning. The ancient Greeks believed opals gave their owners the gift of prophecy and guarded them from disease. Europeans have long considered the gem a symbol of hope, purity, and truth.
Opal is considered an October birthstone. Some people think it's unlucky for anyone born in another month to wear an opal. But that particular superstition comes from a novel written in the 1800s (Anne of Geierstein by Sir Walter Scott), and not from any ancient belief or experience. In fact, throughout most of history, opal has been regarded as the luckiest and most magical of all gems because it can show all colors. Once, it was thought to have the power to preserve the life and color of blond hair.
Find all our opal products here,…