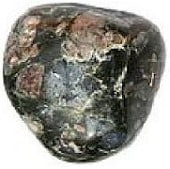 Properties: This unique stone is made up of a conglomeration of minerals. They are part of a whole (mother) formation, which gives these stones the same properties, regardless of their actual mineral composition, since there is often a certain percentage of each stone within the conglomeration. Because of this mix, Que Sera stone vibrates at a very high level resonating with our Throat Chakra, Third Eye Chakra and Crown Chakra. As such, they are very beneficial for tapping into our creative identity, This conglomerate stone is wonderful for group meditations.
Clairaudience and orientation to self-expression. They empower our psychic capacity, telepathy, intuition and orientation to self-reflection. They connect us to our consciousness as pure awareness, Universal identity and orientation to self-knowledge. Que Sera stones offer us an uninterrupted supply of present power, which is always switched ON, working as a power house for receiving energies from higher sources or streams of consciousness. This stone is associated with the Angel of Air and the zodiac signs of Cancer and Aquarius.
Folk Remedies: Use this stone for overcoming stress treating adrenal fatigue and to environmentally protect from Wi-Fi, EMF waves.
Feng Shui: Use in the Center area for health, wellness and balance. This stone also works well in the Northeast area of Knowledge/Skills, the Southeast area of Wealth, Prosperity, Opportunity and in the West area of Children, Creativity.
Crystal Cleansing: method 1 – 8
History: Que Sera (Llanite, Vulcanite) is a conglomerate stone from Brazil, containing a mixture of different types of stone including calcite, clinozoisite, iron oxide, kaolinite, leucozene, magnetite and quartz. Que Sera Stone is the result of the earth drastically folding over on itself and disrupting the crystalline structure of the minerals in the vicinity. It derives its name from their formation: (Quartz with Undulatory Extinction), (the folding of the earth). The "Sera" comes from the song "what will be, will be" in reference to the fact the quartz is combined with whatever minerals are present at the locality.
Find all our que sera stone products here…
Related Entries