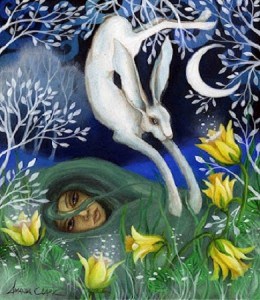 (Art by Amanda Jane Clark ~ please visit her shop, Earth Angel's Art)
Eostre or Ostara of Spring is a goddess in Germanic and Celtic tradition who is the namesake of the festival of Easter.
In her various forms, she is a spring-like fertility goddess associated with dawn. Also associated with Eostre or the Norse Goddess, Freyja. Her focus is on balance and the equilibrium between night and day at the Spring Equinox.
It is a time for new beginnings, for planting seeds that will bear much fruit and for celebration of the rebirth of the soil, the land, and oneself.
Celebrated all over the world and in different cultures including Easter, Feast of the Annunciation (Christian), Lady Day, Celebration of the Goddesses, Venus (Roman) and Aphrodite (Greek), Eostre or Ostara (Old English), Hewsos or Austro (Proto-Indo-European goddess of the Dawn), Easter, Eastre (Old High German).
When: March 20 or 21
Season: Spring or the Vernal Equinox
Represents: Spring Equinox, Easter, balance of day and night
Virtues: Growth, Union, Renewal
Symbols: Egg, Egg Coloring, Rabbit, Flowers,
Gemstone: Amethyst, Agate, Blue Lace, Aventurine, Bloodstone, Chiastolite, Citrine, Rose Quartz
Color: Green, Pink, Violet, Yellow
Essential Oils: Eucalyptus, Lavender, Rose, Sandalwood
Remedies: Bee Pollen, Bilberry, Blessed Thistle, Burdock Root, Calendula Flower, Catnip, Chamomile, Chaste Tree Berry, Cramp Bark, Dandelion, Eye Bright, Hydrangea Root, Milk Thistle Seed, Mullien Leaf, Nettle Leaf, Passion Flower, Wild Cherry Bark
Flowers: Daffodil, Gorse, Iris, Narcissus, Peony, Violet, Woodruff
Element: Air
Direction: East
Life Event: Renewal, Rebirth
Lunar: Growing Moon or Full Pink Moon
Body Healing: Fertility
Mind Healing: Spring Depression
Spirit Healing: Sacred Spirit
Ostara Meditation: Walking
Ostara Connections: Resin Incense, Celtic Candles, Essential Oil Blends, Celtic Amulets, Celtic Crystals, Celtic Astrology