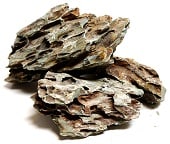 The Ohko stone, Aquarium rocks or (Dragon Stone) is a rock that resembles dragon scales. It typically has a greenish brown coloring and is very light weight. Ohko stone is basically composed of hardened clay, which has been know to be very fragile, the cratered surface of the Ohko stone results in many mini-caves and nooks for anchoring moss and plants alike.
These is an argillaceous rock, whose holey structure and warm tones make it an eye-catcher for your aquarium or water foutain that can give it a very natural impression.
The stone, known as "ohko" in Japanese, is one of the most popular classic materials used in aquascaping, and looks fantastic when combined with water plants. This stone is wonderful to create a Japanese "Iwagumi" or stone art sculpture, popular in Japanese zen gardens and "aqua-scaping".
This stone inspires natural stone that awakens the imagination.
Folk Remedies: This stone works very well for stressful situations. Utilize it in bath water for a calming effect.
Feng Shui: Used in the North area for personal journeys and in the Center area to increase spirituality and find balance.
Crystal Cleansing: method 1 – 8
History: Ohko stone or dragon stone is fossilized palm wood (the signature holes of the rock are the water carry channel of palm stem). The Japanese word "Iwagumi" literally means "rock formation." In a Japanese rock garden, the rocks are the "bones" of the layout and usually consist of three rocks; one main or large rock flanked by two smaller rocks, but not of equal size. When the rock formation is placed properly, the rest of the layout will simply fall into place.
The iwagumi or 'stone formation' style was developed some 30 years ago. When Takashi Amano was in his early 20s, he became interested in creating an aquatic layout using rocks and studied Suiseki, the Japanese art of stone appreciation and Bonseki, the art of creating miniature landscapes on a black lacquer tray. These studies and his own experiments aided him in establishing the iwagumi style.
Find all of our Ohko Dragon Stone products here
Related Entries