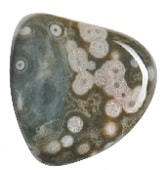 Properties: This stone helps one to accept responsibilities, develop patience and help with circular breathing during meditation. Orbicular Jasper allows for nutritional stabilization, to improve digestion and assist in detoxification and elimination.
Ocean Jasper is produced from only one mine near Marovato, Madagascar. The deposit, being located at the edge of the ocean, can only be seen and collected at low tide. This remote area has no roads so the material must be transported to civilization by boat.
Technically considered "Orbicular Jasper" in reference to its colorful orbs, some have adopted the name "Moon Jewel Jasper." But "Ocean Jasper" seems most fitting, as it was found right along the shore. Orbicular jasper's distinctive patterns are made up of round or spherical inclusions of contrasting colors floating in solid jasper.
The orbs can range in diameter from a millimeter to a centimeter, and frequently show a particularly dramatic concentric banding. How orbicular jasper forms is still a scientific mystery.
Crystal Cleansing: method 1 – 8
Find all our jasper products here…
Related Entries