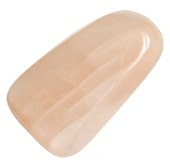 Properties: Moonstone honors the Goddess in all women. This stone helps women (and men) to be more comfortable with their gentler feminine/yin receiving side. This stone is also an excellent remedy for overly aggressive females or for men who need to connect to their more feminine/emotional side. Its connection to the moon has been documented for centuries. Because of its shimmering, glossy nature its color plays off the light as does the moon. Like the moon as it waxes and wanes, this reflective stone allows us the lesson that everything is a part of the cycle of change.
Moonstone is considered the stone of new beginnings. Moonstone is most famous for balancing our emotional states. Emotional states are connected to the water element, which are connected to the cycles of the moon and tides and therefore, has a strong relationship to a women's menstrual cycle. Therefore, moonstone is one of the best stones for soothing emotional stress and anxiety. Moonstone helps cool, soothe and calm over-reactions to emotional and personal situations. It allows us greater flexibility and flow with life. Moonstone has been used for protection against the perils of travel. It encourages a lust for life, a youthful attitude and helps us to become comfortable with the aging process and its transitions.
Moonstone's emotional connection makes it most effective when placed at the 2nd or Sacral/Spleen Chakra. Known to be of ancient spiritual significance in its connection to the moon and the intuitive aspect of one's nature, the source of our intuition is often described as our "gut feeling" found at the Solar Plexus Chakra. This energy center deals with the human ego, emotions and self-power. Placing moonstone on the solar plexus helps to show us our old emotional patterns which, we hold on to. It can be used to work on dissolving these patterns that no longer serve us.
Although, the Third Eye Chakra is most associated with intuition, the "spark" is what is felt in the area of our solar plexus. This being the biggest nerve center in our body connected to almost all the organs. This is also where the connection between the three lower Chakra interchange with the four higher Chakra energy centers. Therefore, use moonstone to promote your intuitive and empathic nature. Use it also to encourage lucid dreaming, especially at the time of the full moon. It is the perfect stone for the Emotional Layer of the Aura. Moonstone is a great stone for meditation and helping with unconditional love. Since it heightens our understanding of nature and concerns for the environment, it is an essential stone for agriculturists and farmers alike. Moonstone encourages creativity, imagination, inspiration and awareness. It also has been used throughout history to bring good luck.
Folk Remedies: Moonstone promotes the stimulation and free flow of women's hormones and menstrual imbalances, as well as, better lymph circulation. Enhances the intuitive sensitivity via feelings and being less overwhelmed by personal emotions. Moonstone's effect upon the menstrual cycle and reproductive system is powerful. Its power over reproductive imbalance can be useful for situations such as helping to correct infertility and PMS. A gem essence tincture is recommended for fertility for both men and woman to drink over a long period of time. Consider moonstone for an easier pregnancy labor and childbirth. At the time of the full moon or menstruation, women should be aware of their sensitive emotional nature and remove this stone at the onset of her period. May help all parts of the lower torso, which include digestive, cleansing and reproductive organs. This stone is often given as a remedy in a gem essence for insomnia and prevents sleepwalking. Moonstone also stabilizes fluid imbalances and helps to re-set our circadian rhythm.
Feng Shui: Moonstone should be used in the Northwest corner for travel or in the Center area for grounding, balance, good health, spirituality and protection. Use in the West area for projects and creativity or in the Southwest for love (be sure and use two moonstone here).
Crystal Cleansing: This stone can be cleansed and discharged of negative energy every month after the menstrual cycle is complete. Use method 1 – 3 and method 5 – 7
History: Moonstone K (Al Si3 O8) is a semi-translucent stone that is made of albite and orthoclase feldspar. The Arab countries would offer moonstone to large families to encourage fertility. To this day it is sown into women's night gowns or given to carry in their front pockets to promote fertility and smooth menstrual flow. The most common moonstone is of the mineral adularia, named for an early mining site near Mt. Adular in Switzerland, now the town of St. Gotthard.
The Chinese culture uses moonstone to balance the power of yin and yang for better health. The Romans saw moonstone as holding the image of the Goddess Diana, allowing its rule over the moon, mother and unconditional love!! The Romans used this stone to make beautiful jewelry, most often in cabochon form.
Moonstone is the Florida State Gemstone; it was designated as such in 1970 to commemorate the Moon landings, which took off from Kennedy Space Center. Despite it being the Florida State Gemstone, it does not naturally occur in the state
Black Moonstone: : AKA Larvikite, is a great crystal for finance and prosperity. It will help attract a gradual increase in your finances and you will begin to feel more financial security. Like the new moon, changing to the full moon, black moonstone is symbolic of this "new moon beginning" and the ideal time to plant the seeds of good intentions in order to watch them grow. Black moonstone will help to improve concentration, particularly in frenzied workplaces. Your home and relationships will feel more grounded and settled when black moonstone is in use. It enhances intuition and inner knowing and connects you to understanding your feelings and emotions.
Black Moonstone can be used for general psychic protection. Black Moonstone goes well with rainbow moonstone, black obsidian, jet and labradorite. Black moonstone will also help to increase stamina. It is associated with the earth element, the zodiac sign of Aquarius and the Root Chakra. It has been theorized that black moonstone can protect against the effects of x-rays, radiation and electromagnetic energies. This healing crystal is particularly good for the colon, kidneys, liver, spleen and stomach and female reproductive organs. It can also be helpful for stroke recovery and brain function. It can be used for painkilling rituals. Black Moonstone is particularly helpful for animals which have been injured or who have suffered strokes. This crystal can be used to help clumsy or accident prone children.
Rainbow Moonstone: Being associated with the moon, this stone has always been the stone of love and lovers. It is offered as a "blessing" in Arab countries and encourages fertility. Moonstone is most potent when used in a full moon. Its rainbow properties offer a gentle, calming energy as it strengthen intuition and psychic perception. It enhance creativity and compassion and enlivens inner confidence as it brings balance and harmony into your life. The rainbow effect draws in a spectrum of light, and can help with bringing in uplifting energies to the Aura. It is said to enhance feminine energies. Rainbow moonstone has been said to have the power to grant wishes!
FInd all our moonstone products here…

Related Entries