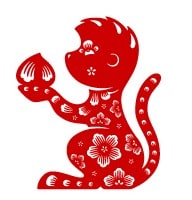 Monkey
Monkeys are very intelligent, well-liked by everyone due to their magnetic personality, they will have success in any field they choose. Usually erratic geniuses, they are remarkably inventive and original and can solve the most difficult problems with much ease. They have very clever wit. The Monkey, however, must guard against being an opportunist and distrustful of other people.
The Monkey person is an inventor, motivator, improviser, quick-witted, inquisitive, flexible, innovative, problem solver, self-assured, sociable, polite, dignified, competitive, objective, factual, intellectual. They can also sometimes be egotistical, vain, selfish, cunning, jealous, suspicious. The Monkey person is competitive and uses their guile, charm and self confidence to achieve their goals.
Virtues: Intelligent, Successful
Nature: Yang Energy
Trine: 1st Trine
Sign: Power
Hour: 3pm – 5pm
Organ: Urinary Bladder
Color: White/Silver
Element: Metal
Direction: West/Southwest
Season: Fall
Gemstone: Peridot
Outer Persona: Monkey
Inner Persona: Your Birth Month
Secret Persona: Your Time of Birth
Compatibility: Dragon and Rat
Lucky Numbers: 3, 4, 5, 7, 16, 23, 34, 45 and 54.