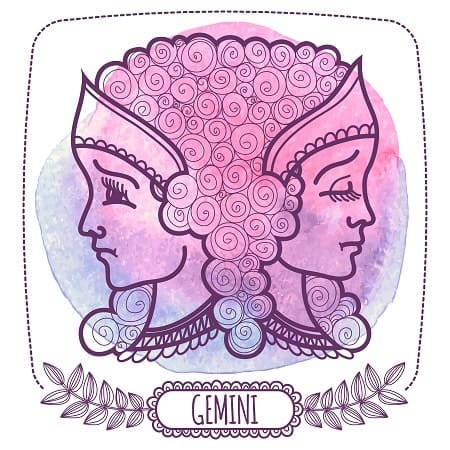 Gemini: The Twin Chamelions (May 22 – June 21)
The Twins are curious, communicative, dual-natured and extremely versatile. They can juggle many things at once and do them all well. They are open minded, tolerant, superficial and often easily bored. They need constant intellectual stimulation or can be completely the opposite; laid back and care free, given their chameleon-like nature.
Geminis are logical, smart, inquisitive, honest, clever, whimsical, nimble, quick witted, articulate, lively, active, curious, capable of multi-tasking, talkative, sociable, and mercurial. Gemini was thought of as a fortunate sign, and its subjects were considered to possess the qualities of intense devotion, genius, largeness of mind, goodness, and liberality.
Greatest Gift: Clarity, Peace
Birthstone: Agate, Alexandrite, Moonstone, Pearl
Gemstone: Emerald, Alexandrite, Beryl
Colors: Yellow, Red, White
Metal: Gold, Silver
Flower: Lily of the Valley, Rose
Zodiac Symbol: Twins
Zodiac Element: Air
Zodiac Quality: Mutable Signs
Planet: Mercury
Astro Medical: Arms
House: 3rd House
Chakra Energies: For Today
Yin-Yang Quality: Yang Energy
Chinese equivalent is the Horse
Decanate is a subdivision of a sun sign. Every sun sign in divided into three parts. Your decanate individualizes the characteristics of your particular time of birth.
First Subdivision / Decanate of Gemini (0 degrees to 10 degrees)
From May 21st to May 31st :
Ruler: Mercury
Attributes: Clever, influential, compelling, balanced, smart
Second Subdivision / Decanate of Gemini (10 degrees to 20 degrees)
From June 1st to June 10th:
Ruler: Mercury
Sub Ruler: Venus
Attributes: Social flair, unreserved, people lover, traveler, passionate & committed lover
Third Subdivision / Decanate of Gemini (20 degrees to 30 degrees)
From June 11th to June 21st:
Ruler: Mercury
Sub Ruler: Saturn
Attributes: Analytical, learned, garrulous, humorous, practical, uses mind more than the heart.