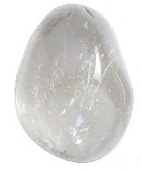 Clear Quartz is thought to amplify both body energy and thoughts. It can assist in the creation of power, clarity of thinking, meditation, cleansing, clearing the aura, spiritual development and healing. Clear Quartz is considered the "stone of power". A dedicated healer. Pure white light passes through it easily, leaving all the colors of the spectrum unaltered and giving substance to the argument that clear quartz crystals can help balance all the elements needed to make us whole and fulfilled. Amplify whatever influences are present in an individual or location.
Clear quartz acts as a purifier and tunes into the frequency of each individual. Will unblock specific areas or organs blocked from transmitting or receiving the flow of energy throughout the body. Helpful in guiding our search for the meaning and importance of existence.
Clear quartz will assist in meditation. Can be used in conjunction with any other stone or gem for specific physical problems. It will amplify the effects of individual stones and attune the treatment to the energy of an individual person.
Folk Remedies: Quartz can be used to facilitate both speaking and receiving information from the spiritual world, masters, teachers and healers. Stimulates positive thought and healing. Quartz is considered Yin or Androgynous. Quartz is often used in healing remedies such as crystal elixirs or solarized water, in clusters during meditation, in reiki grids or laying of stones in a web around you. They are used to clean the aura and balance Chakra energies.
Feng Shui: Quartz can be used anywhere that balance or cleansing is needed. Use quartz in the Center area for grounding, balance, good health, spirituality and protection. Use in the West area for projects and creativity.
Crystal Cleansing: method 1 – 8
History: Clear Quartz (SiO2) is considered solidified light and oxygen. It's clarity is due to its lack of impurities in its matrix. Quartz encompasses a large family of stones and crystals, all of which are made up primarily of silicon dioxide, one of the most common and most important substances in the world. Crystals of pure quartz, generally six-sided, can be found in all shades and colors. Quartz crystals grow singularly or in groups and take on different shapes according to the temperature at the time of their formation. Quartz crystals can also contain other minerals "frozen" within, as in Rutilated Quartz. Quartz can form a huge variety of aggregates, clusters, gravel, sand and single stones.
Quartz can be smoky, milky white to clear as water. Quartz was used as tools and weapons early in history and are now used worldwide in watches, appliances and technology! Quartz can be formed of microscopic crystals and take on entirely different appearances and qualities. Other members of the Quartz family include Chalcedony, Agate, Amethyst, Aventurine, Carnelian, Citrine, Herkimer Diamonds, Jasper, Onyx, Sardonyx and Tiger's Eye. These are treated separately because their healing qualities are very different from crystal or "rock" quartz.
Find all clear quartz products here…
Related Entries