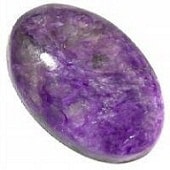 Properties: The "stone of transformation". Charoite helps seeing old patterns with new possibilities. It is believed to open the heart, allow inspiration, encourage service, and grants us the ability for seeing more clearly (mentally, physically, psychically). It is believed that this stone brings about faster healing. Some find it useful for entity release work. Most effective on the upper centers of energy, which are the Heart Chakra, Third Eye Chakra and Crown Chakra to transmute/lift us out of troubled or stuck emotions and most of all, fear. This brings about vibrational change and therefore stimulates the Aura. Use this stone for transforming negative energies into acceptance. Use Charoite to assist in the foresight and ability to improve your intuitive vision.
Folk Remedies: This crystal is recommended for alcohol and food detoxification. This stone is said to regulate blood pressure, as well as regenerate the body in times of fatigue. Because this stone is closely related to the heart, it has historically been used to treat insomnia in adults and children. Put Charoite under your pillow, especially if you are prone to disturbed sleep or fears which come up in dreams. In combination with amethyst, it will help to release these fears. This stone treats other heart and nervous system disorders such as bi-polar and autism.
Feng Shui: Charoite is used primarily anywhere to help bring change. Used in the Southeast direction, in the Center for balance and spirituality and in the Northeast for wisdom.
Crystal Cleansing: method 1 – 8
History: Charoite (Ca,K,Na)3Si4O10(OH,F)H2O, found in Russia, is named after the Charo(y) River running along the Murun mountains in Yakutia. Formed from alteration of limestones by the close presences of an alkali-rich nephline syenite intrusion. Charoite ranges from bright lavender, violet and lilac to dark purple with occasional veining of white, gray or black
Find all Charoite products here…
Related Entries