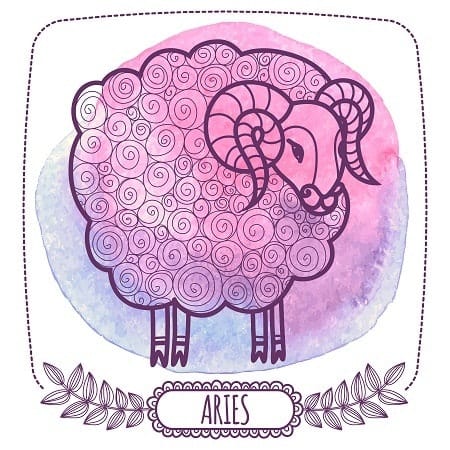 Aries: The Pursuing Ram (March 21 – April 20)
The ram tends to take the direct approach, utilize their survival skills well and tends toward the daring. It is often "me first" with Aries. They are impulsive, aggressive, competitive and intuitive. Aries are thought to be assertive, pioneering, enthusiastic, adventurous, humorous, fast-paced, energetic and passionate.
They are considered sociable, good communicator, brave, action-oriented, individualistic, independent, and impulsive. Aries are competitive, eager, straightforward, forceful, headstrong, a leader, focused on the present. Their greatest lesson to learn in life is humility.
Greatest Gift: Motivation, Success
Birthstone: Herkimer Diamond, Aquamarine
Gemstone: Amethyst
Colors: Red, White, Pink
Metal: Gold, Bronze
Zodiac Symbol: Ram
Zodiac Element: Fire
Zodiac Quality: Cardinal Signs
Planet: Mars
Astro Medical: head, face, brain, eyes, sense of smell
House: 1st House
Chakra Energies: For Today
Yin-Yang Quality: Yang Energy
Chinese equivalent is the Dragon
Decanate is a subdivision of a sun sign. Every sun sign in divided into three parts. Your decanate individualizes the characteristics of your particular time of birth.
First Subdivision / Decanate of Aries (0 degrees to 10 degrees)
From March 21st to March 31st :
Ruler: Mars
Attributes: Profound thinker, tend to dominate conversations, encourage people around you, aggressive, energetic
Second Subdivision / Decanate of Aries (10 degrees to 20 degrees)
From April 1st to April 10th:
Ruler: Mars
Sub Ruler: Sun
Attributes: Audacious, proud, high sexual energy, ambitious, likes challenges, appealing, out-of-the box thinker
Third Subdivision / Decanate of Aries (20 degrees to 30 degrees)
From April 11th to April 19th:
Ruler: Mars
Sub Ruler: Jupiter
Attributes: Interested in the occult, perceptive, crafty, friendly